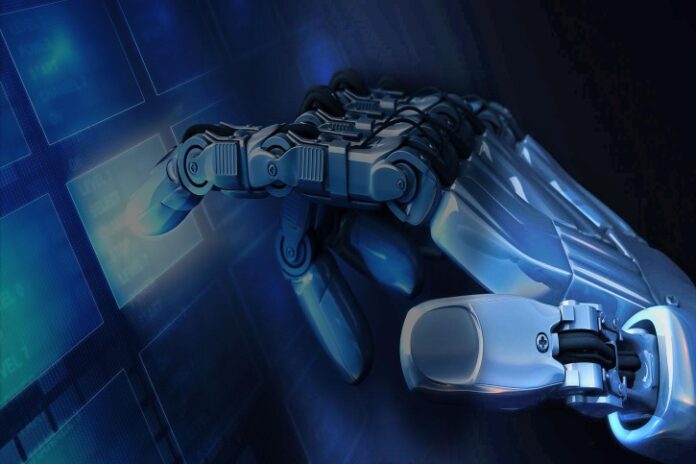 Societies have evolved from hunting and fishing, through agriculture to industrial and services. Then the internet came.
In the mid-1990's, marketers faced up to the internet and e-mail for the first time. Ten years later, Facebook and Telegram, Twitter and Youtube are changing all the rules in communication making it easy to spread fake information and scams.
Today, Blockchain and the Internet of Things will Change Marketing Forever.
A team of visionaries with a passion for marketing pointed to blockchain's great potential for marketing to fight fake news and uplift the whole word-of-mouth industry to new heights.
There is an obstacle to the growth of this industry due to the indiscriminate use of social networks and the internet has allowed the proliferation and diffusion of "unverified" fake information. Being transparent, trustworthy and responsive are essential to the survival of the direct sales industry. Maintaining a positive reputation is fundamental to the profitability, relevance and existence of any business.
There is a need for certified data to check on work quality; for a trustable and inviolable ranking based on the results achieved – stopping fake news and fake, useless rating likes-based; for a sector specialized in e-commerce platforms where professionals and companies can find all they need (training, tools, adv) to bring the industry to an even higher level.
WMPRO offers a compelling solution
• Transparency
• Immutability
• Irreversibility
• Low costs
• Security
• Accessibility
For all these reasons WMPRO's Blockchain Ecosystem is implemented as utility tokens and provides the necessary functionalities for a world where users aren't forced to trust in any individual or organization but rather in trustable data implemented through cryptography and economics.
The four phases certification protocol is already under the patenting process: software, spider, manual and artificial intelligence, will increase the value of the project and the token itself.
The Eucleia platform is spreading the use of WMPRO thanks to a free subscription service that will authenticate users' identity according to the quality and quantity of uploaded information and the Premium Rating and certifying service payable in WMPRO via blockchain-based certification system creating a real rating system for companies and operators.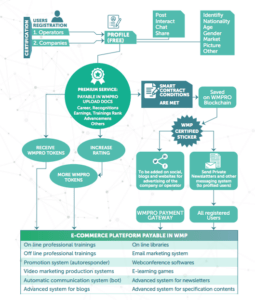 Eucleia platform map, source: wmpro.io
Technically, Eucleia Platform will use Ethereum-based smart contracts to secure the terms of the agreement between the parties:
1. First, the free creation of the profile, registering personal data and the curriculum
2. Upgrading to the subscription service in WMPRO, if smart contract conditions are met, useful contents will be saved in the blockchain to certify the level of professionalism
And, when a more advanced rating level is reached:
3. Both certified professionals and companies will receive a "WMPRO Certified" sticker that they will add on their social pages and websites, with reference to WMPRO
Blockchain information
The E-commerce section will also provide services and tools for personal growth and professional improvement payable in WMPRO tokens that will be a full part of the ecosystem.
The presence of the "WMPRO certified" sticker will spread the popularity of the token to incredible levels.
Eucleia's platform revolves around the idea that allows users to hold onto their cryptocurrency and/or spend cash at the same time on necessary purchases of services with a unique platform that meets the market's needs.
WMPRO will be also used for special bonuses from all direct sales companies and will also be used as an incentive and special benefits/gifts for referral programs.
Spending crypto assets on real products and services today supports cryptocurrency holders in gaining from any future growth in asset value; purchasers who buy low in this TGE stage can hold onto their assets in order to benefit from selling high.
This impactful combination will create a high demand and will support the token value.
Eucleia's Platform and WMPRO upgrade the W-O-M Industry to a completely new professional level.
WMPRO is carrying out an ICO to start the development of the Eucleia platform. Interested in being a part of it? Find more on the WMPRO website here and sign up join the token sale.