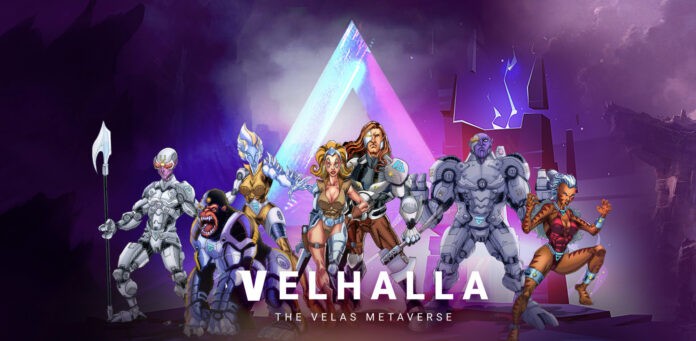 Metaverse momentum is at its peak. While tech giants like Meta, Apple, and Microsoft race to plant the flag on the immersive internet, there is a lot of activity stirring up in the crypto side of the world as well. Their vision, however, is decentralized.
Velhalla is the latest to join the cause. Let's take a look at what Velhalla is and how it makes a difference. 
What is Velhalla metaverse 
Velhalla is an upcoming metaverse project set against the background of popular Viking mythology. 
Built on the Velas blockchain, it promises a gripping gaming experience unlike anything seen before. Here, you can engage in a variety of thrilling experiences that will be unveiled as the project progresses. 
For starters, you can buy and sell pieces of land like you would do on Decentraland or Sandbox. You can get outfits and accessories for your avatar. You can even purchase characters as per the website. Being a play-to-earn platform, it offers tokens and NFTs in exchange for the time users spend in the metaverse. 
Velhalla is incubated by Bluezilla. It also has many other successful projects under its belt; BSCPad, VelasPad, NFT Launch, and Game Zone to name a few. 
Valhalla reimagined on Velas
The term Velhalla is a union of 'Vel' from Velas and 'Halla' from Valhalla. If you are familiar with Norse lore (or Marvel Comics), you must have got an idea about the game concept by now. Valhalla is the hall for the fallen; A majestic, enormous hall located in Asgard, ruled by Odin. It houses people who die in combat. 
Velhalla metaverse brings the Valhalla to a futuristic, mystical world enhanced with cyberpunk aesthetics and mesmeric storytelling. Here, you can build dungeons, earn crypto, and collect NFTs as you roam the land in ultra-futuristic gears. To put it in simpler words, you get to make money while you play a state-of-the-art video game from the comfort of your couch. You won't be alone in the metaverse. There will be mutants, cyborgs, and Vikings to give you company. 
So how does it work? 
Like most video games, the ultimate target is to secure your possessions while you add to them by sourcing (stealing) from others. To be specific, raid the dungeons of other players to get more rewards. At the same time, ward off raids to your dungeon. You can also join forces with other players to form guilds and amass more assets. 
The winner gets to claim the spoils.
There will be a growing collection of maps, traps, and treasures, to help and hinder players. As you unlock new levels in the game, you can upgrade your characters, get new attire, and armor yourself with new weapons. You can also trade the in-game assets you bought or loot on the Velhalla NFT marketplace. 
Related: Animoca Brands To Build K-pop NFT Metaverse Next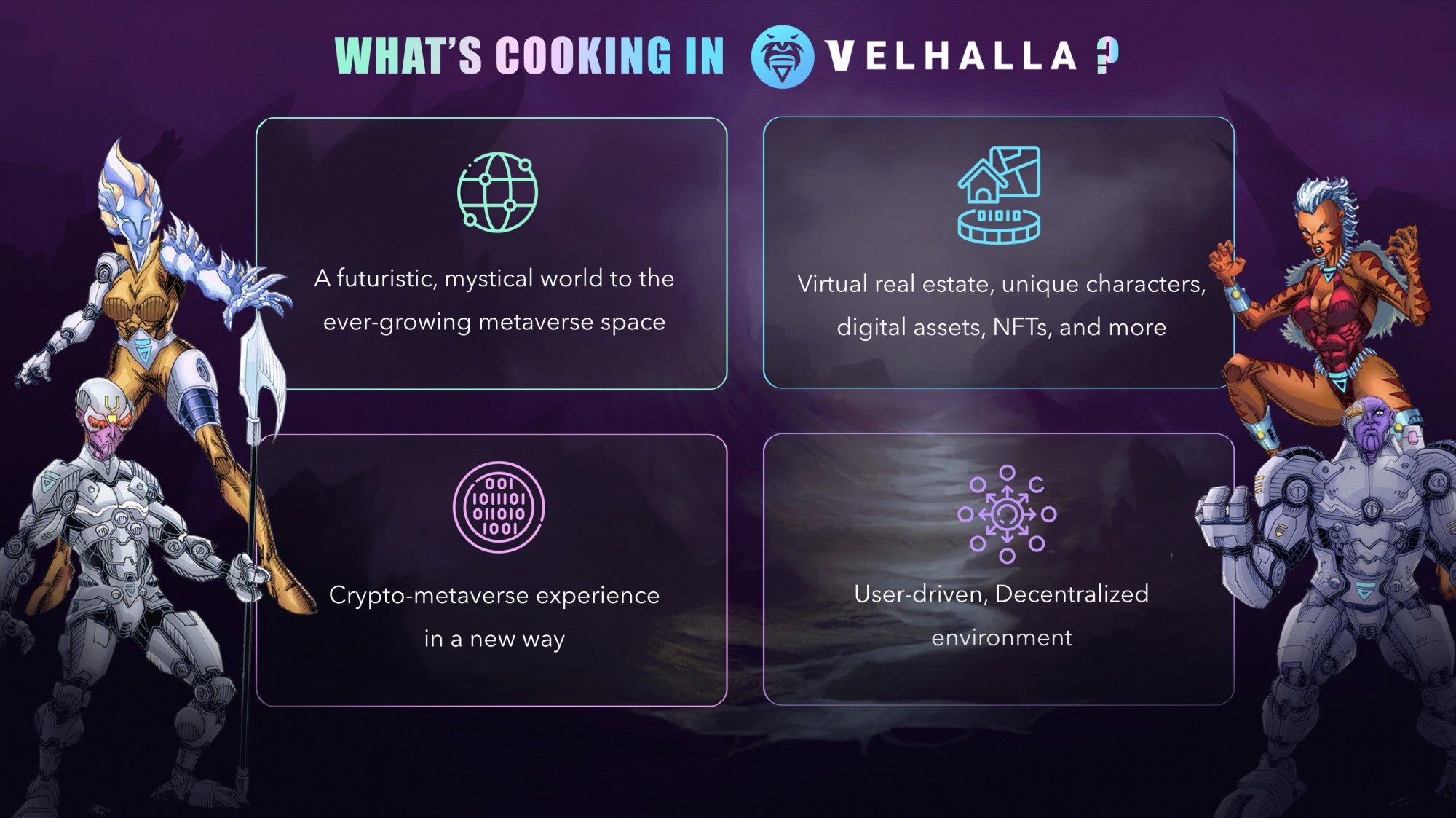 What sets apart Velhalla
Velhalla is owned and operated by users. This is the key feature that marks off Velhalla from other play-to-earn projects in the metaverse. The role of players is not just limited to engaging with the game. They can also drive its continued growth and adaptation.
They can develop their unique worlds, towns, communities within the metaverse, keeping in line with the theme of the platform. There will be multiple stories in progress in different worlds so that users can manifest the gaming experience they prefer. It empowers creativity and encourages users to express themselves for the growth of the platform as a whole. Here, you not only get to choose your adventure, but to create it. 
The governance of Velhalla is not predefined. It will evolve as the project progresses, giving back to users who have contributed to its growth. Owing to its crypto make-up, the value accumulated from the platform will be redeemable outside the metaverse as well. Interoperability, if adopted, opens up further opportunities. 
If you think about it, this is one of the best ways to build a loyal community and penetrate a wider audience. Especially, if you are wearing the 'decentralized' tag. Users create the environment based on what they are most interested in pursuing. Of course, it will be around the preset theme we discussed above, but players have a say. And that makes a difference. Isn't that what crypto culture is all about? 
The team is also planning to go with mature aesthetics on par with today's video games. Unlike existing crypto-metaverses, which mostly adopt the typical cartoony style, Velhalla wants to feature a cutting-edge visual experience.
Does Velas give an edge to Velhalla
Although there are many blockchain-based metaverse and gaming projects today, the rising cost of crypto and NFT transactions is a hurdle for the decentralized growth of the industry. The transaction costs on the Ethereum blockchain are at record highs, often proving to be unfeasible for everyday users. Not to mention the snail-paced rate at which they are processed. If this is the case, crypto play-to-earn platforms will remain a pastime for the rich. 
Keeping that in mind, Velhalla is built on Velas blockchain, which fans believe is a potential Ethereum killer. It is the first EVM-compatible network that leverages Solana's codebase to support cross-chain transfers of all major coins. With up to 75,000 transactions per second and $0.00001 in fees, it gives an edge to NFT and play-to-earn projects. The chain supports all smart contracts on the Ethereum Blockchain.
Going with Velas has also brought some additional perks to Velhalla. It has been selected to Velas $100 Million Grants Program, dedicated to potential projects building on the Velas infrastructure. This is expected to accelerate the project development in the desired course. 
What is SCAR token
SCAR is the native token of the Velhalla ecosystem. It will serve a range of utilities on the platform, from facilitating in-game purchases to incentivization and governance. It is currently available on PancakeSwap (V2), Wagyuswap, and DODO BSC.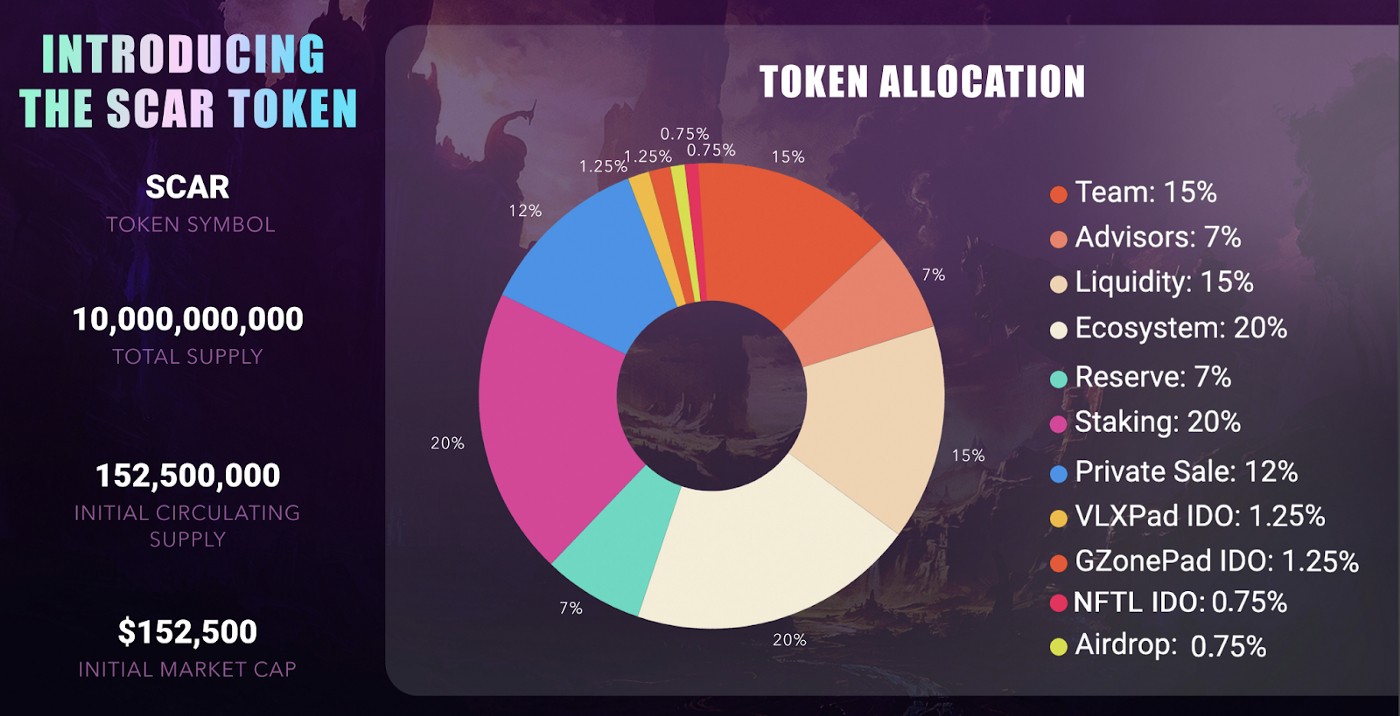 When is it coming
Velhalla roadmap is not out yet. As per the latest announcement, it is slated for release in the last leg of November. That should give us an idea about where the project is heading and when we can expect it to go live. 
If all goes as planned, Velhalla is sure to seize the attention of play-to-earn enthusiasts. And maybe, even newbs. 
But does it have what it takes to make them stay? Share your thoughts. 
Related: Sandbox Alpha Metaverse From Nov 29