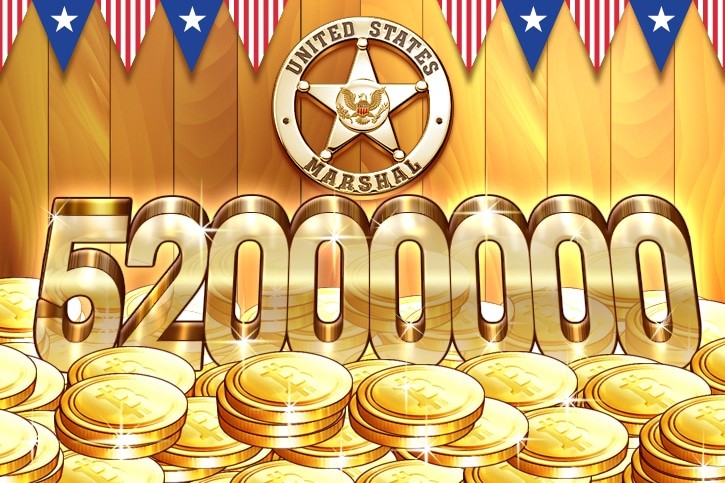 After being granted permission to sell millions worth of seized bitcoin, the US Marshals announced that they will be selling the cryptocurrency via an online auction.
The US government will be once again benefitting from selling seized bitcoin following the arrest and conviction of several individuals. According to the US Marshals (USMS) agency, they hope to conclude the massive sale within a 6-hour timeframe. In a recent press release, the USMS confirmed that the total of 3,813 bitcoins will be sold via a sealed bid auction. Interested individuals will have to provide an initial deposit of $200,000 just to be eligible for participating in the auction.

The USMS statement confirms that the total bitcoin was seized after the conclusion of federal criminal, administrative, and civil cases.
According to the statement, the available bitcoin will be divided into three series. Series A, will consist of five blocks of 500 bitcoin, Series B will contain five blocks of 100 bitcoin, lastly, Series C, will only have one block of 813 bitcoin.
Interested investors should register with the USMS as well as provide a $200,000 deposit to participate in the auction. Any prospective auction participant will be asked to upload several documents, which the USMS will review in order to approve the request to participate in the auction. Some required documents include a bidder registration form, an EFT transaction receipt, an ID photo, and the deposit which may only be transmitted using a US-based bank.
Successful bidders will have to settle their bids in cash using USD denominations. The USMS has also emphasized that they will refuse to send the auctioned bitcoin to a public bitcoin wallet address.
According to the USMS, they have the right to refuse to send the auctioned bitcoin to a public address considered obscene, or to an address located in a country that is prohibited by the Office of Foreign Assets Control (OFAC). In addition, the USMS also stated that they will not remit bitcoin to any address linked to any nefarious activities such as terrorist funding, or other criminal activities which might pose a threat to US national security.
The law enforcement agency seems to have learned from their past mistake. Previously, the agency sold seized 50,000 bitcoin for a mere $373 per coin. The total sale amounted to a mere $18 million. The previous batch of seized bitcoin mostly came from the shutdown of the darknet drug trafficking site, Silk Road and was sold to the organization Second Market, and Tim Draper.