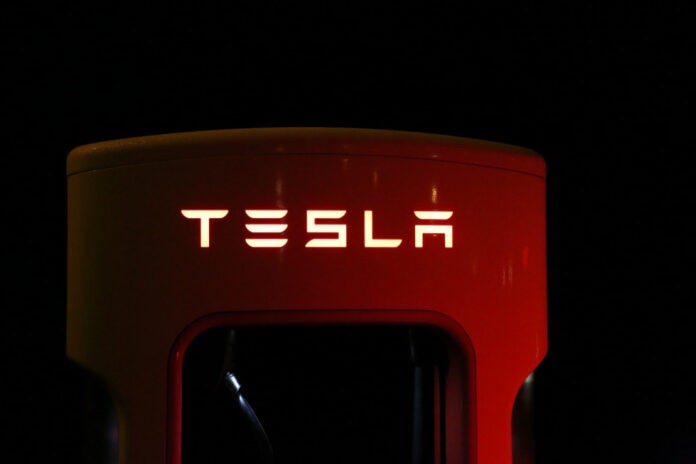 Recent reports stated that at least two Tesla factories seemingly have Bitcoin ATMs installed.
The original report came from a Twitter user, Will Reeves, and were confirmed by LibertyX.
LibertyX claims it did not install the kiosks, but it did admit to installing BTC-selling software.
According to recent tweets, it would appear that the electric car company, Tesla, has Bitcoin ATMs installed at its Fremont Factory and Gigafactory Nevada. While Tesla CEO, Elon Musk, often teases the crypto community on Twitter, these reports still come as a surprise for the crypto community, as Musk himself is a supporter, but not a user of digital coins.
Bitcoin ATMs Emerge at Tesla Factories
The existence of these ATMs was originally reported by a Twitter user known as Will Reeves, and later confirmed by a company LibertyX.
Reeves revealed on Twitter that he passed by Tesla's Gigafactory, and that he saw a Bitcoin ATM installed. 
Just passed by and saw @elonmusk has a bitcoin atm at the Gigafactory. pic.twitter.com/8HpkDkFwqP

— will reeves (@wlrvs) October 10, 2020
As mentioned, LibertyX confirmed that there are, indeed, Bitcoin ATMs at several Tesla locations, and that LibertyX itself is responsible for them. However, the company stressed that it did not install the kiosks themselves. They were allegedly already there, and the firm only installed the software that allows users to buy and sell BTC to three ATMs that it found on location.
With this intriguing development, many decided to visit LibertyX's site in order to see if there are any more Bitcoin ATMs at Tesla. This led to the discovery of a Bitcoin ATM in Tesla's Freemont Factory, which is currently only available for employees.
Musk has a History with Crypto
As mentioned, Tesla and SpaceX CEO, Elon Musk, has had a long relationship with the crypto industry, although he never actually invested or used cryptocurrency. At least, according to his official statements.
However, he often teased the crypto community on Twitter by openly referencing specific coins. 
More than that, his name often came up in crypto scams, where scammers used the crypto community's desire to see Musk take a more active role in the crypto world. This led to infamous YouTube giveaways using Musk's past speeches to make it look like he is promoting Bitcoin.
But, despite the scams, Musk remains a supporter of digital currencies. He called Bitcoin 'brilliant' at one point, and said that Dogecoin (DOGE) is his favorite cryptocurrency.
Also, he admitted that he still owns 0.25 BTC earlier this year, in May.
I still only own 0.25 Bitcoins btw

— Elon Musk (@elonmusk) May 15, 2020
It is also worth noting that Elon Musk himself addressed Teslarati's tweet regarding the claims that Tesla factories have BTC ATMs. Musk noted that he doesn't think that these rumors are accurate, which is likely what led Teslarati to delete the original tweet.
I don't think this is accurate

— Elon Musk (@elonmusk) October 12, 2020