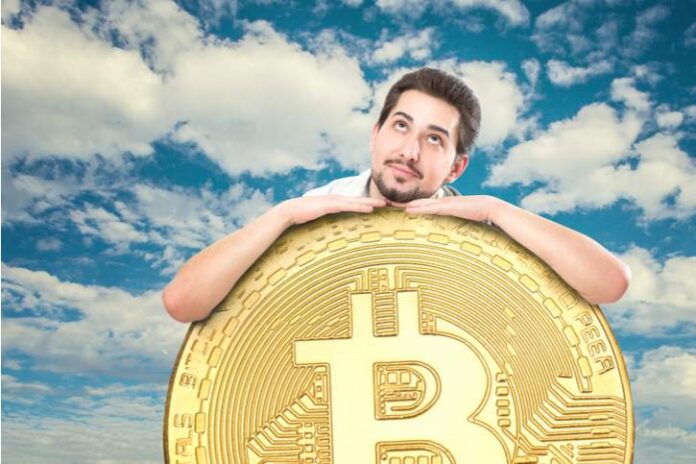 The 'Not giving away cryptos' Twitter accounts
On Twitter, it has been observed how some official accounts owned by certain people or companies have added to their profile names a disclaimer saying 'Not giving away cryptos' or Ether (ETH) or Bitcoin (BTC). Lately, a new method of fraud in this social network has surfaced where scammers create a Twitter account with a username very similar to the social network of official well-known accounts, with just one letter of difference or inverted, for the purpose of confusing users into believing they are the owners of those accounts. To prevent these scams, users of the most popular official accounts in the blockchain industry have placed this text in their profile names.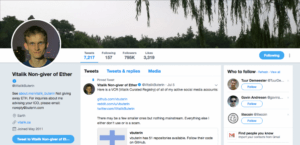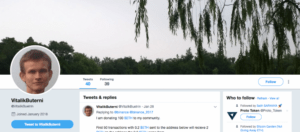 How do crypto giveaway scams work?
Scammers in the vast majority of cases make a publication in response to a tweet made by verified public figures related to the blockchain industry where they ask you to send them a number of cryptocurrencies and in return they send you a greater amount of cryptocurrencies, usually 10 times more than the amount of the initial contribution. The scammers try to legitimize the scam, place additionally consecutive tweets of alleged people of other fraudulent accounts which affirm that this offer is true and that they have received the promised funds very quickly. Most scams are requested in ETH or BTC.
As an example, we have a scam for an account who pretends to be Elon Musk in the month of February. On that occasion, 2,000 ETHs were promised to the first 285 followers who sent funds.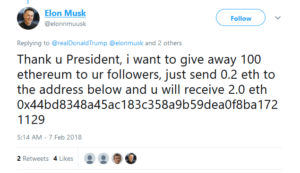 According to John Backus, founder of Bloom and Cognito, two blockchain-powered apps, these giveaway scams have made 8,148 ETH just from the funds sent to 468 Ethereum addresses.
💰 ETH giveaway scam stats:

💢 EtherScamDB lists 468 known addresses
📉 8,148 ETH ($4.9M) sent to scam addresses
💸 Someone sent 30 ETH (~$18k) to fake Erik Voorhees https://t.co/kjypOZfQBC

Even if part is fake activity, this is still easily a million dollar scam! pic.twitter.com/fqVu8kc6kO

— John Backus (@backus) June 9, 2018
Method to verify Ethereum accounts related to scams
There are simple methods to verify if an Ethereum address is related to scams. As an example we will use the address ETH '0x27F897EBeeD82240734489D52AA7e39a8cA257E9' which has been reported as being involved in scams:
Etherscan

: is the block explorer of the Ethereum network transactions. If the address above is placed in the search engine, an alert message can be seen in a red box which indicates that the Ethereum network has identified it in some type of fraud.

Etherscamdb

: is a website that offers updated information about active scams, phishing and Ethereum addresses related to scams. On this website, you can also place any Ethereum address, like the one above, to know the status.

Prevention is in our hands
To prevent scams on Twitter, users should note that an account is verified by the support of the social network and that the number of followers and date of creation of the account are not suspicious. However, this is not a secure method if the account has been taken by hackers. Do not respond to any direct message that asks for your personal data or private keys, since you may be a victim of phishing.
You should also be especially alert to those accounts that offer some kind of return in exchange for a small deposit of cryptocurrencies since it is very likely that it is a scam.