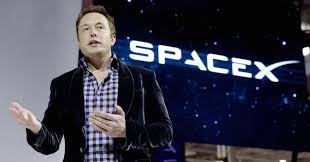 By Ali Qammar
We have seen several instances of fraud where the fans paid the price for following their favorite celeb. Once again, a similar incident took place on Twitter, whereby the fans of Elon Musk were scammed for their cryptocurrency.
Elon Musk fans risked their crypto-cash
In a recent tweet by Elon Musk's official SpaceX profile, the fans received some responses from an alleged Elon Musk account. The original tweet was related to the Falcon 9 launch. Indeed, everyone was enthralled by this grand event and the scammers took advantage of the thrilled ambiance to commit their fraud.
https://twitter.com/SpaceX/status/970892061250437120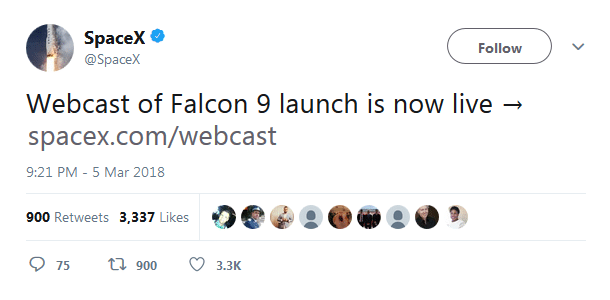 Right below the original tweet, a fake Elon Musk account appeared to reply, announcing a promotional giveaway of a lump sum of Ethereum to his fans to mark the special day.
To avail the offer, all his fans had to do was transfer about 0.4 to 0.5 ETH to the account's web address. In return, he offered to send back 5 to 40 Ethereum.
https://twitter.com/SpaceX/status/970892061250437120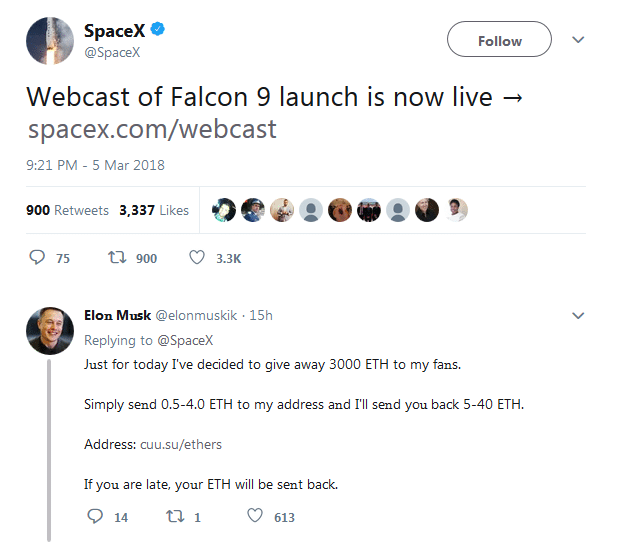 To add credibility to the offer, a few other accounts (probably bots) appeared to begin responding affirmatively. Their responses looked as if they really were rewarded for their invested crypto.
https://twitter.com/SpaceX/status/970892061250437120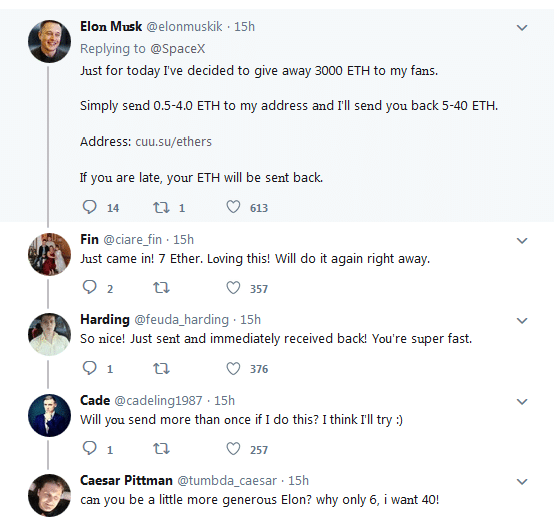 Of course, after viewing such apparently genuine responses, people began to believe the scenario and the scammers were somewhat successful in creating a foolproof plan.
The tweets are all there on the SpaceX official Twitter account. Ironically, Twitter has not deleted the fake accounts yet, not even the one claiming to be Musk's, so if you were lucky enough to miss those tweets earlier, you can now take a look and see what happened.
This crypto scam is not new
In the past, we have witnessed a plethora of such celebrity scams where fans were fooled or robbed. Recently, John McAfee tweeted about it when some scammers tried to use his name for a similar fraud, whereby his fake account invited his fans to invest in an ICO. One could see the rage of McAfee regarding these incidents.
https://twitter.com/officialmcafee/status/960102973769699328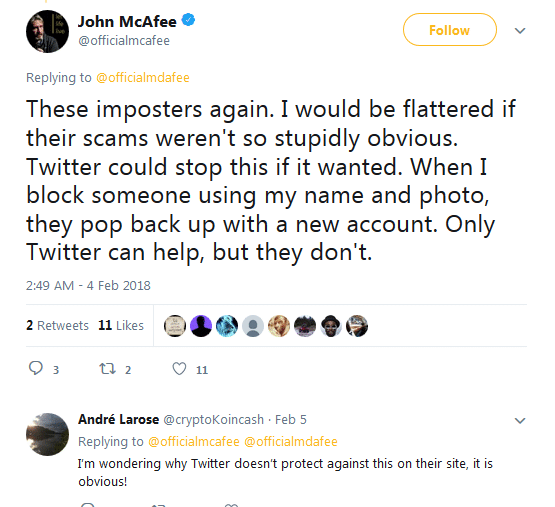 A similar scam took place on February 6th 2018; the scammers didn't spare Donald Trump either.
After facing several such frauds, Vitalik Buterin, the founder of Ethereum, was so frustrated that he eventually renamed his Twitter account. It now appears as Vitalik "No I'm not giving away ETH" Buterin. He even made a separate tweet regarding this.
https://twitter.com/VitalikButerin/status/970245720560123904
But the scammers were not done with annoying him; the creator of the new fake account was smart enough to adopt the new profile name as well!
Right below his status, another reply appeared like this.
https://twitter.com/ovyanomtol/status/970275544238624769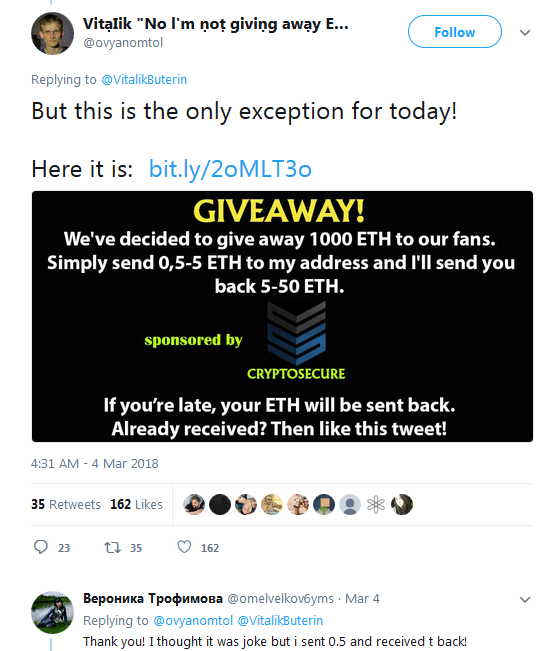 It is strange that Twitter has no specific regulations for such scams and is so reluctant to delete the fake accounts.
In such situations, it is imperative for everyone to know how to identify fake accounts.
How do the scammers dupe the celebrity fans?
Usually, such accounts named after a celebrity are not verified by Twitter, so you can clearly identify them to be dubious. Also, these accounts are new, with little to no fan following.
So, before being a victim of such fraud, it is better if you do a little research about your favorite celebrity's account, especially if they are giving you some tempting offers.
Who could be the next target?
Within a period of one month, we have witnessed two different incidents of crypto-cash scams exploiting Elon Musk's name. Since the launch of Falcon 9 has created so much hype among the masses, the scammers were smart enough to leverage this period for their own gain.
It is not likely that Musk's fans will be taken in by a similar scam once again, but one should not rule out other possibilities.
Since Bitcoin and cryptocurrencies are the talk of the time, offering cryptocash, particularly Ethereum and Bitcoin, is a wonderful temptation to con anyone.
If you see your favorite celebrity account inviting you to invest in an ICO, beware! You are probably being called upon by a scammer. Just remember, your celeb will never ask you to deposit money to his or her account, whether real or crypto cash. So, any such requirements in the promotional offers would be nothing but a scam.