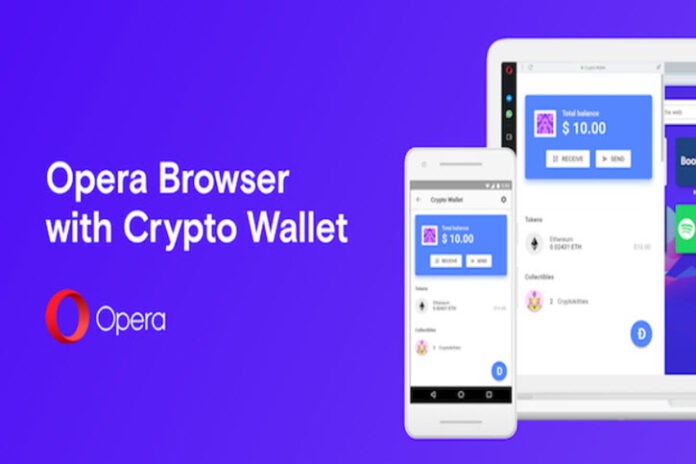 After its crypto wallet for Opera for Android turned out to be a huge success, the company behind the browser decided to bring the wallet functionality to its desktop version as well.
Opera's crypto wallet now available on desktop
According to Opera's press release published yesterday, August 8, the company will be adding a new functionality to its desktop version – a built-in wallet for cryptocurrencies. The wallet was previously only available for Android's version of Opera, where it has had a presence for almost a month.
After a strong interest in the wallet that was added to Opera for Android in July, Opera received a lot of positive feedback from the crypto community. Now, the desktop version of the browser will also receive this functionality, which can be enabled by connecting the desktop browser to the wallet through a scan of a simple QR code.
This has become Opera's main method for syncing mobile and desktop apps, and the company used it for years. One of the most popular examples of this is the method of connecting the messaging app, WhatsApp, with its web version.
New steps towards Web 3.0
By connecting the mobile version of the wallet to the desktop version of Opera, the users of the wallet will implement their phone's secure system lock and will be capable of signing transactions with their own fingerprints. This will effectively eliminate the need for adding passwords to the Opera browser. By doing so, the system will not only be more efficient but also much more secure, since it will eliminate the danger of password theft.
The wallet is already completely controlled by its user, and the keys are being stored on the customer's smartphone instead of some centralized server.
Just like the mobile version of the wallet, the desktop one will also support both tokens, as well as digital collectibles. Charles Hamel, Opera Crypto's product lead, stated that this browser integration marks the next step on the road to making Web 3.0 (and cryptos, by default) a mainstream occurrence.
This is not the first time that Opera is making a large contribution to the security of the browser when it comes to its crypto potential. At the beginning of the year, back in January, both web and mobile versions of Opera included a new anti-cryptojacking software.
Also, in June, there were rumors circling the internet regarding the popular crypto trading and brokerage app caller Robinhood. According to the rumors, Robinhood was to start offering its own crypto wallet functionality. The rumors came after the company behind the app posted a job advertisement in which they stated that they are looking for crypto engineers. This came as a hint of the company's future plans, and the possibility that they will investigate the wallet's infrastructure, and potentially develop their own wallet.