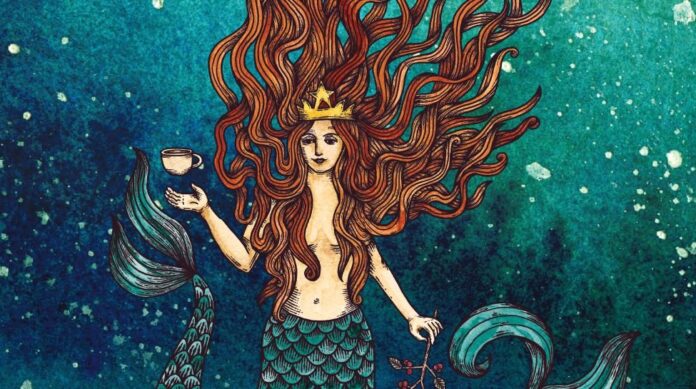 Key highlights:
The collection consisted of 2,000 unique NFTs that were priced at $100, just a few times more than Starbucks' core physical product, coffee.
The NFTs were sold on the Nifty Gateway marketplace and were inspired by the company's logo, the super mermaid.
Starbucks is also using blockchain technology to develop an advanced loyalty program called Odyssey, which aims to encourage the adoption of Web3 technologies and reward users for playing games, completing achievements, and buying coffee.
Starbucks, one of the largest coffee chains in the world, has now launched a paid collection after the free NFTs it released earlier received more attention than expected. The company, which runs an NFT project called Starbucks Odyssey, is developing an environment where users can earn rewards by playing games, completing achievements, and buying coffee.
Starbucks, one of the biggest companies in the world that place the most emphasis on Web3 functions, has used blockchain technology to design an advanced loyalty program. Odyssey is being tested by select users who only get a chance to join the whitelist by launching its beta version in December 2022.
The Siren Collection
The Siren Collection, consisting of 2,000 unique NFTs that Starbucks launched yesterday at the Nifty Gateway marketplace, sold out in just minutes. NFTs cost $100, and that's only a few times more than Starbucks' core physical product, coffee.
The launch of this collection and the rapid acquisition of all items by customers delighted the crypto community. Both retail users and Bank of America analysts consider this launch more holistic than in the past.
Starbucks aims to encourage the Web3 community with better bonuses and rewards in the future. What role these NFTs will play in the Odyssey ecosystem is not yet clear, but it is clear that NFTs are increasing in adoption.
The unique NFTs in the collection was inspired by the super mermaid, which is the brand's logo as Starbucks calls it. Starbucks previously distributed a collection of 5,000 NFTs called Holiday Cheer to users for free. Unfortunately, there is still no definite advantage to having these NFTs. But Starbucks had signaled that NFT holders would be able to attend future trips and training free of charge.
All NFTs in the collection were sold in a total of 18 minutes, despite the website crashing for a few minutes, rendering it inaccessible. As of today, the floor price of the collection is $384. 1,167 people own an NFT from the new collection
Starbucks Builds a Bridge to Web3
Starbucks is also targeting users who are not crypto-related or unfamiliar with Web3 technologies. Choosing the Nifty Gateway NFT market for this purpose, Starbucks paves the way for users to own an NFT without having a Web3 wallet or having to write down a private key.
While this is against the logic of self-custody, it is a step that increases adoption and facilitates the transition to Web3 technologies. However, the number of users who actively use Odyssey in the beta version is relatively low. In fact, the vast majority of Starbucks customers are not even aware that there is a project called Odyssey. This is because Starbucks pays little attention to promoting the Odyssey in physical stores.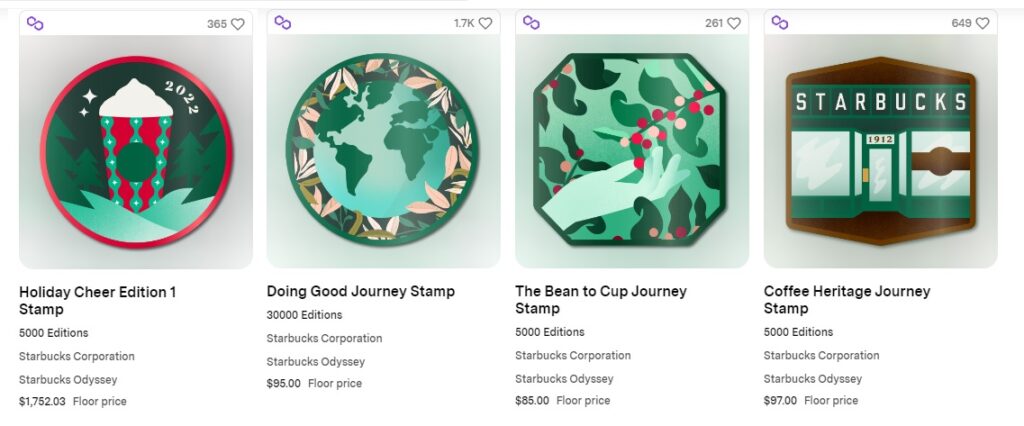 Collectible Free NFTs
Starbucks defined certain in-app achievements after launching the beta version of Odyssey in December 2022. Users who achieved achievements by completing these challenges received four Polygon-based NFTs for free. Completing achievements required ordering coffee and desserts from Starbucks, completing trivia contests, and purchasing Starbucks gift cards.
Hundreds of NFTs in the Holiday Cheer NFT collection have found buyers for $1,000 and above. The total trading volume of NFTs traded on Nifty Gateway has approached $225k.
Starbucks, on the other hand, calls these collectibles "Stamps" rather than NFTs. The reason behind this nomenclature is thought to be the uncertainty of regulations.