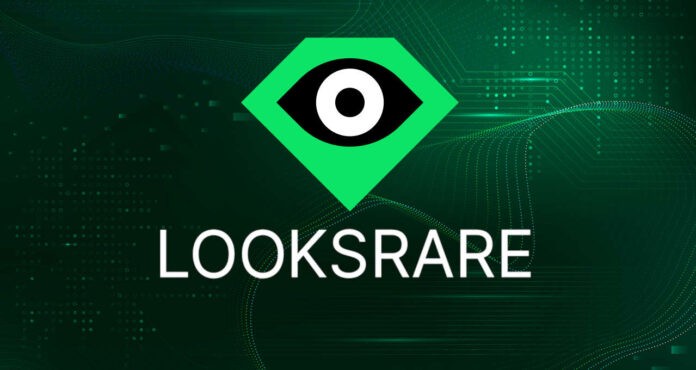 The new NFT marketplace LooksRare has launched with an airdrop to OpenSea users who traded NFTs for a total volume of at least 3 ETH.
#LooksRare NFT Marketplace Now Live!

🪂 $LOOKS airdrop claim open
⏰ Staking starts at block 13977012
💰 Trading reward calculations start tomorrow

LFG! 💎👀https://t.co/Y1jt9Kmqt6

— LooksRare.eth (@LooksRare) January 10, 2022
Beating out OpenSea on Airdrop
The LOOKS airdrop rewards OpenSea users based on their prior trading volume of the NFT marketplace, accumulated over all trades that used ETH, WETH, USDC, DAI, SAND, GALA, or MANA as settlement currency. 
The lowest tier for users with a trading volume between 3 and 6 ETH rewards 125 LOOKS and the highest tier for users with a trading volume higher than 1,000 ETH rewards 10,000 LOOKS. At the time of writing, LOOKS trades for 2.09 USD. 
It is rumored that OpenSea will launch a token and conduct an airdrop itself to its numerous users, but so far, no official plans for an OpenSea airdrop have been revealed. On the past year's Christmas day, The Open DAO also launched with a remote retroactive airdrop to OpenSea users. 
LooksRare's tokenomics
Besides claiming LOOKS tokens in the airdrop or acquiring them on the secondary market, NFT traders on the LooksRare marketplace can also earn tokens in reward. Additionally, there is a staking program, which rewards LOOKS and WETH, and a liquidity mining program that rewards LOOKS for locking up LOOKS-ETH LP tokens on Uniswap.
At the time of writing, LooksRare's website estimates an APR of 964% for staking and 1,003% for liquidity provision. At its current valuation, LOOKS has a market cap of just under 70 million USD.