Bitmain, the leading company of cryptocurrency mining, announced on August 23rd, 2018 that it will begin to conduct a Real-name Authentication campaign (Know Your Customer or KYC) of all its registered users starting August 24th, 2018.
In the publication, Bitmain told its users that the authentication process needed to be completed as soon as possible, otherwise purchasing new ASICs may be restricted or blocked. The company explains that this process is due to regulatory compliance requirements in which they must now collect personal information for the purpose of identity authentication.
"The information collected is confidential and will not be disclosed by us to unauthorized third parties without your consent, except when required for the purposes of meeting government, legal or other regulatory requirements."
After verification, users can make unlimited purchases and payments. The only exception is for Chinese residents, who will be able to make purchases of Bitmain products without verified accounts but only up to ¥300,000 (approximately $44,000). The statement says that the authentication process will begin immediately after the user sends the data through the official Bitmain website and that once the authentication of information is verified, users will be notified by email. Unfortunately, Bitmain did not mention an estimated time of response for the authentication process.


Authentication process
The verification process is very simple and easier than the Crypto-Exchange KYC process, taking less than 5 minutes. The steps are the following:
Log in to your

Bitmain account

On the Menu, click on "Authenticate"

Fill in the form with the following information: name, surname (as shown on your ID), ID number and address. Information must be in English (no special characters allowed). You can use your passport as an ID

Attach your ID or passport. Remember that the document must include your photo (updated)

Click on submit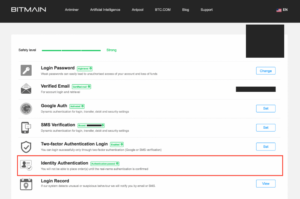 Reasons why Bitmain is now including a KYC process
Bitmain is the leader in the cryptocurrency mining industry and recently announced an $18 billion IPO. This process of KYC will lead to Bitmain complying with the regulations imposed by their origin country, in addition to avoiding false accounts whereby people take advantage of buying equipment through the use of multiple accounts when they are limited in quantity per user in times of high demand. Additionally, it will allow Bitmain to construct an extensive client list so they can target audiences with specific products, optimizing sales.