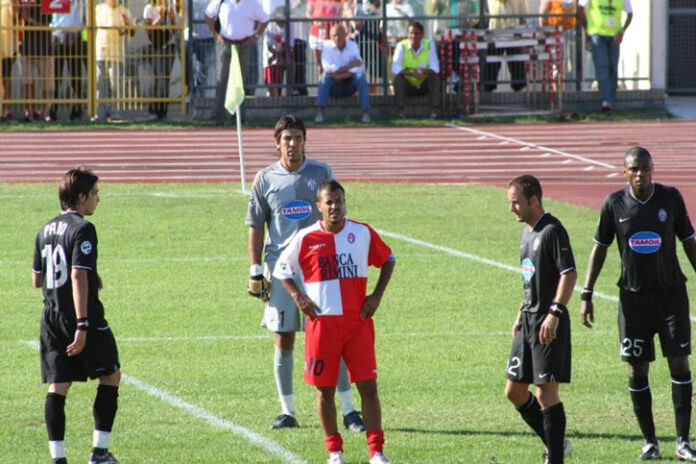 A football club in Italy going by the name of Rimini, which plays in this country's Series C division, has agreed to sell some of its shares for cryptocurrency.
Buying a football club with cryptos
Crypto adoption continues on its way to the mainstream with the recent purchase of shares of an Italian football club called Rimini. This marks the first time in the history of both football and cryptos that this has occurred.
A portion of the club's shares is now owned by Heritage Sports Holdings, which focuses on sports investments. The company originates from UAE (United Arab Emirates), and the initial rumors claimed that they purchased the shares via Bitcoin. This information was since proven to be false, the company actually used Quantocoin (QTC) for making a purchase.
QTC is a cryptocurrency from Gibraltar and the company used it to purchase about a quarter of the club's shares. The project and the company share the same partner, Pablo V. Dana.
The announcement of the purchase was originally given by Giorgio Grassi, the club's president. He said that the negotiations with the company were ongoing for several months and that HSH will try to bring new technological and brand-related ideas to both the team and the city. He also said that the company is innovative, which can be seen in their use of crypto and blockchain technologies.
This is a very important development for Rimini and cryptos alike. It might finally help Rimini get back on its feet, especially after all the troubles that the club has seen throughout its history. Multiple board members left, there were bankruptcy issues, and the club left and returned to the playing field on three different occasions.
Football continues on its way to crypto adoption
As the popularity and general adoption of cryptos increase around the world, football continues to be one of the few areas that are approaching the trend with extra enthusiasm. Famous and former players have either launched their own coin or become strong supporters of an existing crypto. This includes famous names like Carles Puyol, Andres Iniesta, and even Ronaldinho.
The recent FIFA World Cup in Russia also saw numerous hotels allowing football fans to pay for their stay via Bitcoin.
Interestingly enough, just accepting cryptocurrencies is not the end of how this industry can benefit from the new technologies. It is believed that the use of blockchain technology can even improve the sport's struggle against corruption. Recently, some big names in UEFA and FIFA were forced to resign after being accused of corruption and bribery. Through the transparency of the blockchain, corruption will become untenable, making the sport clean again.