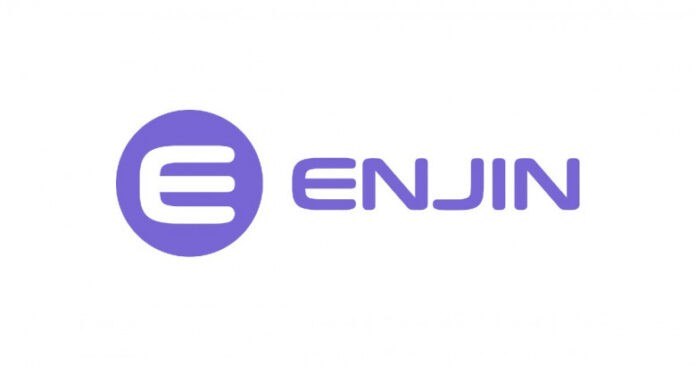 Just yesterday, the "Technoking" of Tesla (formerly CEO of Tesla) Elon Musk surprised the world by writing a song and planning to sell it as an NFT. Today, street performer and freestyle dancer Snap Boogie released the first dance NFT, which will be used in Enjin's gaming multiverse.
The first NFT in the BITS collection is Speedy Walkovers, a timeless dance move that has been performed at NBA halftime shows.

The owner of this token can unlock @snapboogie's signature movements & flavor in @AlterVerseGame, a PC & VR-compatible game.https://t.co/lx3rcJx2uw pic.twitter.com/nVv8uT7pjx

— Enjin I We're Hiring 🙌 (@enjin) March 16, 2021
Emoji to be Implemented in Alterverse
The NFT is currently up for auction on OpenSea. Its description states:
The Speedy Walkovers are a versatile and timeless dance move performed by Americas Got Talent finalist Snap Boogie. They can be executed in all spaces, grasping the attention of any audience. These quick, classy, and repetitive movements display agility and confidence upon the character who owns them.
The NFT is unique meaning that only one player will be able to execute the Speedy Walkovers. The Emoji will be first implemented by Alterverse, which is a space-themed environment for competitive action games. Since Enjin's ecosystem is aimed at creating a gaming multiverse where NFTs can be transferred from one game or another, it is possible that other game projects within the multiverse may adopt the NFT as well.
Cjaiilon Andrade, who goes by the showbiz name Snap Boogie, also wants to share his passion with other street performers. For this reason, he has founded the project Beauty in the Streets, which helps performers turn their dance moves into digital art.
Enjin Coin Goes to the Moon
Alex Saunders, founder, and CEO of NuggetNews congratulates Enjin Coin for becoming another crypto asset with a 100-fold increase in value:
"This is probably the coin I am most bullish on as we head into 2020. The blockchain gaming space is going to be huge & the tokenomics of $ENJ are fantastic."

Pounding the table since 3c, today @enjin joins our list of research based investments to hit 100x return. 🤓📚🎓 pic.twitter.com/ejp9MdbUAD

— Alex Saunders 🇦🇺👨‍🔬 (@AlexSaundersAU) March 16, 2021
While this holds true for the first known exchange price of the ENJ token, the returns for ICO investors were slightly smaller. Enjin Coin launched through a 2017 ICO at a price of 0.000166 ETH per token, which amounted to about $0.05 at the start date. At the time of writing, ENJ is traded for $2.36, which makes it a 47-fold return judging on the Dollar and an 8-fold return on the ETH.
Still, this is very impressive, but the price may be highly volatile since a sudden price jump at the start of March. To say that the price went parabolic would be an understatement, starting off from $0.58 on March 1st, making this a 4-fold increase in just 17 days.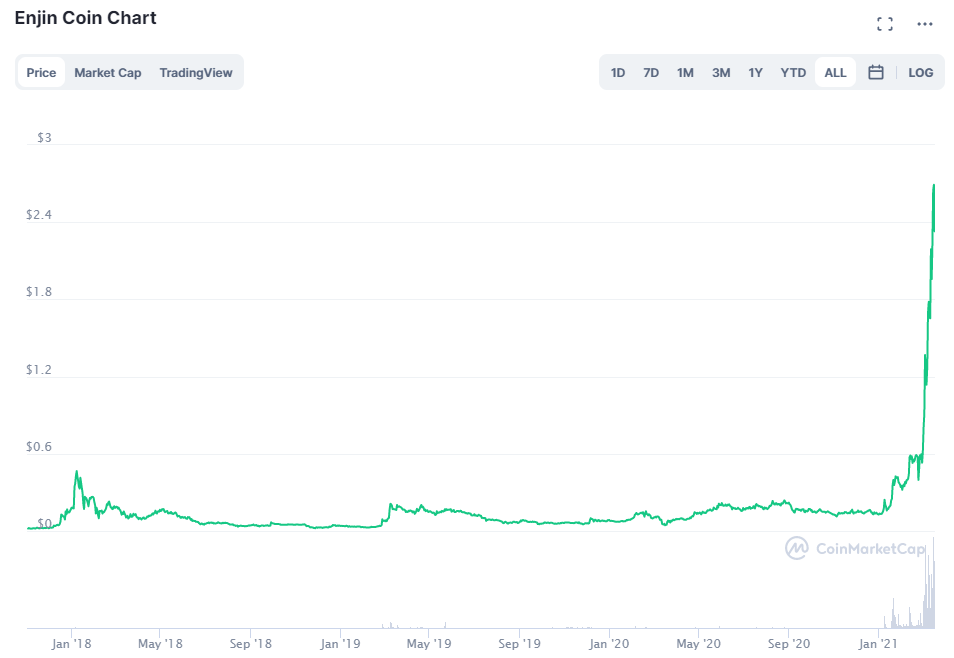 With almost 2 billion USD, ENJ is now ranked in 53rd place among all tokens listed on CoinMarketCap. Historically, the ranking of ENJ was highly volatile, reaching up to the low 50s at some points in 2020, but then falling to the 80s and often below 100 again, so the current high market cap may not be warranted.