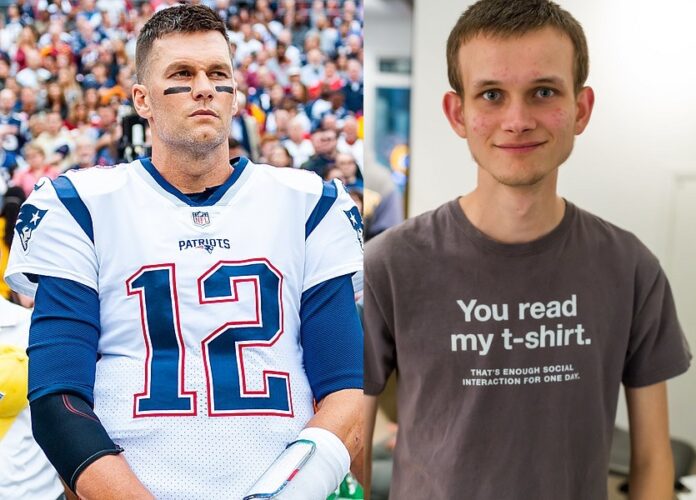 The G.O.A.T. of Ethereum has been likened to the G.O.A.T. of American Football, but not in the way you think.
The quote tweets on the new time article about me are truly amazing.

These are barely even cherry picked, it's pretty much one piece of awesome after another. Highly recommend scrolling. https://t.co/teyd3ROqrT pic.twitter.com/BDzbwvekhw

— vitalik.eth (@VitalikButerin) March 18, 2022
It began with a Time Magazine article
On Friday, Time Magazine reporter Andrew Chow published an article about his experience at ETHDenver. Chow also got the chance for an exclusive interview with the eccentric Ethereum co-founder Vitalik Buterin. 
While Buterin is likely the most influential person in the crypto industry, he is known to be a somewhat controversial figure. At ETHDenver, he advised projects and companies that worry about the environmental impact, to delay using Ethereum until the merge is completed, even if it "gets delayed until 2025". 
The wait could be finally over soon, though. Also at ETHDenver, Ethereum Researcher Danny Ryan expressed confidence that the merge will happen within the next six months. Earlier this month, the temporary Kiln testnet successfully switched to a pure Proof-of-Stake consensus. 
But not everything is all sunshine and roses for Ethereum, according to Buterin. In the interview, he stated that "crypto itself has a lot of dystopian potential if implemented wrong":
If we don't exercise our voice, the only things that get built are the things that are immediately profitable. And those are often far from what's actually the best for the world.
Buterin is especially critical of governance voting, which he called "a dystopia I've been seeing unfolding over the last few years", fearing that it will lead to a new form of plutocracy.
"Like Tom Brady on dog food"
After the article was published, Buterin, who Chow described as "a wiry man with elfin features", drew a lot of hatred on Twitter. Most of the hate comments revolved around his lanky stature.
Several people actually likened Buterin to an extremely slimmed-down copy of NFL star quarterback Tom Brady. One of the hecklers stated that Buterin looks like "Tom Brady with the reverse Captain America super-soldier serum". Another one speculated that this is what Brady would look like if he did meth. 
Buterin laughed the comments away, though. Apparently not a football fan himself, he stated that he didn't even know who Tom Brady was, thinking he was the lead actor in Mission Impossible.
During his 20-year-long career at the New England Patriots, Brady, often referred to as the Greatest Of All Time (G.O.A.T.), led his team to the NFL championship six times. In 2021, he won yet another Super Bowl ring playing for the Tampa Bay Buccaneers. Via Twitter, Brady expressed his admiration for Buterin's work, hoping that he'll get to meet him someday and garnishing his Tweet with a goat emoji:
You may not know me but just wanted to say I'm a big fan of yours. Thank you for everything you've built in the world of crypto, otherwise Autograph wouldn't have been possible.
The NFT platform Autograph was co-founded by Brady in August 2021. In January 2022, Autograph closed a Series B funding round for 170 million USD.