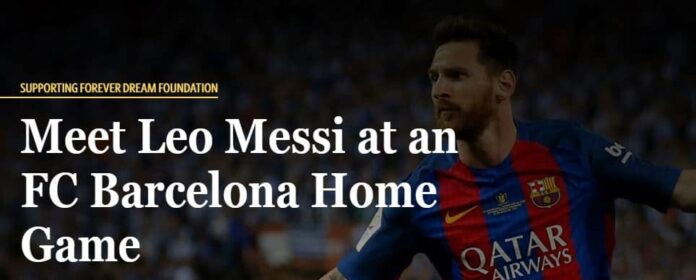 CharityStars, the online fundraising auction platform, has announced it will start to accept bids in both of the major cryptocurrencies of bitcoin and ethereum.
The announcement made on 23 October 2017 follows confirmation from CharityStars that a bid of 36,000 US dollars worth of bitcoin won a recent auction to meet and greet footballer Cristiano Ronaldo at an upcoming Real Madrid game.
Francesco Nazari Fusetti, co-founder and CEO of CharityStars, said: "The adoption of cryptocurrencies, along with the freedom to bid on once in a lifetime opportunities, provides a new and exciting avenue for charities and brings traditional fundraising to the 21st century."
Headquartered in Los Angeles, CharityStars auctions luxury experiences or products through its online platform with proceeds going to the partner charities. The platform was founded in 2013 and since then over 9 million US dollars have been raised to support over 450 charities including Unicef and Save the Children.
Enjoy a private, one-on-one meet and greet with Argentinian megastar, #LeoMessi: https://t.co/o67bhUnNDo #LionelMessi #FCBarcelona pic.twitter.com/myFyjyqMu1

— CharityStars (@CharityStars) October 20, 2017
Current auctions include a guitar signed by Jason Mraz and separate meet and greets with Leo Messi and Valentino Rossi. The platform recently auctioned the opportunity to make a business pitch to the founder of Candy Crush, Riccardo Zacconi. The platform has previously worked with international celebrities including Vivienne Westwood, Metallica, Valentino Rossi, Jessie J, Novak Djokovic and Eva Longoria.
The proceeds from the auction of the Ronaldo meet and greet will be donated to the Forever Dream Foundation, an organisation that provides unique experiences to disadvantaged children and families.
"The opportunity to use cryptocurrencies for the force of good, such as this donation to the Forever Dream Foundation, should be celebrated and shared industry-wide. This is just the first step on our innovative journey to bridge charity with cryptocurrency, and we look forward to the many more milestones to come," said Fusetti.
Take home items from @TheRealGrimmie's personal collection! Proceeds will benefit the #ChristinaGrimmieFoundation: https://t.co/P9ZytQcxtR pic.twitter.com/YBWjsIHngV

— CharityStars (@CharityStars) October 23, 2017
CharityStars also plans to integrate blockchain technology into its platform allowing for increased transparency and improving the speed of the platform's technology infrastructure. Registered users of the platform who wish to pay in bitcoin or ethereum will be required to indicate this at the time of placing their bid. For more information, visit www.charitystars.com
https://www.instagram.com/p/BZ6bUbaHpnz/?taken-by=charitystars