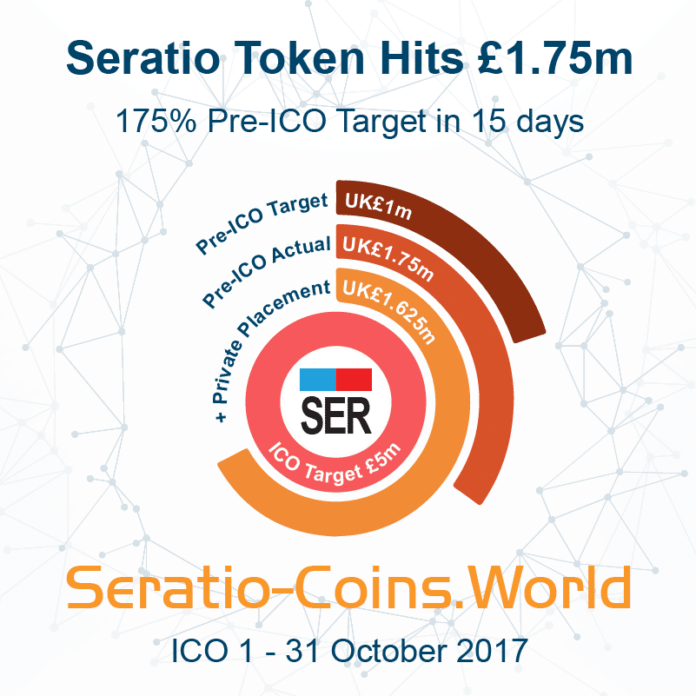 Every now and again, a concept arises that grabs your attention right away, and doesn't let go until you delve further into it. Seratio's ICO and Personal Value proposition is one of these attention-grabbing abstractions.
There are plenty of ICOs out there right now, each with their own roadmap and unique selling points. Some of these ICOs will undoubtedly fail, and just as certain, some others will prevail. Only time and investors will decide which side of the fence an ICO stands on.
This piece is a full disclosure, a statement of facts without any intention of advice or endorsement about the Seratio ICO and its Personal Value offering.
Seratio: A brief history
Seratio has recently entered an increasingly competitive market. Hailing from the British Isles, the company is the first UK-based ICO. And more importantly, Seratio is the very first ICO to offer the possibility of both financial and non-financial value to be recorded and transacted through blockchain technology.
Seratio offers an intriguing combination of 'typical' ICO plus a proposition of transacting intangible values, and transforming this intangibility into a measurable outcome. More on this later.
The Seratio Token
https://www.youtube.com/watch?v=8Itw6t1icfU
Seratio's lifeblood is the Seratio token. Based on the ERC-20 Token Standard, it is written in Solidity and JavaScript, utilizing Truffle and OpenZeppelin libraries. The token provides the same features as Ethereum in terms of asset transmission capability which is common to most cryptocurrencies.
But the Seratio token holds a valuable ace up its sleeve, one that will make it unique to other similar currencies.
This exclusive feature, which has not yet been implemented, will enable the Seratio token to trade in non-financial values also. The goal of this is to create an economy where both financial- and non-financial values (or a combination of both) are possible.
This can be achieved in three different ways:
Attribute Information, non-Financial Preferences – The Seratio Wallet allows for the setting of Non-Financial Preferences (NFPs), which are stored on the Seratio Platform. These preferences can then be enacted through a smart contract.
Microshare Transactions – The Microshare is a token that represents non-financial values. This token can be earned through volunteering, social credits, providing care, and many other non-financial enterprises. Microshares can (optionally) be transacted through the Seratio platform.
Seratio SDG Family Brand – One of Seratio's key goals is the recognition of both financial and non-financial value in a given transaction. The company aims to create an ecosystem where Seratio-branded tokens represent all communities, creating a new Family Brand that encompasses all markets.
Seratio ICO KEYNOTE at #Swiss #Cryptovalley 'Blockchain and Social Impact' event in #Zug – https://t.co/q3TecCd0yS | https://t.co/Uxq8UfFMeg pic.twitter.com/ybM6vHoVLe

— SERatio (@theSERatio) October 13, 2017
The Seratio token is:
A reward token system for recognition
An instrument to distribute the intangible value of an organisation to its supporters and volunteers
A tool to enable microshare participation
The Seratio ICO
The Seratio ICO is currently live. It commenced on October 1, 2017, and will end on October 31, 2017.
Seratio tokens will be issued to Seratio Wallets on January 31, 2018. These tokens will be tradeable from that date.
Personal and Non-Financial Value
The Seratio value proposition includes the tradeability of non-financial values. According to this proposition, the Total Value of a given concept is not just measured by its financial tangibility. Abstract concepts like love and kindness, for example, also have value, albeit not a financial one.
Seratio states the following equation:
Total Value= Tangible Financial Value + Intangible Non-Financial Value
Thus far, no other organisation has ever undertaken to measure the Total Value of a concept, let alone become a tradeable commodity. This is partly because of the perceived difficulty in objectively measuring and quantifying such Total Value. No agreed or reliable standard exists on how to perform such tasks.
In Seratio's view, blockchain technology has enabled the accurate and objective measurement of a concept's Total Value, not just its financial one.
The system aims to capture and trade the Total Value of projects, processes, and even people, and turn it into a tradeable commodity, via Seratio blockchain.
The central premise of the Seratio blockchain is all transactions have a value, both in terms of financial tangibility and non-financial components.
Conclusion
Seratio's unique value proposition certainly makes it stand out from the 'traditional' ICO market, chiefly because of the enigmatic Total Value proposition.
Such concept, while not new, can only be put to a practical test now, thanks to the advent of blockchain technology.
Seratio goes one step further, as it attempts to measure a person's Personal Value, which is an intriguing idea to say the least.