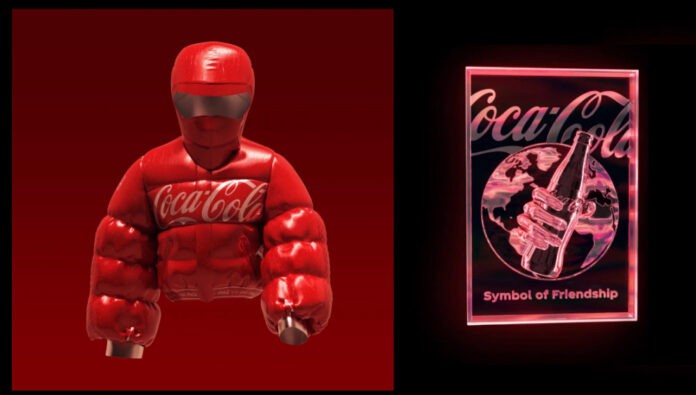 The popular soft drink manufacturer Coca-Cola will release their first NFT Collection on July 30.
Introducing the first-ever Coca-Cola NFTs! To celebrate International Friendship Day, we'll be donating all proceeds to our longtime friend and partner @SpecialOlympics. Check them out on @opensea. #NFTCommunity #OpenSeaNFThttps://t.co/SIJ0HnNfdu pic.twitter.com/Rusj2UJuE6

— Coca-Cola (@CocaCola) July 28, 2021
Coca-Cola NFTs are compatible with virtual worlds
According to Coca-Cola's Global Trademark President Selman Careaga, the NFTs were designed to be functional in virtual blockchain-based worlds such as Decentraland. The collection contains four unique in-world items: a wearable jacket, a retro-style bottle fridge, a friendship card, and a sound visualizer. The four NFTs can be previewed on the official NFT drop website.
Careaga commented on the NFT Collection, which was created in cooperation with digital designer Tafi:
Each NFT was created to celebrate elements that are core to the Coca-Cola brand, reinterpreted for a virtual world in new and exciting ways. We are excited to share our first NFTs with the metaverse.
Proceeds will be donated to Special Olympics International
So far, Coca-Cola has not announced an opening bid yet. Bidding will be available from July 30 for a period of three days via the NFT marketplace OpenSea in a lootbox-style NFT drop. In addition to the digital artwork and in-world functionality, the NFT boxes also contain unique surprises that will be revealed once the lootbox is opened.
According to Coca-Cola, all proceeds of the auction will go to Special Olympics International. The non-profit organization and organizer of the semi-annual Special Olympics World Games is dedicated towards ending discrimination against people with intellectual disabilities.