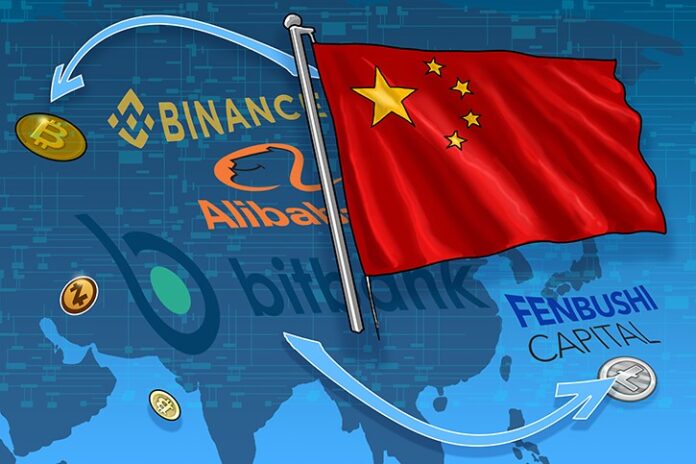 Can you be anti-cryptocurrency and pro-blockchain at the same time? For most of the world, the two are intertwined, and while everyone has heard of Bitcoin, far fewer are aware of the technology that underpins it. It is understandable, then, that when China clamped down on Crytpo trading last year, one might have assumed that blockchain entrepreneurs would be packing their bags for Singapore, or one of the other Asian blockchain hubs, to continue their innovations.
Not so, it seems, because the Chinese government has made blockchain central to its medium-term plans. Businesses in China are alive to the fact that blockchain is more than just a market for speculators. The technology itself has a transformative power that has yet to be realized, as the world falls over itself investing in ICOs with tokens of dubious value. The next phase for blockchain will be in China, where mainstream businesses such as Alibaba are using the technology to streamline its services, cut costs and eliminate fraud. Below you will find a list of just a few of the many people in China and Taiwan who are at the heart of this fourth industrial revolution.
Changpeng Zhao (CZ) – CEO Binance
At the beginning of 2018 reports circulated that Binance was the fastest-growing startup in history. It was valued at over $1 million within six months of its launch, an extraordinary achievement by any standard. But early 2018 was an epoch ago in crypto terms, and since then CZ has moved Binance from Hong Kong to Japan and, with Japanese regulators sharpening their knives, looks set to bring Binance to Malta. To make matters worse, Binance was the victim of a phishing attack in March 2018, which shook the market when it was reported as a hack (some point the finger of blame at the Chinese State itself). But CZ is optimistic (he just burned the equivalent of $30 million in BNB) and has been making friends with the Maltese government on Twitter.
Chandler Guo – Bitbank, Bitcoin Miner
Guo, the founder of Bitbank, is something of an enigma. One of China's leading Bitcoin miners, he tried and failed to pool together miners behind the Bitcoin Unlimited fork in 2016, then announced a Bitcoin God fork just in time for Christmas 2017. He attacked the Ethereum fork of 2016 and has been critical of Ethereum founder Vitalik Buterin for making changes that were roundly seen as necessary to solve ETH's scaling problems. Meanwhile he has been throwing his weight behind Mobios. He is certainly visible, popping up on BBC, Bloomberg, and was heard bemoaning the decrease in value of his one thousand Bitcoins on CNBC back in 2013!
Desmond Marshall – MD APAC, The Floor
Marshall is the APAC managing director for The Floor. which is in the forefront of blockchain technology development shaping the bank and financial industry of the future. Together with Marshall's active background in the fintech/blockchain/VC world, his experience as one of the world's top blockchain voices, both as an investor and global advisor, he is constantly in demand for appearances in public speaking, Chinese media reporting, or advice seeking by international entities. Marshall is also the founder of Rouge Ventures and Pitch Perfect Event, one of Asia's leading investor platforms.
Mia Tam aka The Block and Chain – China Insider, Trader
Mia Tam is the real name of the Block and Chain, a Twitter handle that has over 14,000 followers (not bad considering she joined in January 2018). She is a key influencer on Chinese blockchain trends and enjoys posting videos of herself enjoying the lifestyle that clever investing allows her to lead.
Jason Hung – Entrepreneur, ICO Advisor, Blockchain Expert
Jason is usually in the top 10 of ICO Bench's Top People of Bitcoin (currently he is in sixth place) and it is hardly surprising. He has advised on over 25 ICOs, has registered 9 technology-related patents, and he is the co-founder of Treascovery, Chidopi and TimeBox. He is one of the most prolific experts on ICO Bench and seems to actually read all those whitepapers. The influence he has through this alone could probably make or break an ICO.
James Lloyd – Speaker, Asia-Pacific Fintech Leader-EY

James is originally from Dublin but has spent the past five years in Hong Kong where he is Ernst and Young's Asia-Pacific fintech leader. With almost a quarter of a million followers on LinkedIn, James is among the most influential people working in fintech. He sits on the Financial Services Development Council and is a regular at tech events throughout the region.
Alex Medana – CEO FinFabrik
FinFabrik develops technological solutions for the financial sector and Medana is at the forefront of AI fintech software development, believed to be the next wave in financial services. While his background is in brokerage, Medana was also the CEO of WIP solutions and sits on the board of the Fintech Association of Hong Kong.
Bo Shen – Founder/Manager Fenbushi Capital
Fenbushi Capital is the first venture capital firm dealing exclusively with blockchain-enabled companies. Shen also co-founded Invictus, the team that brought the world Bitshares.
Leonhard Weese – President of the Bitcoin Association of Hong Kong
As President of the Bitcoin Association of Hong Kong, Weese is at the heart of the blockchain revolution in East Asia. He is a mentor with Supercharger Fintech Accelerator, advising fintech startups and helping the next generation of fintech companies find the right strategies to succeed.
Simon Choi – Fintech and ICO lawyer
Professor Choi is China's leading fintech and ICO lawyer, founder of Acme Ardent and well known through his blog "Simon Says". Choi is a trusted industry speaker when he is not ensuring industry compliance with the laws of various jurisdictions in Asia and beyond.
Jack Ma – Founder of Alibaba
Jack Ma is one of China's wealthiest businessman and his Alibaba empire has patented more blockchain-related products in recent years than any other company. Reflecting the Chinese government's pro-blockchain but anti-cryptocurrency stance, Alibaba established the first blockchain industrial zone in Hangzhou. Its logistics subsidiary, Lynx International, recently announced that it had successfully trialed blockchain usage, citing smart contracts as the big attraction in cutting down on red tape, creating transparency and cutting costs. Alibaba itself is now using blockchain in its fight against counterfeit goods.