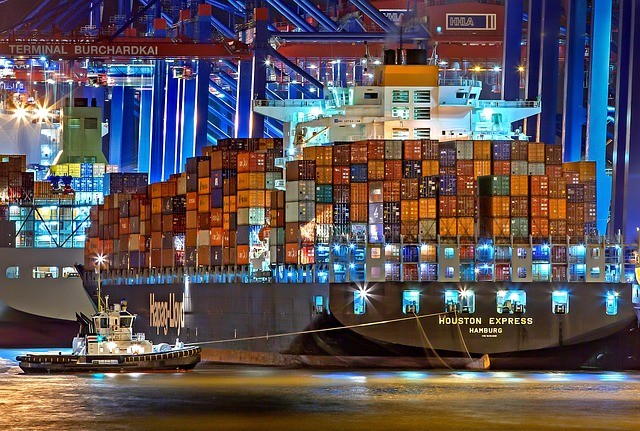 Blockchain technology has proven to be quite helpful in different sectors, especially when it comes to supply chain and logistics processes. This is why a while back, IBM and Maersk developed a join blockchain shipping platform by the name of TradeLens. According to Reuters, two of the biggest global shipping firms, Mediterranean Shipping Co (MSC) and CMA CGM, have signed up to begin using the platform. These two companies join other major carriers such as Zim Integrated Shipping Services, Asia's Pacific International Lines (PIL), and Maersk subsidiary Hamburg Süd. The platform also has over 100 supply chain operators, port authorities, cargo owners and my others contributing to the service.
TradeLens aims to reduce paperwork, costs and time associated with the shipping process. The platform will allow both parties to track about 50% of all cargo shipped by sea using distributed ledger technology (DLT). In the past, shipping firms had to account everything on paper, losing time and money. Thanks to blockchain technology, TradeLens allows for easier tracking of containers, control of temperature and tracking of weight.
Blockchain seems to be the future when it comes to supply chain and logistics companies, with a recent meeting at the World Economic Forum that gathered over 100 of the most important companies in those sectors. At the meeting, participants agreed on standardizing blockchain apps in the industry to improve existing services in both companies and governments.
The involvement of these two companies goes beyond simply using the platform. As reported, CMA CGM and MSC will also operate a blockchain node on the Hyperledger Fabric and participate in consensus to validate transactions. Basically, carriers will act as validators for the network in the process. Additionally, both companies will be on the TradeLens Advisory Board to promote the neutrality of the platform.
When commenting on the news, Rodolphe Saade, CMA CGM's chairman and chief executive, said:
The fact that we are joining forces and creating a standard in the industry is much more powerful
As for MSC, André Simha, chief digital & information officer at MSC, also commented saying:
Digital collaboration is key to the evolution of the container shipping industry