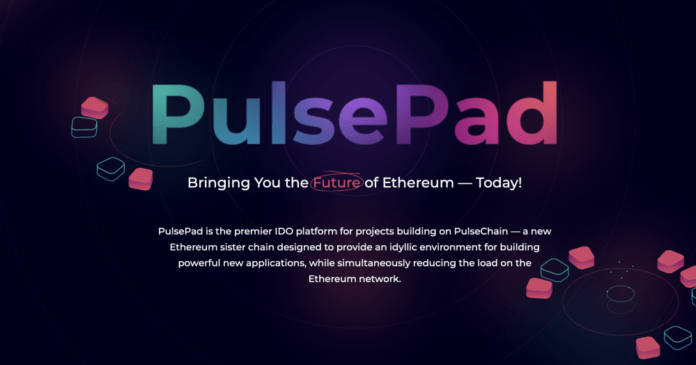 PulsePad, the first-ever IDO platform dedicated to projects building on PulseChain, completed its Initial DEX Offering on 10 Nov 2021 to a massive reception.
The IDO was held on BSCPAD, ETHPAD, KCCPAD, TRONPAD, ADAPAD, and VELASPAD at $0.001 USD per $PLSPAD. The token soon took flight, and is currently listed on DEXs at $0.3036. The trading volume since launching a few hours back is $41,496,446.31. The market cap has grown from a mere $170,000 at the time of listing to $42,824,288.22 at the time of publishing the article.
📊 #PULSEPAD is now trending on @Uniswap @DEXToolsApp 📊 ⭐️

HIT THE REFRESH BUTTON! ❇️

Thumbs up👍

View the chart here ➡️https://t.co/yw4aF0QH1D pic.twitter.com/EJoTosc3ee

— PulsePad (@PulsePad_App) November 10, 2021
PulseChain has been drawing traction as an Ethereum sister chain that offers a robust infrastructure for developing dApps, while also bringing down the load on Ethereum. The validator-based consensus mechanism, efficient virtual machine, and fee-based burn solution give it the competitive edge. PulsePad expects to nurture growth on the PulseChain ecosystem by listing potential projects building on the network.
Set apart by deflationary tokenomics
$PLSPAD tokens are deflationary. The token supply will shrink over time as 10% fee charged on all $PLSPAD sales and up to 25% burn fee on early unstakers. PulsePad also requires listed projects to adhere to this burn token mechanism, which they can do by buying and burning $PLSPAD to launch their IDOs. 
$PLSPAD has a total supply of 5B, out of which 14% was allocated for public sales. 10% of the tokens distributed during the IDO are unlocked at the TGE. This is followed by a one-month cliff and then linear vesting for six months. 
Vetted listing and tiered allocations
Keeping in line with PulseChain's vision to be a democratic, inclusive alternative to Ethereum, PulsePad follows a three-tiered guaranteed token allocation system that makes IDOs accessible to retail investors. PulsePad can be accessed by adding PulseChain network RPC to Metamask. The IDOs will be conducted using pETH, ETH locked on Ethereum bridged to the PulseChain network. The conversion is enabled by PulseChain Bridge. 
🥳 We're Excited to announce we already have 3 TOP SHELF IDO'S LOCKED IN FOR PULSEPAD – MORE INFORMATION TO COME SOON, STAY TUNED FOR THIS$PLSPAD has already reached some milestones🚀 Curious which one? jump to telegram

Ann 👇https://t.co/uUSatXqUN7 pic.twitter.com/6IPeXHDgmY

— PulsePad (@PulsePad_App) November 10, 2021
The platform aims to list high-quality projects with long-term goals and help them get the initial support they need through IDOs. They are hand-picked by the team from Bluezilla, also the incubator behind BSCPad, Tronpad, ETHPad, KCCPad, NFTLaunch, ADAPad, VelasPad and GameZone.
To nurture the growth of PulseChain 
PulseChain broke the internet when the community raised $25M in five days to donate to the SENS Research Foundation (SRF). A hard fork of Ethereum, PulseChain claims to increase the throughput of Ethereum 4x by using 3 second block times. As it replaces Proof-of-Work miners with Proof-of-Stake validators, it is promoted as an eco-friendly blockchain. Another interesting feature of the chain is the 0% inflation rate of the native PLS tokens. Here, validators only earn fees, out of which 25% is burnt to reduce the circulating supply.
PulseChain is from Richard Heart, an iconic figure in the crypto space. He rose to prominence not just for his glaring personality and eloquence, but also the way he steers projects to success. The most obvious example being HEX. A cryptocurrency inspired by the concept of CDs, it currently has a total market cap of $31,216,937,414. Leveraging Richard's goodwill and PulseChain's staunch community of followers, PulsePad is off to a great start.