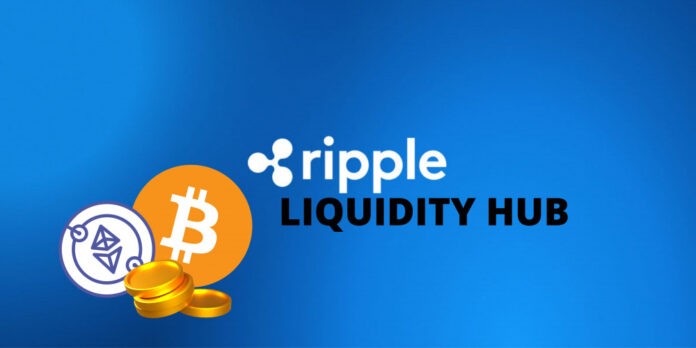 Fintech company Ripple is gearing up for the launch of Ripple Liquidity Hub, a turnkey solution for financial institutions to source digital assets at optimized prices.
Global #crypto liquidity is able to support massive payments at scale – it's the lifeblood of crypto.

Ripple Liquidity Hub will allow enterprises to source, trade, move and manage value from a variety of liquidity venues.

Coming 2022.#RippleSwellhttps://t.co/wxenpTfCIH pic.twitter.com/sMUb1kDXZZ

— Ripple (@Ripple) November 9, 2021
While end-users are offered the ability to buy, sell, and hold digital assets, it generates new revenue streams for enterprises. The product is aimed at tackling certain obstacles enterprises face, in effect contributing to the mass adoption of crypto. For starters, it will help them do away with tedious resource-heavy integrations through a streamlined API and eliminate pre-funding requirements to make room for working capital. By leveraging smart order routing, it will access liquidity from market makers, exchanges, and OTC desks. 
"Crypto and financial institutions are embedded in our DNA. So, it makes perfect sense that as they prepare for a crypto-first world, our customers would want access to the same trusted one-stop shop for buying, selling and holding crypto assets that has powered our own extensive work with financial institutions," says Asheesh Birla, general manager of RippleNet.
Crypto availability will vary geographically
In the initial phase, Ripple Liquidity Hub will support BTC, ETH, LTC, ETC, BCH and XRP. As the project expands, more digital assets will be added depending on the location. More functionalities that generate yields like staking are also in the pipeline. Although XRP Ledger and XRP will remain a native part of the tech stack, the platform wants to nurture an interoperable ecosystem for enhanced competence. As part of that, it is expected to diversify into more networks. 
Ripple Liquidity Hub is slated for release in 2022.
Coinme, the first licensed bitcoin ATM company in the US, is the first announced partner of the alpha version of the platform. Waitlist is now open for enterprises. 
XRP from Ripple is currently the 7th largest cryptocurrency in the world. Founded in 2012, the company's growth to become a global fintech provider has been remarkable. RippleNet, the company's payment network for financial institutions, offers connections to hundreds of financial institutions around the world via a single API. Ripple has also been in legal hot water since Ripple Labs Inc. and two executives were charged with conducting $1.3B unregistered securities offering by the SEC last year.