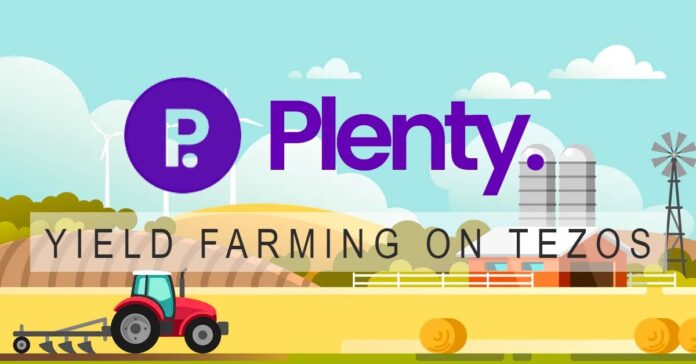 Plenty DeFi is one of the most anticipated projects built on Tezos. Although in the beta stage, the platform has a significant $45,707,405 locked in as of now owing to its unique value propositions for the mass adoption of the Tezos ecosystem. Putting an end to the wait, $PLENTY, the native token of the platform, will be soon listed on BitForex exchange against $BTC, $ETH, and $USDT. 
🚀🚀🚀 LISTING ANNOUNCEMENT 🚀🚀🚀

As one of the first #Tezos tokens, $PLENTY will very soon be listed on centralized exchange @BitForexcom with trading pairs $BTC, $ETH, and $USDT.

Listings on @CoinMarketCap & @coingecko will follow shortly after.#DeFi #YieldFarm #DEX pic.twitter.com/pK0Dk06o4s

— Plenty (@PlentyDeFi) September 18, 2021
How Plenty DeFi draws traction to Tezos blockchain
Plenty DeFi is a decentralized exchange (DEX) that has an advanced set of services on offer for traders, liquidity providers and developers, empowering them to contribute to mutual growth in an open financial marketplace.
As the name implies, Plenty DeFi brings together multiple decentralized markets and financial instruments. In fact, it claims to be the first token-to-token Automated Market Maker (AMM) on Tezos.  It is designed for exchanging both FA1.2 and FA2 tokens. If you are not familiar with FA1.2 and FA2, they are the token contracts on Tezos. While FA1.2 is a fungible token standard similar to ERC20,  FA2 supports a wide range of token types from fungible and non-fungible to non-transferable assets. Using the liquidity streamed on the platform, the platform will facilitate trustless, peer-to-peer trading. The architecture of the DEX is based on Uniswap V2.
Plenty DeFi is deployed by Tezsure and the Dubai-based blockchain incubator DGH Labs.
$PLENTY has plenty to offer
The primary objective of Plenty DeFi is to deliver a capital-efficient yield farming program on the Tezos blockchain. This will be realized through $PLENTY tokens. Users can lock their Plenty Liquidity Provider (PLP) tokens to earn rewards, initiating a continuous influx of liquidity. This is expected to attract more liquidity to Tezos from other blockchains. In addition to that, it will facilitate a range of utilities including voting and governance. 
Token holders will have a say in the future of the platform. They can select new features and functionalities, register their opinion about token burning, and give general direction for the growth of the platform employing their voting rights. The platform is on the move to become community-owned, implying that Tezsure and DGHLabs will not have exclusive control over how the project evolves. 
Plenty recently launched xPLENTY as part of a profit-sharing mechanism inspired by Sushibar. Users will get xPLENTY in exchange for staking PLENTY. Since xPLENTY accrues value from platform fees and PLENTY staking rewards using smart contracts, it will be more valuable than PLENTY tokens. 
Currently, $PLENTY is available on Quipuswap. 
More in the pipeline
As the transaction fees and delay on the Ethereum network stand in the way of its scalability, users and developers are on the active lookout for alternatives. By leveraging the Proof-of-Stake consensus mechanism, Tezos promises low fees, sustainability, and less carbon footprint. Plenty DeFi harnesses these design features to expand the DeFi use cases on the network. Although the platform is concentrating on yield farming and LP staking in the initial stages, new functionalities are underway. Along with that, more pairs and farms will be integrated. 
"I hope Plenty creates that initial snowball effect for DeFi in onboarding capital from other networks to Tezos. Plenty was designed with the modern-day user in mind, taking advantage of the network's low gas fees and energy efficiency by design – it's perfect for the next wave of mass adopters," says Josef Holm, the Founding Partner of Draper Goren Holm.