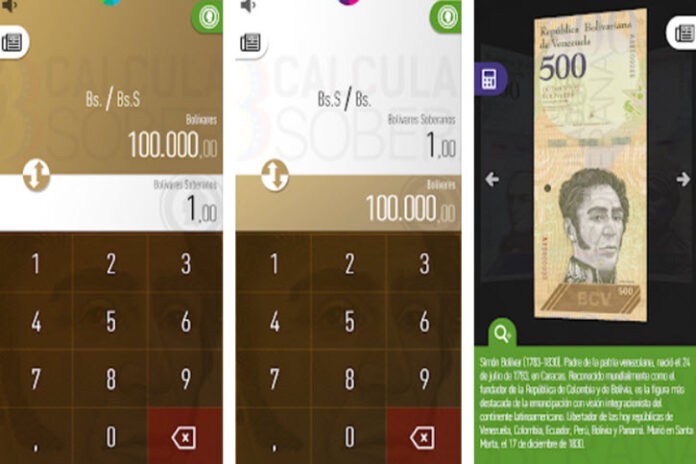 Venezuela's central bank has released a new app titled "Calculadora Soberana" (Sovereign Calculator) to help users convert the old currency, the fiat bolivar, into the new Petro-linked cryptocurrency, the Sovereign Bolivar.
After Nicolás Maduro, Venezuelan dictator, devalued the fiat by 95% earlier this August, he then linked the Bolivar to the Petro and announced that the cryptocurrency would be the country's alternative form of currency. The app encourages its users to stay on top of the latest information from the cryptocurrency.
The app
Since its release, the app has been downloaded over 10,000 times and has gained a 4.7/5 user rating on Google Play. This was based on 187 different reviews to date. There are no complex calculations involved in the conversion within the app's software, with the rate of exchange sitting at 1:100,000.
The Central Bank of Venezuela released this statement on Twitter:
La Calculadora Soberana es una herramienta para todas y todos los venezolanos, es el mejor aliado que tendrá el pueblo para entender y asimilar el proceso de reconversión monetaria.#CalculadoraSoberana #BolívarSoberano

Descárgala aquí https://t.co/lgX5negDLN pic.twitter.com/8nubLX54be

— Banco Central de Venezuela (@BCV_ORG_VE) August 25, 2018
This asserts that the app is a tool made user-friendly for all Venezuelans and the best method of helping people during the transition to the new currency.
The results
After this bold devaluation of the fiat bolivar, the BBC observed that the country had become paralyzed in that they faced restricted cash movement and mass waves of confusion from Venezuelan citizens who now had to use the new form of currency. Some merchants making use of the chaos to overcharge unwitting citizens have already been arrested.
In an interview, executive secretary of Venezuela's Blockchain Observatory Daniel Peña predicts that the impact of the Venezuelan Petro will be felt worldwide in about three to six months.
Maduro boldly stated that this transition will move Venezuela forward in the monetary world and open doors for international economic and social connections. Potentially, this will also propel the country through old financial blockades that it couldn't penetrate previously.
U.S. response
Venezuelan oil, gold, and diamond reserve companies fully back this new form of currency and have entreated upon ten different countries to accept it in trade. Ultimately, U.S. President Donald Trump had to issue executive orders to prevent U.S. based investors from getting shares in the Petro. Although no official queries have been investigated by the U.S. Treasury, some risks are involved to investors who expressed any interest in this cryptocurrency.
In conclusion, the Venezuelan central banking system is working hard to make the new form of currency readily available to the country's citizens. How this will affect the broader spectrum of cryptocurrency is yet to be seen, but we can expect the ripples to be felt soon in the wake of this app's release.