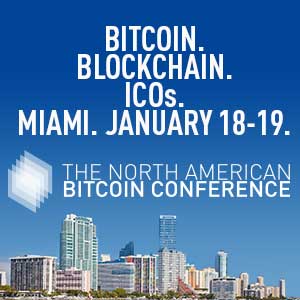 This looks like being a good event, previous speakers have been a who's who of Bitcoin, Crypto and BLockchain though leaders. The 2018 speaker list looks promising too. All the details below as we caught up with the event organisers.
When and where is it on?
January 18 & 19th 2018– Miami, Florida at the James L Knight Center
How many years has it been going?
This will be Keynote's 6th annual TNABC
What was the inspiration to start it?
In 2012 when bitcoin was only around $100, Moe Levin, Founder of Keynote, held the first bitcoin conference to bring together the brightest minds and explore the possibilities of bitcoin/blockchain.
What exciting things can people look forward to for the 2018 version?
This year not only are we providing two days of non-stop, thought provoking speeches about blockchain and disruptive technologies but we also have an emphasis on ICOs with dedicated ICO Pitch sessions from the hottest ICOs on each day.
What opportunities are on offer for those attending?
Because we are the longest running bitcoin conference we are able to present the leading CEOs, Executives and Founders which gives not only a wealth of knowledge but ample networking opportunities for individuals who want to learn firsthand about what's new in the industry.
Who will be speaking?
We've just announced our first fifteen speakers including the Founder of CNET, Executives from Bloq, Co-Founders of Ethereum, Co-Founder of Tether, Founder of WAX, Co-founder of Academy but you can find a full list here
How can people book tickets / when does it usually sell out?
Tickets can be purchased here
Our last event (World Blockchain Forum) sold out with over 700 attendees and 60+ sponsors in September, and we expect the same or better turnout for TNABC as the industry is exploding.