by Pratik Makadiya 
Ukraine's cyber police, a combating unit of nation's police force, have arrested four individuals allegedly involved in operating six phony cryptocurrency exchange platforms. The report indicated that the scam sites were taken down as soon as they were able to raise substantial amounts from the unsuspecting traders who register on these platforms.
Ukrainian Cyber Police in action
The Ukrainian cyber police stopped the operations of these perpetrators after an anonymous source tipped them off. The department immediately swung into action, locating their hideouts and bringing them to justice under the Part 3 of Art. 190 (fraud) of the Criminal Code of Ukraine. The press release stated:
"The criminal group consisted of four people. Attackers, with special knowledge and skills in the field of programming, have created their CMS-system for managing the content of exchange sites. The created web resources imitated the legal activities of web-exchangers from the multi-directional conversion of crypto-currency and received false positive ratings."
The list of the fake crypto exchanges includes – swapex.net, likechange.biz, wowex.online, moneycraft.info, iconvex.net, and myexchanger.lv.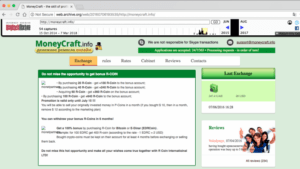 A screenshot showing a Fraudulent website
During the investigation, information collected showed that the people involved were young men between the ages of 20-26 years of age, who lived in Dnipro located southeast of the capital Kiev in the south-central part of the country.
Once the fraudsters had executed a successful scam, they would close down their operations to begin again with different names.
The Rivne local prosecutor's office has issued a warrant, and a search was conducted on the criminals' hideouts. Some items recovered during the search included personal computers and mobile gadgets, storage devices, and debit cards.
Ukraine Is warming up to Crypto
Though illegal transactions are frowned upon in the country, Ukraine until now hasn't formally announced regulations for cryptocurrencies but have legalized crypto mining as an economic activity. This, coupled with the fact that electricity in Ukraine is inexpensive, led to mining cryptocurrencies gaining ground.
Earlier this year, Ukraine hinted at launching a digital version of its national currency, akin to Russia and Venezuela, but without plans for this digital form of Hryvnia (Ukraine's national currency) to be on the blockchain.