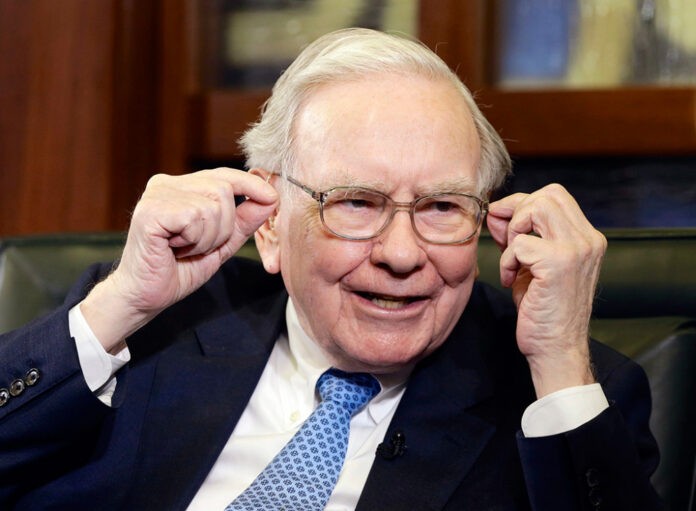 TRON CEO Justin Sun revealed further details about his $4,5 million dinner with stock market guru Warren Buffett.

Buffett is sitting on a massive $128 billion cash pile, leaving some to wonder whether he might one day invest in crypto.

Sun claims that Buffett is open to crypto, but until he actually publicly admits it, it's unlikely the conservative investor is ready.
TRON frontman Justin Sun spoke with CNN on Sunday afternoon over several blockchain topics, including price predictions, BitTorrent, and the diversification of his crypto portfolio.
Chief among them, however, were additional details surrounding his much-coveted lunch with billionaire investor Warren Buffett. Sun told interviewer Julia Chatterley:
I want him to understand more the fundamental parts of the blockchain and also crypto.
Sun paid $4,5 million last year to meet the fabled stock market guru who he finally got to sit down with on January 23rd.
Buffett, who once called bitcoin a gambling device, personally invited Sun along with other crypto luminaries to a private event in an apparent turnaround of interest in cryptocurrency.
An introduction to @Tronfoundation network founder CEO @justinsuntron – we talk disrupting digital content sharing, buying @BitTorrent, crypto investing and his $4.5M lunch with Warren Buffett! #XRP #TRX #BTC on @firstmove/@cnni this week. pic.twitter.com/WW3Pnd9QcZ

— Julia Chatterley (@jchatterleyCNN) February 23, 2020
Is Buffett Changing His Tune About Crypto?
Buffett joined CNBC on Monday morning for a marathon 3-hour interview to discuss the geopolitical risks affecting the U.S. stock market.
The topic on everyone's mind right is the Coronavirus, though, the Oracle of Omaha denied that it would have any effect on investors.
CryptoCoin.News reported last month how both bitcoin and gold stole the show in the wake of the ongoing crisis.
Buffett's firm Berkshire Hathaway is sitting on an enormous $128 billion cash pile, leaving some to speculate whether he should invest even a tiny amount in the emerging asset class many see as a safe haven.
When asked whether Sun had any sway over Buffett regarding crypto's usefulness, he confidently replied:
Yes. First of all I believe Warren Buffett was very open to new technologies and the crypto and the blockchain. That's why he accepted my first bitcoin and TRX that I sent to him.
Conservative Investor Meets Volatile Asset Class
According to Sun, the 89-year-old billionaire actually has a crypto wallet stashed away somewhere holding both bitcoin and tron.
Something does not add up in the conversation, though, as Buffett has never openly admitted to holding crypto. Furthermore, Sun went on to explain Buffett's conservative investing philosophy:
Warren Buffett tells me if you want to survive in the capital market for over 60 years you need to be very cautious. You need to always prefer certainty over uncertainty.
Crypto is the very definition of uncertainty, so it's unlikely that Buffett is sold on this emerging asset class. At least for now.
Feature image courtesy of freeimage4life.