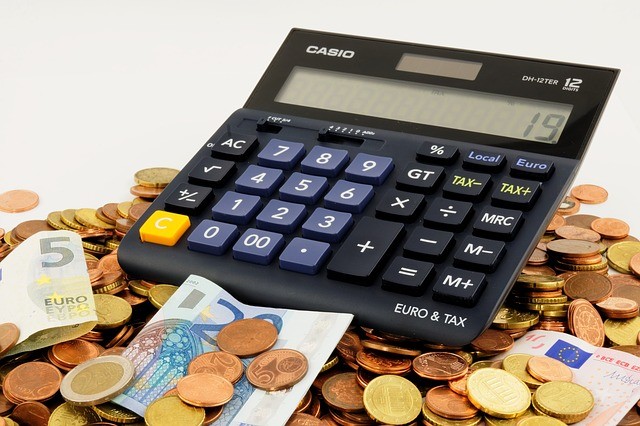 U.S. Marshals will auction off approximately $37 million worth of bitcoin on February the 18th.
Officials could have made ten times their money if they had HODL'd the leading cryptocurrency.
Billionaire bitcoin investor Tim Draper is likely lining up once again to bid on the auction.
The U.S Marshals Service (USMS) is set to auction off just over 4,000 bitcoin on February the 18th, 2020.
According to the USMS web site, the sealed bid auction will run over four series rounds and include blocks of between 40 to 500 bitcoin: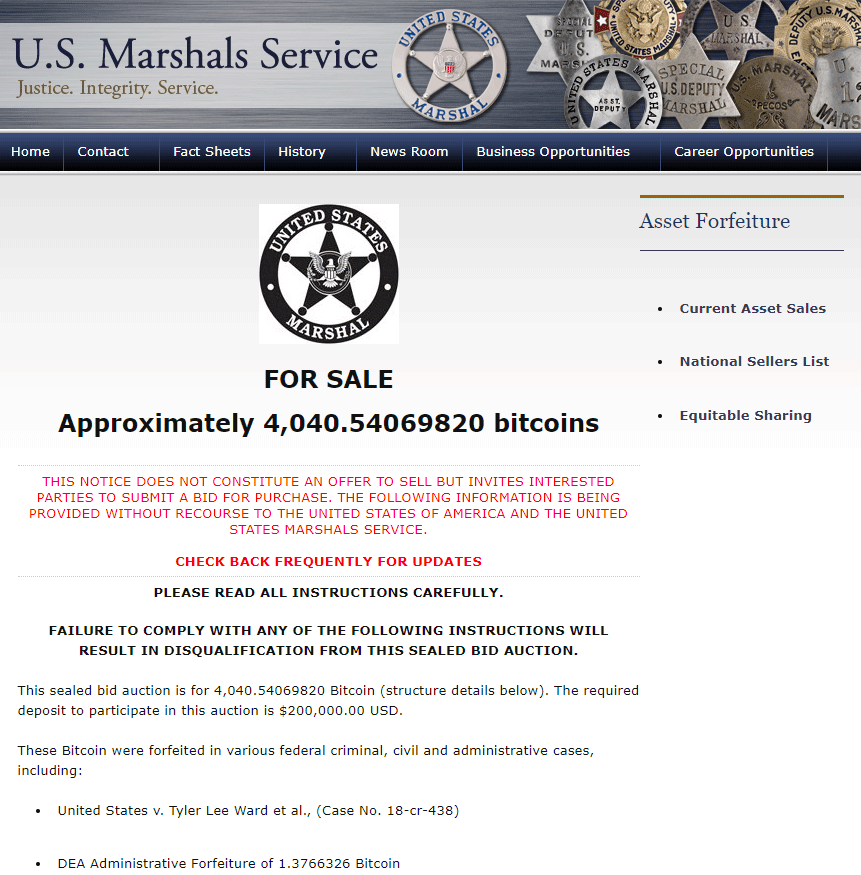 The sale raises questions of fairness, though, as the minimum deposit for such an auction is a hefty $200,000.
This is similar in status to accredited investors who, by definition, are high net worth individuals that almost always get preference when buying securities.
At current BTC prices, the loot is worth a shade over $37 million, although given bitcoin's volatile nature, the winning bidder will be subject to lengthy exchange rate risk.
The USMS Is Not Riding the Cryptocurrency Wave
It isn't the first time the USMS has auctioned off seized bitcoin. In 2018 Marshals auctioned off a sizeable stash of 3,813 bitcoin worth approximately $52 million.
Cypherpunk co-founder Jameson Lopp of CasaHODL points out that if the USMS had instead held on to the bitcoin, they would now be sitting on a verifiable fortune: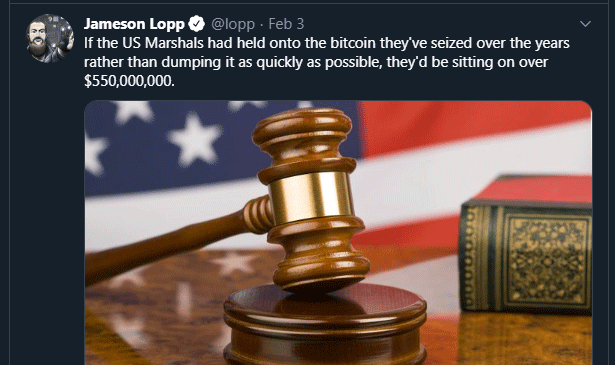 Forbes reports that the Federal debt is completely out of control. And with that in mind, the USMS will plausibly square away some of its debts from the sale.
Billionaires Likely Lining Up to Buy Bitcoin
Famous billionaire venture capitalist Tim Draper is probably licking his lips at the thought of yet another sale. In 2014 Draper picked up a whopping 30,000 bitcoin estimated to be worth around $18 million at the time.
Draper planned to use them as a liquidity source for a trading platform he was backing. However, if the American VC had simply held them, they would now be worth roughly $275 million.
In a December 2019 interview Draper predicted that the flagship cryptocurrency would rally to $250,000 a coin by the end of 2022:
Parts of an interview I had with BlockTV. #bitcoin #trump #xi
I think I was too boring to post the whole thing.https://t.co/jlMiCbkneThttps://t.co/TJcUH3oUrZ https://t.co/jlMiCbkneT

— Tim Draper (@TimDraper) December 23, 2019
To date, he has not confirmed or denied involvement in the February USMS auction. However, if history is anything to go by, don't be surprised if the billionaire adds another 4,000 bitcoin to his growing collection.