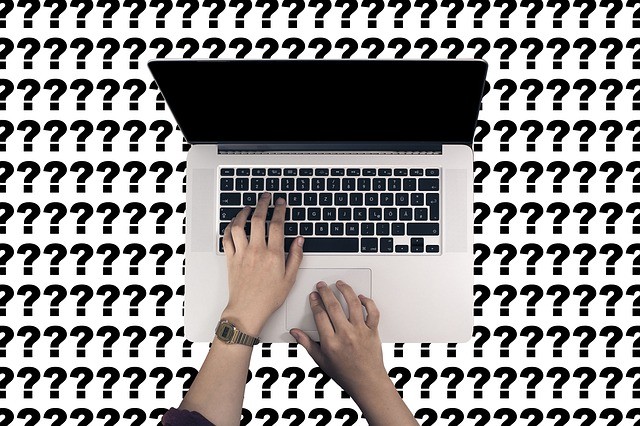 by Krista Krumina
ICOs have been on the rise since 2013. The first token sale (also known as ICO) was held by Mastercoin in July 2013. Then, a year later, Ethereum raised 3700 BTC – equivalent to approx. $2.3 million – in the first 12 hours of its ICO.
Despite increasing government regulatory attempts, ICOs show no signs of slowing down. Quite the opposite:
Today, hundreds of startups are using token sales to raise funds. It's been calculated that for the past 1.5 years, ICOs have delivered 3.5x more capital to blockchain startups than the traditional venture capital (VC) rounds.
ICOs are big, and the bubble is growing. According to the stats by Coinschedule, within the first half of 2018, blockchain startups have already raised over $12B through ICOs. That's almost 4x more than in the entire year of 2017.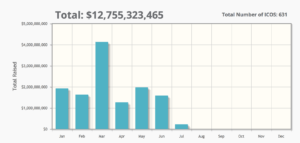 Source: Coinschedule
Now, before you pick up the craze, here are 10 ICO facts that you should know before investing:
1: Less than 25% of all ICO projects reach their goals
While back in June 2017, 90% of ICO projects managed to reach their hard cap and sell out all their coins. However, lately, it's become more difficult.
Stats show that today more projects are struggling to reach their minimum funding goal (soft cap), as well as many campaigns are raising less than half a million dollars. Additionally, just around 25% of projects today reach their hard cap, which is 3.6x less than a year ago.
2: The average length of an ICO is 2 months
How long does it take to crowdfund a project through an ICO? Stats show that in 2018 the average duration of a fundraising campaign is two months. That's up by 2x when compared to 2017 when startups were able to collect funds within 30 days on average.
That being said, there are still projects that manage to close their sale in a matter of days or even hours. For example, in January 2018, the Blockchain-based solution for creatives and manufacturers Zeepin raised $62.6 million in the first few hours.
3: Block.one is the most-funded ICO project to date
Source: Business Insider
The award for raising the most funds through an ICO goes to Block.one – the developer of the EOS blockchain platform. This Cayman Island-based crypto company recently concluded their year-long token sale, raising over $4 billion and making EOS the fifth largest cryptocurrency.
Interestingly, Block.one didn't have a product the entire time of fundraising – they collected its funds on investor confidence alone. That takes us to the next point:
4: 46.6% of all ICOs start with a plain idea
Stats show that only 0.5% of all projects have a working business before their ICO, while 46.6% of campaigns start with just an idea and don't have any development whatsoever. Of the rest, 26.2% have created an MVP (minimum viable product), and 16.7% have either an Alpha or Beta version ready prior to their fundraising campaign.
5: Planned product launch for most projects is 1 to 2 years
When it comes to ICOs, selling an idea doesn't seem to be the problem – after all, over 90% of all projects are in their prototype stages. When an ICO campaign is successfully closed, 64% are planning to deliver a fully functioning product within a year's time.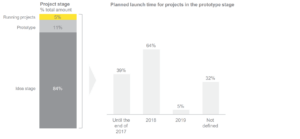 Source: EY research
That being said, according to the data by Coinopsy and Dead Coins, over 1000 cryptocurrency projects haven't included any future action plans in their protocols, and are considered as possibly failing or scammy.
6: 81% of all ICOs are scams
According to research, the majority of ICO projects are scams and have never had any intention of using the funds raised to develop a product.
The history of ICOs is full of cases when millions of dollars have been defrauded from investors, including the infamous case of Pincoin. In two ICO campaigns, the company raised $660 million, the*n vanished without a trace, leaving over 32'000 people who had invested in the projects confused and frustrated.
7: 46% of ICO projects funded in 2017 have already failed
According to NewsBlockchain.com, almost a half of projects launched in 2017 can already be considered failed. That means that these projects most probably won't deliver an actual project, despite raising over $104 million in funding.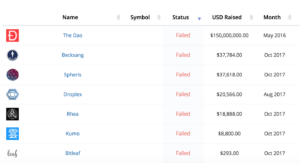 However, it must be noted that startups have high failure rates in general, and it has less to do with their source of funding. In fact, the failure rate of ICO startups is about the same as VC-funded, as research shows that up to 40% of VC-funded startups in the US never deliver a successful product.
8: More than 10% of the $3.7 billion raised in ICOs have been stolen
Ernst & Young analyzed 372 ICO campaigns and found that every month hackers steal about $1.5 million worth of funds raised. As a result, over $3.7 billion has already been stolen from ICO projects – 10% of all funds raised in various cryptocurrencies are lost. One of the best-known theft cases was Coindash's, when hackers stole $7.9M worth of Ether, leaving them flat broke.
9: Early investors are making up to 50'000% ROI
ICO may be a risky thing because of all the scams and hacking threats, but the possibility to make money is extremely tempting. It was found that early ICO investors are now making up to 50'000% returns on ICOs, while the average ROI is 13.2x, despite the fact that approximately just 8% of all new coins go to trade.
Baltic States dominate the ICO market
Surprised? It's true. The three Baltic States – Lithuania, Estonia, and Latvia – seem to be ahead of the pack when we look at the funds raised per capita in the market. In 2017, the three countries with the combined population of just $6M raised over $398.1 million through ICO, soth some of the most successful cases being startups like Monetha and Bankera (LT), Digipulse (LV) and Lympo (EST).

Source: ICO Market Research Q1 2018
Have we missed a fact worth mentioning? Let us know in the comments below!