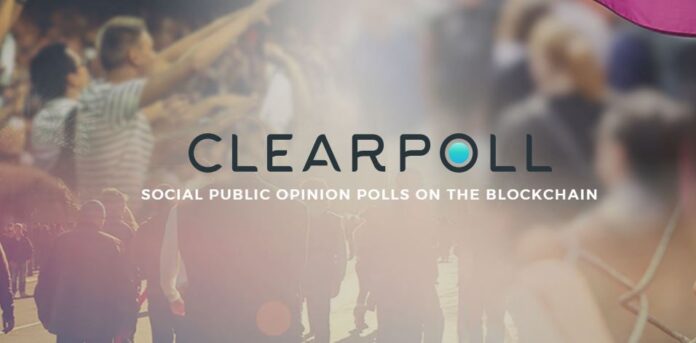 By Rick Nassar. Delighted to bring you the latest in our series of ICO reviews. This piece evaluates the prospects of ClearPoll.
There is a lot of interest in finding the best reviews or opinions about the up and coming ICOs. So this is a full disclosure, my articles are NOT any form of advice or recommendation. This post will be as neutral as possible with stating key points and facts about this Startup: ClearPoll.
Project Brief
ClearPoll is a digital platform where you can cast a vote on topics of interest and then once it gains enough popularity and most votes it becomes an active Poll. This is to keep what the trend on topics high. It somewhat reminds me of the good old 4chat with an extra layer of the polling system.
All polls are recorded on the Blockchain and the results are easily viewed by ClearPoll users, i.e. anyone who has the app installed into their phones or tablets. Since it in on the blockchain, tampering is virtually impossible.
The ICO (Pre-ICO already was done!)
Some good news, the pre-ICO was successfully over and with 100% funding. Their next stage is the Hard ICO.
The main ICO is running until 26th of October and halfway through November 2017 the POLL token will be generated and distributed to all the investors. As outlined in the provided whitepaper.
The POLL tokens will be submitted to be listed on Bittrex, Binance & Cryptopia exchanges. In my opinion though that might change due to the turbulent problems these exchanges are facing from governments around the World.
FYI, POLL is ClearPoll's token name. The tokens are ERC20 based, which means you can easily manage them from your ETHER wallets.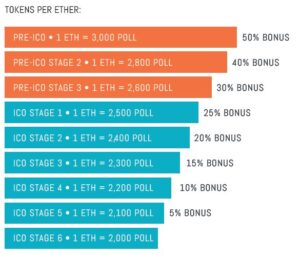 The way open investment has sprung out with Token sales or ICOs changed the how we assess these new startups for investment opportunities. There seem to be two main types the "Trader" investor and "Startup" investor. My aim is to evaluate to the best of my knowledge from a Startup Investor's point of view. Obviously, there might be few points I will miss out and for that I say, tough luck! 🙂
Team
The website shows a total of ten on the team, 8 main members with 2 advisors. majority of the team are 4 developers, 2 designers, a Business Developer and a web developer. All in all, it looks like a decent core group.
There doesn't seem to be any marketing specialist in the team who can be an asset for a product that is considered an "essential tool for marketing companies". As for the expert advisors, few extra would help strengthen their project. with some industry knowledge in Blockchain ecosystem, Startups and data analysis.
Rating : promising team, but might need expanding
MVP
Any startup investor would tell you that one of the key components of investment is having either an MVP (Minimum Viable Product) or at least a strong progress of a prototype build up.
With my search at the time of this article I didn't find any proven development progress on Github, StackOverflow or anywhere online. The team might be in the development of the apps offline, but since it's an ICO funded startup transparency is essential.
The fact that the pre-ICO was successful the funds are available to kickstart the project development, especially with potential 4-5 developers already on the team.
Rating : this is needed urgently, to show that it is something they have a strategy for
Whitepaper
"It's not what was written but how it was written that is important"
Someone recently told me at a Blockchain conference that anyone with good writing skills can write a whitepaper. Reading between the lines is a huge part of how to read them. It can reveal a lot about team leaders, the attitude towards the concept and industry, and their approach with regards to the Business model itself.
ClearPoll's whitepaper is a business and marketing plan for a great idea to revolutionise the way how people will truly perceive and visualise public opinion. It is basically a tool that if utilised correctly will be the go-to application for opinion sentiment & voting poll.
So the main thing is did it address some key points any true investor would ask before investing? Below are some of the points.
Dynamic Market Opportunity
How much research has been done on the market they are trying to service? Basically is there a commercially viable market that ClearPoll discovered and is able to potentially to cater for?
This is few indications that there are major issues with current media and more precisely politics. When one how social awareness influenced by centralised and controlled media, heavily swayed voting systems (if not rigged altogether), and the all infamous "Fake News". The public is certainly fed up by it, ClearPoll is certainly a potential remedy but not sure it can be the cure.
Are there any good indications that the pain points in this market are warrant to be paid for?
This question is very important. How can ClearPoll make money? There is good indication that there is a pain point ClearPoll is addressing but how. Some further clarification can be very helpful for investment purposes.
Rating : it would be good to have more detail on how they plan to monetize this project
BIG NEWS: ClearPoll Exceeds Soft Cap of 1,000,000 POLL Sold! #ico #toeknsale #blockchain https://t.co/OFQbzpiukB

— ClearPoll.com (@voteclearpoll) October 9, 2017
Milestone
This section is simple and direct. Looking at the figure below one can see the timescale of the product development. It is a bit vague and some are ambitious.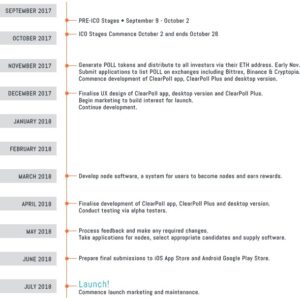 It would be great if they elaborated more on every milestone. Plus there is a big gap between December 2017 and March 2018, are there going to be any marketing or awareness campaigns once the hard ICO is successful?
Rating : their milestones are good and achievable, but more detail would be even better
Value Proposition
The first Blockchain voting poll system. Something I had to come up with since there was none by the company. On one side it is very important to look attractive to investors and on the other, the customer who will buy into the concept. All investors will agree that customer acquisition in the most valuable part of a commercial business.
Rating : this needs to be developed further if it is to be an appealing ICO to invest in
Website quality
The website is built on WordPress, which is usually the starting point for any startup setting up a website. The fact that it is a secured with SSL certification is a good start. Although not much was available about the domain name it was registered at an Australian registrar, which is where ClearPoll is based.
Rating : this is all scores well at the moment, and suggests it should progress well
Social presence
The most obvious social medium you can find easily is their twitter account with 406 followers, which can be easily found if you google ClearPoll. After some research, I was able to find their Slack (I couldn't sign up to for some reason), Telegram (52 members) and Reddit (138 Subs) accounts. None of them seems to be very active. Maybe in due time they will if they employ a Social Media Manager.
Note: all the numbers were at the time of posting this article.
Rating : good, but will be better once they have a social media manager hopefully
Marketing & PR
ClearPoll had some visible PR campaign runs with minimal media coverage. Some press releases and articles (I actually had one written about them HERE) can be found online once if you google their name. It is hard to tell if there has been any paid online advertising to attract further investors to the ICO.
Rating : lots more to do here, if the campaign is to be a success.
Bottom line
I can safely say they are a real startup under a newly registered company name Nextech Development (Reg. ACN 621 336 696). As a team, they truly have the interest to resolve all the issues they set out to. ClearPoll does seem to have the ambition but not right mindset toward a successful Startup. This startup does look like it is focusing all its resources to succeed in the ICO, taking advantage of all the hype surrounding the crypto hype. Many of the crypto traders would jump on this as a token sale, but as a startup investor, I'm not so sure. As it stands they will succeed in raising the desired fund, what they will do with the investment is a case that is yet to be detailed in full.
They definitely need an expert Startup advisor or investment Expert to help them with the post-ICO phase. Establishing a strong and robust company that can lead to great success. It is the ICO Gold Rush period and none want to miss out the potential value of Tokens when they are traded, missing the most important point, to really care about the success of the company as long the short-term gains are at hand.
Kickstarting Blockchain Fundraising Revolution, KICKICO Helps Funding Ideas Through Cryptocurrencies