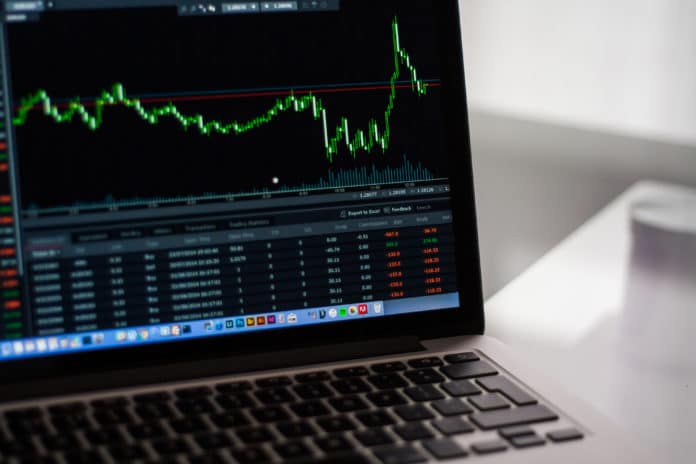 Some cryptocurrencies have become one of the most profitable investments in the last 2 years, with Bitcoin being the one with the highest volume and market value.

The opportunity to trade cryptocurrencies is fantastic since it allows you to invest at any time without barely any limitation. It is always necessary to be clear that it is a high-risk investment, and only a small portfolio budget should be allocated to this kind of investment if you don't have any experience in trading.
The most common web platforms for trading Cryptocurrencies are:
All the platforms mentioned are some of the most used cryptocurrency Exchange, each one with their advantages and disadvantages.
In this article, we will explain how to trade specifically in Poloniex Exchange which is a very good platform to begin and start learning about trading Cryptocurrencies. Maybe this Exchange is not as complete as other Exchanges (like Kraken) but its simplicity and security is a great advantage for newcomers in this business.

The first step is to register and verify your account. With a simple email and password, you will create the account and the Exchange will send you a confirmation email. The next step is to verify the account, for this, you have to go to "Profile / Verification" and complete the information required fields. There are several types of verification, the user can do the type of verification desired. The more information you provide to the platform, the greater the volume of daily money that can be worked with on the platform will be allowed. With a Tier 3 verification, you can work with up to $25,000 per day for deposits and withdrawals of cryptocurrencies. For greater security, it is highly recommended to activate the Two-Factor Authentication.

Once these first steps are done, we can start. First of all, we are going to make a general review of the options that we have on the menu:
Exchange: allows you to see the chart with the market value of the selected cryptocurrency.
Margin Trading: function to operate with a part of money "borrowed" and consequently we must return a small interest in the loan.
Lending: it will allow you to be able to make loans to other Poloniex users and obtain a daily return for it.
Balances: here you will find your funds in cryptocurrency and the options to make deposits and withdrawals of them.
Orders: You will find your trading open orders.
Settings (tool icon): you will find the menu for setting up your account.
Account (torso icon): you will find your personal information.
Day/Night Mode (sun/moon icon): function to change the platform to light or dark mode.
Alerts (bell icon): you will have the notifications configuration that is important to you.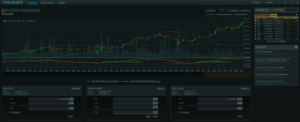 (BTC/USDT Poloniex Exchange)
How to start trading?

The most important thing before starting is to have cryptocurrencies in your wallet. If you do not have cryptocurrencies, you must first access to platforms such as Localbitcoins, Coinbase o Kraken, which allows you to buy Cryptocurrencies with Fiat money deposits. (You can find a full explained article of how to buy cryptocurrencies with fiat money here).

For transferring your cryptocurrencies, the first thing you have to do is make a deposit going through the tab "Balances / Deposit and Withdrawals".Uncheck the option "Hide 0 balances" so you can see all the cryptocurrencies available to fund on this platform.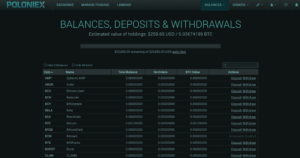 (Balances, Deposits and Withdrawals Cryptocurrencies Poloniex)
If you want to see the funds, click on "Deposit", if you want to send funds, click on "Withdraw". As your intention at this moment is to enter a cryptocurrency, click on "Deposit".

A box with an address will appear. In this address, you can transfer the cryptocurrency that you have in your custom Poloniex platform wallet.

(Example of LBC address wallet Poloniex)
Note: Do Not send funds to this address.

Once you have sent the fund, the amount will appear in the Wallet and then you can search for the cryptocurrency that you wish to trade. This can be done through the "Exchange / Markets" menu.

Once inside the "market's" menu, we can select four types of offers:
USDT: Value of the cryptocurrencies with respect to the US dollar Tether.
BTC: Value of cryptocurrencies relative to Bitcoin.
ETH: Value of cryptocurrencies relative to Ethereum.
XMR: Value of cryptocurrencies relative to Monero.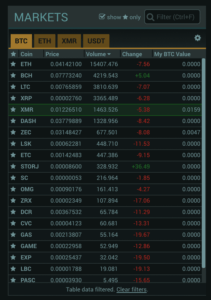 (BTC/Cryptocurrencies Poloniex Market Prices)
To continue with this example, we will make a very common assumption, trading Bitcoins (BTC) to Ethereum (ETH). For this, the BTC market tab must be selected and then within the table, the ETH symbol must be selected.

At the top, we will find the ETH/BTC chart that reflects the historical value of ETH with respect to BTC. The chart can be adapted to a certain period of time and the candlesticks in periods from 5 minutes to a day.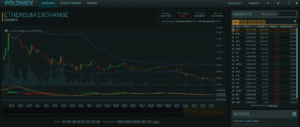 (BTC/ETH Poloniex Exchange rate)
In the middle part of the web platform, you can find the tool to buy and sell the cryptocurrencies. In this case, we will use the "Buy" box since the intention is to buy ETH where you will have to do the following steps:
Price: here you will place the purchase price of the cryptocurrency, you can place it manually or you can select one of the prices of the "Sell Orders" box. If you want to buy instantly you must select the best price offered in the "Buy Orders" box.
Amount: you must enter the amount that you want to buy, the maximum amount will depend on the price that you place and the cryptocurrency that you are trading. You can select a lower amount if you do not want to trade the all the cryptocurrency that you own.
"Buy": After getting a price and quantity, you must select the "Buy" button to confirm the trade. In case you have selected a price within the "Sell Orders" box, your operation will be open and reflected in "My Open Orders". In case you have selected a value from the "Buy Orders" box, the transaction will be executed automatically and you will be able to see your trade reflected in the balance of your cryptocurrencies.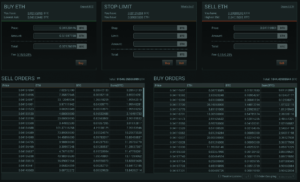 (Buy/Stop Limit/Sell order commands Poloniex Exchange)
Of course, this is just one of the many operations that can be done in trading. We recommend that you make trades of small amounts of high volume cryptocurrencies such as ETH, XRP or LTC so that you can learn and understand how this platform works. There are also many tutorial videos that you can check out to continue learning.