by David McNeal
SEC cracks down on ICOs, while House passes law to ease startup offerings.
Since January, government agencies in charge of enforcing securities laws have clamped down on the topic of cryptocurrencies, especially in regard to tokens sold from Initial Coin Offerings (ICOs).
On June 6th, the US SEC declared they will not make an exception or change to current securities law.
"We are not going to do any violence to the traditional definition of a security that has worked for a long time," SEC Chairman Jay Clayton told CNBC.
On June 14th, news spread fast from Yahoo Finance's All Market Summit, when the Director of Corporate Finance for the SEC, said that Ethereum and Bitcoin are not securities.
But he went on to say that most, if not all, tokens sold in an ICO fundraiser are securities and explained the guidelines the SEC will use on an individual basis to determine whether or not a token is a security.
Aside from going through a long, scrutinous, and expensive registration process, the other option is to fall under an exemption. There are three exemptions a security can claim Regulation D, Regulation A+, and Crowdfunding.
Regulation A+
In particular, startups planning to sponsor an ICO will find Reg A+ as the easiest option.
Reg A+ is an exemption first signed by Barrack Obama on April 5, 1012, the original idea was to encourage a new generation of companies into going public by streamlining registration and lowering fees associated with filing to "qualify" a security offering.
Reg A+ can be filed under either Tier 1 or Tier 2, It's important to be thorough when comparing the differences when deciding the best. So, I've prepared a chart to help.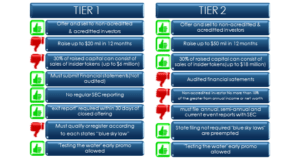 More info about SEC securities registration and exemptions can be found at www.sec.gov.
Also, it's possible to form a strategic plan for filing under more than one exemption, though you should seek legal advice from an experienced professional before you take any action on any of the options presented here.
If you're considering an ICO, a good place to start planning would be the open source community called The Institute for Blockchain Innovation (IBI).  According to their website, IBI is a movement to raise capital in a new way on the blockchain.
Their mission so far is to focus on an initiative called "JOBS Crypto Offering JCO" which helps startups by providing a step-by-step plan to file exempt to securities law, using a combination of Reg D and Reg A+.
News to watch for
On March 15th, 2018, the "Regulation A+ Improvement Act" bill passed in the House and now pending a Senate vote. If passed, the bill will increase the amount companies can offer under Tier 2 of Regulation A from $50 million to $75 million, adjusted for inflation by the Securities and Exchange Commission (SEC) every two years to the nearest $10,000.

Source: "H.R. 4263 — 115th Congress: Regulation A+ Improvement Act of 2017." www.GovTrack.us. 2017. July 13th, 2018.