Note: Many want to find best reviews or opinions about the up and coming ICOs. So this is a full disclosure, my articles are NOT any form of advice or recommendation. The aim is to analyse the business as well as possible, based on the information publicly available. This post will be as neutral as possible with stating key points and facts about this Startup: VentureOn.
Project Brief
VentureOn is actually titled as a project under an umbrella company called HyperCube. What is VentureOn all about? "We provide an opportunity for the participants of cryptomarket to increase their capital through investments in high-yield and scalable venture projects". After reading the whitepaper and website several times, it clear that they are a venture fund that specialises in blockchain startups and more specifically companies rolling out ICOs.
The ICO
The VentureOn Token name is: VNN
The whitepaper has a quite complicated explanation of how the tokens are sold and distributed.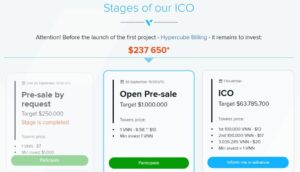 ICO Simplified: An agreed amount of tokens are created to the value of the total investment. The token will then be stored in an escrow wallet maintained by Hypercube with personal accounts permissions for each investor to see their token amount. The investor will have a centralised wallet where he/she can exchange the tokens with the accepted startup's shares. The share value in comparison to the token value is dependent on Hypercube's team of experts' evaluation.
It seems the main stated reason for this token sale model is to stay out of the SEC (State Examination Commission) regulations. They are also banking on the ICO hype to attract a new wave of  "ICO Enthusiast" type investors apart from the traditional ones.
There are three stages of ICO token sales with the first successfully raising $250000. The second stage is currently running through the month of October 2017.
Team
There is a diverse group from all over the World. Seven in the core team with a majority coming from CIS countries. The lead Blockchain developer is Dmitry Zakharov. They also have a lawyer in the group Dietmar Gutarts whom I found very little about online.
Very little was found on the founders and most of the essential team online. When it comes to funding companies, team backgrounds are extremely important. If they have the desired level of investments experience then it's best to be promoted and flaunted everywhere, especially the whitepaper and website.
One thing I need point out is the Canadian address, it is great to see that they have utilised a legal entity in Canada. the only issue is the location, a quick research reveals the address at a residential estate. Many of the savvy investors with some research capabilities will discover the issue, which would be a massive hindrance.
MVP
The ICO venture fund is the MVP in its own right. They do have what seems to be a well researched and very experienced fund management platform.
HyperCube does have a login site. I would describe it as "Investment as a Service". It allows you to go into a personal account to check your VNN balance, invest in the startup portfolios they acquired (or started) and trade/replenish them if you wanted to. You can register your own account easily. Be sure to check your SPAM as the confirmation email arrives in Russian and for some reason Gmail sees it as one.
Whitepaper
Basic structure with more emphasis on the ICO and the utility details to the token structure. They claim that they are not investment advisors without any appraisals warrant of SEC regulations.
Personal note, some of the team names on the paper don't match the website spelling.
Startup Portfolios
The existing projects, six in all, are not startups running by outside founders like you'd see with traditional venture funds. they all seem to resonate out of Hypercube itself. Each portfolio has it's own yet very basic information page with no links to a website or a robust business model explaining Value propositions, Marketing, Financial model, or development team behind each of them.
Milestone
The VentureOn Milestone (roadmap) is only for the ICO. If we looked at the website, there is another clearer Roadmap with more information on the investment distribution and timeline.

Value Proposition
None that I've seen. If I was to guess, the catchphrase on the website: "A project for decentralized investing in startups!"
Legal Entity
After extensive research on the Canadian company register records, there was no registration of VentureOn or HyperCube. The company indicates it has the legal Canadian address: 77 McClintock Crescent, Thornhill, Ontario, Canada, L4J 2S8
No results we found for Company Business Identification Number 270436181 (Search was conducted HERE). If HyperCube does have a company certification from Canada, it would be very good idea to showcase it online.
Website Quality
VentureOn website leads to a subdomain of Hypercube main URL. To be fair they did say that it is an ICO project under the company. The website is built on a secured with SSL certification by Chinese certification company, WoSign.
The HyperCube is registered to a hosting company called ITL Group that is based in Bulgaria, where the developer is based, from what the domain indicates.
Social presence
HyperCube does have social media presence like Facebook (101). They are most active on VK (471 followers) and Twitter (166).
Bottom line
Whether you are an investor looking for the right syndicate with pool with or a Startup hunting the best investment when it comes to venture capitalists investment history is extremely important. If the company is new itself then the of the founders and they professional background is as important, especially if they did have some investment experience beforehand. A rich investment does not mean it is a good investment.
There is a lot more to HyperCube with VentureOn as a utility for a funding round. This review is the tip of the iceberg, More research needed on HyperCube and their concept. What main point I can mention about them is that they are basically a venture capitalist company with multiple arms, one of which a funding pool called VentureOn.