by Rida Fatima 
Cryptocoins have been controversial since the beginning and they remain so. Even as Bitcoin, Ripple, Verge, and Ethereum have soared in value over the last few months (the market is down again for the last couple of days, though), there are still plenty of detractors and skeptics who attack the currencies at every chance.
But there's the other camp. Some influential people in the digital world have become champions for cryptocurrencies and blockchain technology. Most famous among them is probably John McAfee, the eccentric computer programmer, and entrepreneur who founded the first cybersecurity firm and gave the world its first anti-virus program.
The champion: John McAfee
Mr. McAfee has been optimistic about blockchain technology and the cryptocurrencies based on it. In his view, the development of the blockchain is right up there as one of the main events in human history and culture. John McAfee further tweeted from his official account regarding this debate.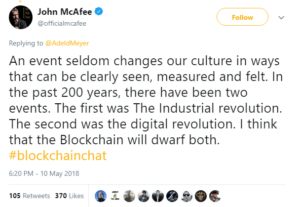 Mr. McAfee advocates that the power blockchain brings about by decentralizing processes will allow us, humans, to accelerate our evolution. In his words: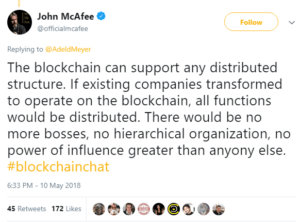 This technology is morally neutral, as with any piece of knowledge or technology, and Mr. McAfee is clear in stating that it can be used for good or bad. It's not the tech itself but how you handle it. He uses nuclear energy as an example, it can give you nuclear energy or nuclear bombs.
One of Mr. McAfee's most famous statements concerns Bitcoin's future value. He's predicted that every Bitcoin token will reach a value of $1 million by 2020. This is a controversial view but there is a website doing the math behind this prediction and tracking Bitcoin's progress in order to find out if Mr. McAfee will be right. As of now, it looks plausible.
The Skeptic: Jamie Dimon
Then there's the opposite camp. The main voice in opposition to cryptocurrencies (but not blockchain technology) is JPMorgan's CEO and chairman, Jamie Dimon.
Mr. Dimon has been just as vocal as Mr. McAfee about his views on cryptocurrencies (especially Bitcoin) except he is pessimistic and thinks it's all hype, and they will never amount to anything.
This is an interesting point of view when you consider that he is the CEO of a bank that everyday moves six trillion dollars around the world by means of blockchain technology and digital currencies. Mr. Dimon has said so himself in several interviews.
There's more. Other comments by Mr. Dimon include those that denigrate the value of cryptos and the intelligence of those who invest.
He even said that Bitcoin (and perhaps by implication all other digital coins) are just a fraud that will not end well.
The verdict?
As a crypto and blockchain enthusiast, I believe that a healthy dose of skepticism makes you smarter and keeps you on your toes. But I also believe that Mr. McAfee should be listened to closely. He understands the digital world and blockchain, and his predictions have been backed up events unfolding until now. So if I had to choose between Dimon's and McAfee's opinions, I'd have to go for McAfee's. Who are you listening to?