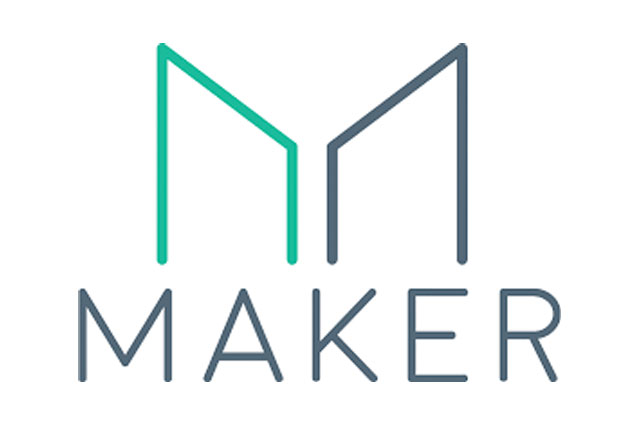 Price Action
In the week prior, the price for Maker went up by 5.08%. It is below its 20 day moving average by 1.07%, so it's fairly close. Maker's bullish momentum, if assessed by its distance from its 20 day moving average, is roughly middle-of-the-pack relative to the cryptos we're tracking. In terms of volatility, Maker exhibits greater price volatility than approximately 24% of coins in our index, so it's notably less volatile than the other cryptocurrencies we're monitoring. Based on volatility over the past three weeks, we can expect Maker to experience a price range in US dollars between 640.0106 and $791.7174.
Where to trade Maker (symbol: MKR): Gate, Yobit, DDEX, Ethfinex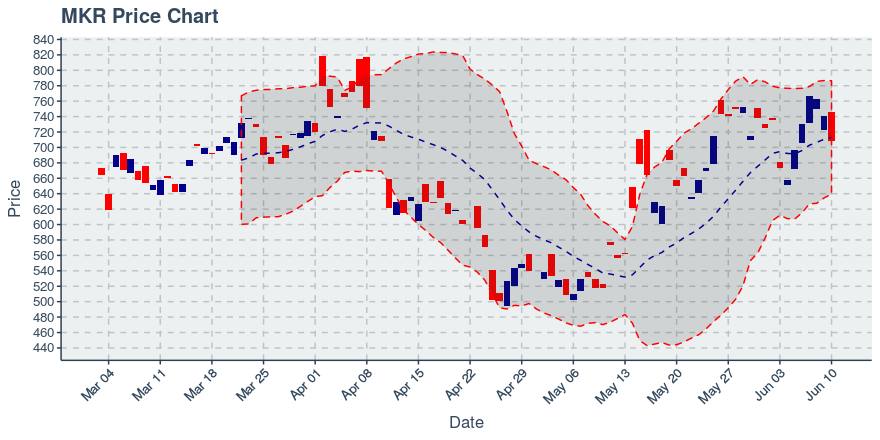 Volume Update
In the week prior, the daily volume for Maker has ranged between 56,018.82 and 297,781.6 currency units. In the three weeks prior, volume has trended downwards, but price has gone in the opposite direction — up. Maker experienced a turnover rate of about 12.71% over the past week, which means that is the percent of its available money supply that is traded daily. Its turnover rate is more than approximately 83.51% of the cryptocurrencies in our index, so it's far above average and thus a good coin for those interested in active trading or being able to get out of the market if they need to.
Engagement Update
Maker saw the number of wallets holding its coin go from 12,424 to 12,435 over the past week — a change of 0.09%. And in regards to cumulative transactions logged on the blockchain, they went from 356,483 to 365,567, which amounts to a change of 2.55%. The combined engagement growth rate (growth rate in holders plus growth rate in transfers) of Maker is thus at 2.64% which, relatively speaking, is ahead of 62.86% of the cryptocurrencies we're tracking. This growth rate suggests the coin's engagement is growing at an above average rate.
Technology Development Status
Dai currently has 60 public repositories on GitHub, with the oldest one now 3.76 years young. The last recorded update to its public repositories was within the past day, which is pretty good, as it suggests the coin is still under active and rapid technical development. Maker's public repos now have 984 which is pretty good, relatively speaking; specifically, that's more than 70 % of the top 100 coins we're looking at. The coin has 86 outstanding issues in the backlog awaiting to be addressed by the core development team. Relative to the number of watchers it has, though, its open issues count is fairly mediocre. We consider the GitHub open issue/watcher ratio as a potential indicator of the healthiness of a coin's software development process, and for Maker we see that its issue/watcher ratio looks healthier than 54% of similar coins in our index.
Maker News and Commentary
We found 3 links over the past week about Maker that we thought were especially worth sharing. Where available, we included a snippet of the article that we thought might be interesting.
Owning Your Cognitive and Creative Freedom – tiny factories
Supporting the Maker Ecosystem in the Midst of a Changing L
Because that's what "entrepreneurs" do – they lie and steal fo
Key Extract:
Makers are those 89% who have the first ideas and do the real development that needs to be done before what you're calling "domination"….Most real Makers – inventors like my grandfather whose inventions are used by billions of people around the world, daily, who will never know his name – don't have that "entrepreneurial spirit" because their focus isn't money or fame….Makers aren't flapping around looking for other people's work to steal so that we can skip the hard work, we know how much work goes into bringing idea to reality and we wouldn't dream of taking credit for someone else's.
Where to Buy
You can trade Maker, listed under the symbol MKR, through the following exchanges: Gate, Yobit, DDEX, Ethfinex.
Article by SixJupiter