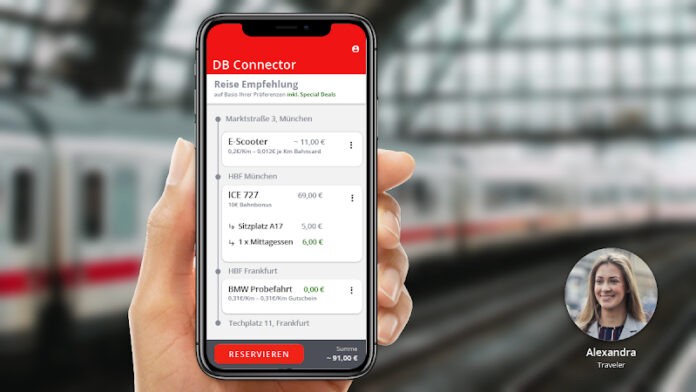 Deutsche Bahn, the largest railway operator and infrastructure owner in Europe which carries about two billion passengers a year, and Unibright, a German-registered company providing "unified framework for blockchain based business integration" have developed a blockchain based solution for bringing together connected services around travel. For the customer, the main advantage is the option to book a journey as a complete experience.
According to an announcement released by Unibright, they have been consulted by Business intelligence developers of DB Distribution after successfully pitching the initial concept to the executive board of DB. Unibright was instructed to do a 4-week-deep dive and preparation of a DB internal kick-off workshop to prepare the project, to extract parts of the concept that can be potentially put into a business and to consult on possible implementation and integration matters.
Dedicated employees from Unibright were working together with the experts from DB within the project named "Deutsche Bahn Vertrieb: Ecosystem Tokenization via Blockchain." As a result, Unibright presented a "door-to-door" solution, assuming a customer wants to book a journey from his very home to a dedicated end location. The team developed a blockchain based solution for bringing together all additional services around a trip including local transport from or to the first station, catering provided both on and off the train and many individual businesses in the local surrounding of a station, like hotels, restaurants and taxi companies.
"One goal of the workshop concept was to define better, which players can be part of an ecosystem around Deutsche Bahn and to make proposals on how this ecosystem can be built. The result should feel natural to the customer and provide tangible advantage,"
Marten Jung, CEO of Unibright, states.
Tokenizing services alongside a travel
The idea is to represent all parts of a common journey by tokens on a blockchain. Basically, it means to transfer the participating values and assets into tokens, that act like value representatives or vouchers with a specific sense in the ecosystem.
These assets can be purchased by the customer, to save them in a personal wallet. The customer can transfer these assets, in a whole or divided into parts, he can perhaps sell them or give them back to the issuer. The use of a specific asset is then carried out by transferring the corresponding tokens from the customer's wallet to those of the service provider.
According to Unibright, the goal is to tokenize values and assets that can be part of a future ecosystem, and also to check on possible transformations of existing reward programs where a customer can collect points for each ticket purchase.
"Trustless trust"
Blockchain is the perfect technology to build such an ecosystem. The values in a blockchain can be personalized while not being centralized. The concept of "trustless trust" is defined by blockchain technology itself, making it easier for new participants to decide on becoming part of the ecosystem. And finally, the client has a real benefit of being part of a decentralized ecosystem and implicitly strengthens the ecosystem by using it.
"The technical part of integrating existing players into a newly build ecosystem is not trivial. A challenge that is explicitly targeted by the framework was to show, which parts of the solution can live in a blockchain and how can they be integrated with the off-chain world,"
Stefan Schmidt, CTO of Unibright, says.
The Unibright's Framework provides customizable templates to design individual business integration workflows visually. This empowers anyone to craft powerful blockchain-based solutions with no coding skills. It transforms visually designed workflows into the platform-dependent code at the push of a button. On the practical side, it means that smart contracts get generated, deployed and updated automatically based on visual definitions. This "no-coding-needed" approach that sets new standards in blockchain adoption, has already sparked the interest of tech giants like Lufthansa and Microsoft.