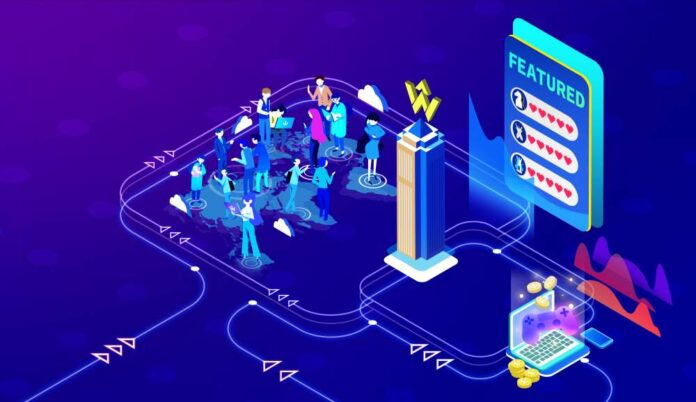 If there is a hard truth in this world, it's that people do love gaming. Millions of people use their computers, consoles, tablets, or smartphones daily to fire up their favorite time killer. And it's a rather profitable sector, too. The industry moved just shy of $135bn globally in 2018, which marked a 10% increase on the previous year.
Separately, the crypto market is now worth between $165-$170bn. Ever since Bitcoin (BTC) took its first uncertain and tentative steps in 2008, the world of cryptocurrencies and blockchain never looked back.
So combining these two markets makes a lot of sense, and not only in financial terms. Gaming and crypto boast of global, thriving, and passionate communities, for example. Every year there are hundreds of events dedicated to gaming and crypto worldwide. The potential for sustainable and profitable business growth is huge.
Realizing this potential, Top Games Inc. has teamed up with blockchain developer World Open Network (WON) to create a brand new gaming experience powered by crypto, for the benefit of the gaming community worldwide.
Crypto Age: Gaming In The Blockchain Era
Top Games Inc., founded in 2015, has earned itself quite a reputation through its flagship IP, Evony: The King's Return, a Simulation Game (SLG) that has consistently received positive reviews since its debut. King's Return has raked over 1m downloads, and it is currently one of the most popular apps available on Google Play Store.
So Top Games certainly knows a thing or two about gaming. And the developer has a vision and a plan, too, after seeing the potential of blockchain for the gaming industry. The answer? Partner up with an established and experienced blockchain company to turn this vision into reality.
Enter WON Inc, a software developer with a significant asset in its portfolio: The World Open Blockchain (WOB), a third generation, open-source blockchain built for the global community. WOB is powered by its native token, Ŵ, which serves as a means to facilitate transactions on the blockchain. Top Games has used the WOB to deploy and power its first blockchain-based game, Crypto Age. And WON has created 1bn Developer Coins to be used within the Crypto Age environment and future Top Games' titles to purchase in-game items, and other game-related transactions.
Developer Coin and Player-to-Player Economy
In-game economies, also known as 'virtual economies', were introduced to gaming as far back as 1997, and are a common feature in gaming environments nowadays.
Virtual economies allow players to buy items such as a weapon, magic potions, new skins for their characters, equipment, etc. Traditionally, these in-game economies required money (fiat currencies) transactions, i.e., credit cards, and this was the norm for a long time. But the advent of cryptocurrencies opened up a brand new business model for revenue creation, which is slowly finding its way into the gaming world in the form of Developer Coins. In other words, when a game developer creates a game on the blockchain, this game will have its own Developer Coin, and so on.
And furthermore, the WOB environment will enable the cross-use of Developer Coin for different games created on the blockchain, which immediately removes the limitation of locked-in funds on any game. WOB allows a player to move from game A to game B, carrying the Developer Coin from game A and swapping it from the Developer Coin on game B, using WOB's native token, Ŵ, via a process called 'in-game asset conversion.' In this context, WOB enables freedom, flexibility, and more importantly, choice.
Top Games is WON's first third-party developer (TPD) to create a Developer Coin, named Ť, which will underpin Crypto Age's in-game economy. Players will be able to trade stuff in a player-to-player fashion, and buy items on the game's auction house using this native token, which can then be converted to another DC through Ŵ if they so choose.
All For The Love And Benefit Of The Community
Multiplayer games live and die by their communities, as these are crucial to promote the game, foster discussion among players, create a buzz, and essentially, infuse life into a fledgling game. The new economic model created by WON is the first step to empowering gaming communities not only to play, but also to possibly earn some cryptocurrency or other assets along the way, as a number of jurisdictions may allow players to convert Developer Coin into fiat currencies depending on licensing and local regulations. This alone will become a great incentive to play blockchain games. Eventually, this will stimulate the interaction between the community and developers, ultimately creating a value proposition by the people, and for the people.