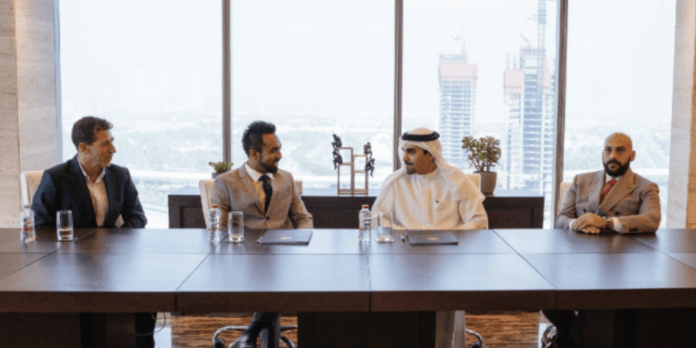 Last year, Dubai begin implementing a new initiative by the name of Smart Dubai. The project was founded by the Dubai ruler, Vice President and Prime Minister of the UAE which the goal to enable an active collaboration with private and government sectors to transform Dubai into the "first city fully powered by blockchain by 2021." The Dubai Blockchain Strategy will usher in economic opportunity for all sectors in the city, and cement Dubai's reputation as a global technology leader, in line with Smart Dubai's mandate to become a global leader in the smart economy, fuelling entrepreneurship and global competitiveness.
Dubai has a long tradition of leading digital innovation for the region. Now, Dubai will be pioneering the application of new technology for cities and sharing it with the world. When successful, Dubai will be the first blockchain-powered government, driving the future economy.
Fantom Foundation, a DAG blockchain with an open-source stack project focussing on Smart City applications has partnered up with The Private Office of Sheikh Saeed bin Ahmed Al Maktoum. Through this partnership, Fantom aims to help Dubai develop new economic opportunities and deliver a better user experience for UAE citizens using their technology. This goal aligns with the future behind the Smart Dubai initiative. 
According to Hisham Al Gurg, CEO, SEED Group and The Private Office of Sheikh Saeed bin Ahmed Al Maktoum: 
"This day marks the beginning of a new partnership that lays the groundwork for integrating Fantom Foundation's technology and expertise into the vision of Dubai to become a blockchain city. Given their extensive experience in technology R&D and working with partners, we look forward to seeing how this will significantly benefit the Smart Dubai initiative strategy."
The partnership comes as a result of Fantom's successful trip to Dubai in April and the subsequent discussions by the Sydney-based Fantom Innovation Lab, led by Ashton Hettiarachi and David Freuden, along with Technical Advisor Andre Cronje.  The commercial partnership with The Private Office of Sheikh Saeed bin Ahmed Al Maktoum will allow Fantom to operate under their corporate umbrella to engage with Dubai and UAE government and the private sector to provide technology and services across multiple public and private sectors in the coming weeks. As explained by Ashton Hettiarachi:
"We are super excited to partner up with The Private Office of Sheikh Ahmed bin Saeed Al Maktoum to bring innovation and build solutions for Dubai to create new economic opportunities and deliver better user experience for UAE residents."
The Opportunities Dubai Represents In The Smart City Sector
The Smart Dubai initiative is set to achieve efficiency by using blockchain in 100% of applicable government services, transforming an estimated 1,100 essential government services into smart services. Fantom has been a key component to the future of Smart Dubai, being in constant discussions with the government to explore many blockchain use cases and the best possible approach to move forward. 
Fantom Foundation is positioning itself to work with enterprises within targeted industry sectors directly, and where possible with local and regional government support. Fantom technology will help the UAE achieve adoption of blockchain technology in the region, and apply it to many industry sectors including public utilities, smart living, healthcare, education, traffic management, resource management and environmental sustainability, among others. Some of the examples of smart city applications that Fantom can help deliver are:
Smart Living: Fantom can work alongside manufacturers of smart devices, appliances, smart home connectivity networks as well as various city resources and infrastructures for data collection, sensing several aspects and automation in real time.

Smart Governance: One of the main goals for Dubai is to conduct all government services and transactions in a paperless and cashless manner without the need to visit a government office. Residents and businesses will be able to conduct their government services and transactions anywhere and anytime through their channel of preference like websites, mobile phones or others.

Transport: Smooth and autonomous transportation, with shared mobility solutions. Through blockchain technology, embracing autonomous cars as a transportation alternative in Dubai is possible, ensuring the quality of life for residents and a more secure method of transportation. This viable alternative for city mobility will help ease traffic concerns in the city. Smart parking, smart tolls and smart traffic lights, among others, will contribute to enhancing mobility in the city, providing enhanced mechanisms for people to travel faster and safer. 

Social Services: Providing one-stop digital services to all Dubai residents, including healthcare, education, business, culture, housing, entertainment, and community services. With blockchain technology, people will be able to perform a variety of daily activities in the most efficient way possible. Things, like making an online appointment for healthcare needs, obtaining results or sharing medical information with other healthcare providers, will be secure and easier than ever. Getting prescriptions and medications will be conducted online. Parents and students will be able to look for education and schooling education, registering and paying for courses, all online. Dubai residents will be able to conduct their housing needs through easy-to-use online services, from obtaining land to completion of the house and moving in.  
Fantom Website & Social Media: