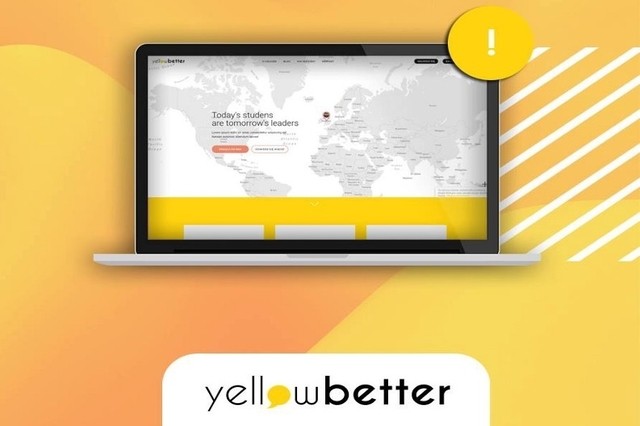 YellowBetter is an innovative and global project, a combination of all the most popular portals around the world. It is a unique blend that combines elements of Facebook, Twitter and Instagram. It also includes a large dose of YouTube and elements of such portals as Booking and iTalkie. So yes, no doubt, it is a global project.
During an interview with Pawel Juraszek, Co-Founder and Head of Finance & Operations, he shared with us the reasoning behind this project. According to Pawel:
YellowBetter is a portal that aims at educating people on every level. Its main assumption is cultural development, which in our times is so desired by our society. The platform will enable learning foreign languages, learning about different cultures, virtual tours of every corner of the world, as well as smooth exchange of knowledge with anyone we want. Each user will have their own timeline and will be able to offer help to others in any way.
As explained by Pawel, the platform itself will allow people to make money while also sharing and learning. With YellowBetter users can become a virtual guide and earn money. Thanks to its detailed search engine, anyone who wants to use specific virtual guide services will find it without a problem. Through the platform, users will also be able to meet people from around the world, learn languages and practice with locals.  
Additionally, users can also develop a vlog, for instance. According to Pawel, through the creation of vlogs, users can also organize fundraisers for future trips or adventures with the support of devoted viewers. He continues adding that tickets for a plane or coach will be easily available, thanks to the Better Travel service, which will also be available on the portal. Users will also be able to make their own broadcasts and even interact with viewers by performing suggested tasks requested by their viewers during a live feed, for which users can receive donations. With this innovative method, viewers will also be able to join in and experience the journey.
The platform allows for various broadcasts to be accessible, opening the doors to experience virtual tours of China, Mexico or Tenerife … anything they wish and it's available. This approach will improve the learning methods and provide cultural development. With YellowBetter, a new community will be created by representatives of the world. The platform allows anybody to become either a teacher or a student, with freedom and casual nature of knowledge exchange and experiences, providing a unique approach to learning a new language. As Pawel said:
With YellowBetter you will learn and grow instead of memorizing theory and forgetting later on. It's that simple. You don't have to learn hundreds of grammatical cases. YellowBetter teaches a "live" language that people in a given country really use.
YellowBetter is currently in its advanced stage of development. The company is in the process of establishing important business partnerships and cooperation with the one the largest exchanges, BITKER, to distribute tokens. On April 8, the Initial Exchange Offering (IEO) will begin covering only 7.5% of the token supply available for sale.
If you wish to know more about YellowBetter, make sure you visit their website.
Telegram
Facebook
Twitter
IEO on BITKER
BITKER Telegram