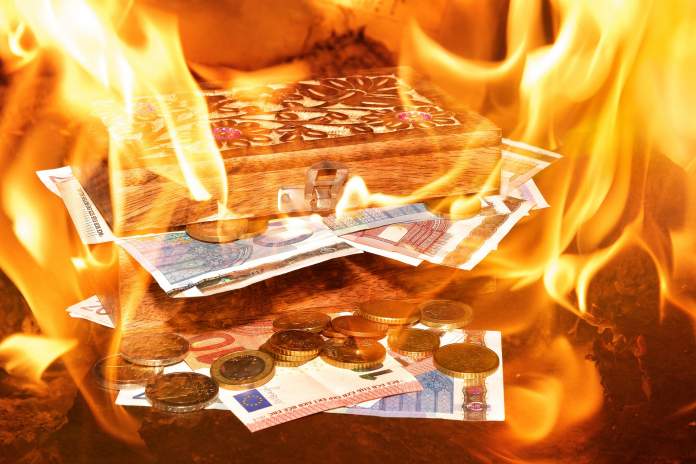 After experiencing one of the most unstable months, Tether (USDT) has announced its plans to destroy 500m USDT (more than 50% of its current holdings) from the Tether treasury wallet and leave the remaining USDT (approximately 466m) in the wallet for future USDT issuances. The stablecoin lost its parity with USD a few days ago, mainly due to rumors of insolvency that started to surface the web.
As a preventive measure, Tether was quick to react and managed to transfer over 630m USDT to their treasury wallet from Bitfinex, a major crypto exchange that has also been subject of controversy. According to reports, the exchange's cold wallet has fallen by around 100,000 Bitcoin (BTC) since September, with some people speculating that Bitfinex was attempting to take off the market as many USDT as possible and try to make its price stable once more.
According to Tether, the measure is called "redemption", a possibility Tether had described in its original white paper. The document states that USDT holders are capable of redeeming their tokens of USD directly with the company at any given time since every USDT is backed by USD.
Tether has been fighting insolvency rumors for quite some time now, with multiple community members pointing out about the possibility that the company is not really backed up by the total amount of USD per USDT they claim. In an attempt to dissipate such rumors, Tether published a proof of funds in June, claiming they had sufficient dollar reserves to back up every USDT issues, which were apparently held in an undisclosed bank.
Bitfinex, who's heavily involved with Tether, has also been subject of insolvency rumors, which has lead to transparency issues and potential market manipulation to fake a market rebound for Tether, especially after the coin lost it's parity 1.1 to USD. The situation got so heated that Coindesk accused Bitfinex of providing fake data and trading volumes for a market that doesn't exist, information of USDT-USD trading pair that is not supported on the platform, which of course Bitfinex was quick to deny.
https://t.co/sJ3VxufDli is the sum of USDt dep/wds to/from Bitfinex. We are not 'publishing' fake numbers; the API method is called 'movement_volume' and isn't part of our ticker API. Not pushed by us, pulled by CMC. Another not-so-brilliant example of anti Bitfinex/Tether FUD. https://t.co/elGnsVfCfA

— Bitfinex (@bitfinex) October 23, 2018
It looks like a bad time for Tether and Bitfinex, especially with multiple new stable coins coming to live from major cryptocurrency companies, such as USDC, the coin launched by Circle and Coinbase, which could easily replace USDT and all its drama. Again, only time will well.