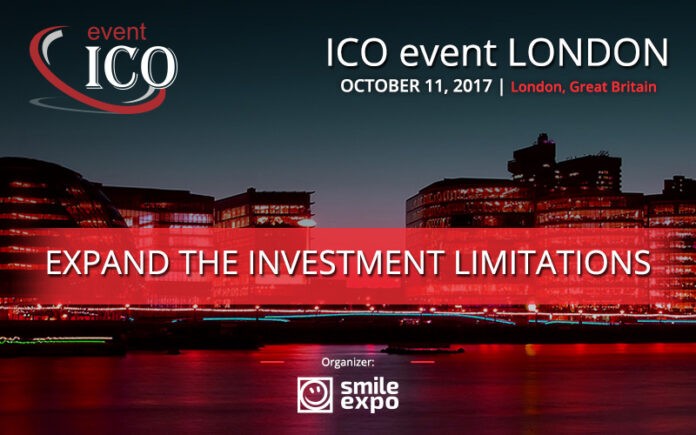 When and where is it on?
October 11th 2017, London, The Crystal, One Siemens Brothers Way, Royal Victoria Docks, London E16 1GB
Tell us more about it?
Organizer of the conference is Smile-Expo. The company has been organizing large events on blockchain and cryptocurrency since April 2014. Each of them is attended by 350-2000 people. In 2017, a series of Blockchain & Bitcoin Conference events covers 11 countries, and ICO Event conferences are held in Moscow, Amsterdam and London.
What exciting things can people look forward to for the 2017 version?
ICO Event London 2017 is one of the first major events dedicated to the new investment method. Not coincidentally, London has been selected to host this event: it is a center of investments and financial hub with a plenty of young companies.
ICO Event London will feature a blockchain startup – LeCarbone, that saves Indonesian forest
More on➡️https://t.co/ZDmMm8lDIK#ICOLondon pic.twitter.com/YeJf6PZe1Z

— Blockchain Conference (@Blockchain_Conf) October 5, 2017
What opportunities are on offer for people / startups / investors and companies attending?
ICO Event London will allow business people and investors to discuss the ICO legislative regulation in the UK and its challenges. It is also an opportunity to develop a successful business strategy and minimize risks.
Event speakers will include prominent figures of the UK blockchain community and foreign world-renowned experts.
Andrew Keys (USA), a Top Manager at ConsenSys Capital, will tell the audience about all the aspects of the token sales launch. David Siegel (Switzerland), an investor and consultant, expert of the Тwenty Тhirty AG consulting company will talk about various types of digital coins and their characteristics.
The British blockchain community will be represented by such experts as Lex Sokolin, the head of the research firm Autonomous Research. Michael Mainelli, the Executive Chairman at Z/Yen Group, Eddy Travia, one of the pioneers of the cryptocurrency investments.
What tips would you give to people attending to get the most out of it?
Event is planned in the way that every visitor can get the most of it. Look through the conference program, choose the most interesting topics among the scheduled presentations. Don't miss a chance to ask the most important questions you are excited about to any speaker in person. Don't miss the pitch session to get the most information about exhibition area attenders and check all projects represented there.
How can people book tickets / when does it usually sell out?
You can use link https://goo.gl/jPxE34 to book tickets and get more information about the conference
Anything else you'd like to add / we should have asked?
Use the promotional code ICOGB50 to get 50% discount!