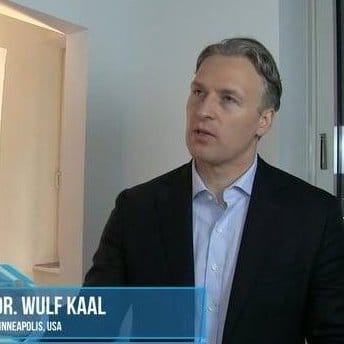 Interesting interview with Wulf Kaal who will be speaking at WEF18 in Davos, Switzerland.
1 min pitch for what you are doing now?
As CEO of the Repute Platform, my goal is to build a blockchain domain-specific reputation platform. We are partnering with leading blockchain platforms to help them develop their ecosystem and address infrastructure, blockchain governance, consensus protocol and evolutionary challenges by leveraging the Repute architecture. We are also collaborating with leading IoT Enterprises in Europe and Asia, which allow us to test the Repute architecture in IoT contexts.
The main design goals of the Repute platform are to 1) evaluate domain specific reputation across a wide variety of expertises; 2) ensure security, including resistance to Sybil attacks, tyranny of the majority, and 51% attacks; 3) provide a minimal, robust core architecture which supports modular constructions for a wide range of use cases.
The Repute platform creates a transparent, fair, and predictable system that facilitates certainty of outcomes, security, and efficiency.
I am also the COO of a crypto hedge fund that invests in the Repute platform and other top blockchain projects, with a focus on sustainability. The fund aims to identify crypto startups that have the potential for solving significant problems afflicting humanity. The fund attracts sustainability focused investors who believe in solving humanity's problems via crypto solutions.
How was the last year, what worked well, what didn't move as quickly as you would have liked?
2017 involved almost weekly public speaking engagements on blockchain topics in Europe and the US, across different industries. I've been helping regulators and governments, including offshore jurisdictions, realize the potential of blockchain technology. On the entrepreneurial side, I started a Blokchcain development company (HighTechBlock), Repute Platform, and became COO of the sustainability focused crypto hedge fund.
Compared to 2017, I hope that in 2018, Blockchain technologies will be better understood and valued by the general public.
What are your plans for the future?
In 2018, my goals are to:
Continue promoting blockchain technologies across the world.
Grow the Repute team, release the core infrastructure and evaluate & test top application-level use cases with leading enterprises.
On the fund side: continue investing in top crypto startups that match our investment criteria, sustainability requirements, and attract investors who are driven by our mission and values.
#worldeconomicforum @worldeconomicforum in Davos at the #ConsenSys space, I will try to answer basic questions: How can the Repute Platform facilitate new and further optimize the existing blockchain solutions to provide crypto solutions for humanity? https://t.co/92TvwsTiBj pic.twitter.com/w20Ao7hPXo

— Wulf Kaal (@WulfKaal) January 19, 2018
What will you be talking about at this event? 
In my keynote and various panels at WEF18 in Davos at the #ConsenSys space, I plan on addressing the following:
How can blockchain technology provide solutions for the main issues afflicting humanity?
Explain how the Repute Platform can fix core problems which are impeding blockchain technology from reaching its full potential, for the benefit of humanity.
Present our fund's investment thesis, attract investors who are driven by our mission & values, and identify key startups to invest in.
 What inspired you to attend it?
Over the past few years, I've noticed several industries being disrupted by Blockchain technology. I'm attending the WEF18 in Davos in order to channel as much of that disruption towards causes that solve humanity's largest problems.
Which influencers and websites do you follow to keep up to date with the latest developments?
I use Medium, Twitter and LinkedIn to stay up to speed with the latest development in Blockchain. Among the top influencers, I pay a lot of attention to: Brock Pierce, Daniel Larimer, William Mougayar, Sally Eaves, Tuur Demeester, Nick Szabo, Barry Silbert, Simon Cocking, Anthony Di Iorio, Vlad Zamfir, Gavin Wood.
How can people find out more about what you are working on?
Please feel free to contact me directly: [email protected]
My core projects are available here:
Wulf Kaal, Ph.D, J.D., MBA
Wulf is one of the leading voices at the intersection of crypto economics, blockchain and law. He teaches blockchain, innovation and coding for lawyers. He is an advisor to several EU and US crypto companies. Ex-Goldman Sachs, Cravath. MBA from Durham University. Ph.D. Law & Economics from Humboldt-Universitat zu Berlin. J.D. from University of Illinois.