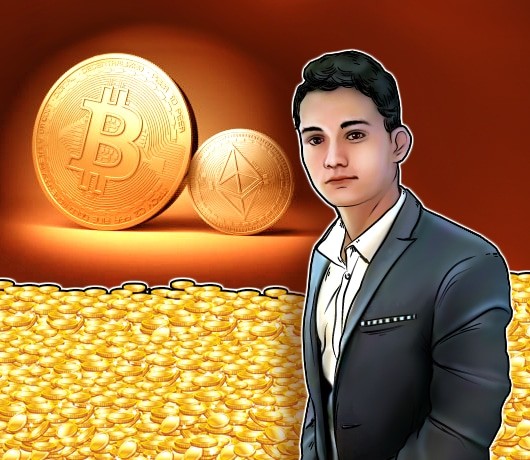 Eighteen-year-old, Eddy Zillan, has now made close to a million in Bitcoin and Ethereum investments using his savings and bar mitzvah money.
The Ohio-based teenager, Eddy Zillan, made his first Bitcoin investment when he was 16-years-old, and now just two years later, the investor speculates that he's made almost $1 million from his various cryptocurrency investing endeavors.
Zillan made his very first investment in 2015 when Bitcoin was only still trading at around $214. Little did the young investor knew how much the cryptocurrency would skyrocket only two years later.
In an interview with the Telegraph, Zillan stated that his initial investment was $1,000 from his savings. The investment was to play around in the market first before getting a true feel for it. According to Zillan, after his initial investment, he made another $5,000 investment from his bar mitzvah money that was given to him in 2012.
Since these first investments, which Zillan himself said was purely based on an educated guess, he has established his very own cryptocurrency consulting firm.
In his interview, Zillan said that ever since his first investment he dedicated time to become more adept at learning market trends and educating himself on the cryptocurrency industry. According to Zillan he frequently used analytical data to inform his decision, including listening to other successful traders, reading market research reports, technical analysis, as well as perusing many books and articles on the subject.
What made this particularly difficult, according to Zillan, is that at the time Bitcoin was significantly more obscure than it is currently. There were no obvious mainstream sources of information.
Zillan stated that all his knowledge was self-taught. Since Bitcoin was such a new industry at the time, there were no mentors available.
Ever since Zillan's first investment, Bitcoin has skyrocketed. At the start of the year, Bitcoin traded at a mere $1,000, and ever since it has continued to set new records for the industry. In the last week alone, the cryptocurrency grew by 70% as Bitcoin peaked at prices as high as $17,000.
While many experts fear that cryptocurrency industry may prove to be the century's biggest investment bubble, Bitcoin's current growth trajectory shows no intention of slowing down anytime soon. Zillan himself seems comfortable with the risks in the market, and happy with the wealth that Bitcoin has brought him.
Zillan notes that he estimates to have made close to $1 million with Bitcoin, but warns that this number is very difficult to pinpoint. According to Zillan, the immense volatility in the market, as well as its rapid pace, makes it extremely difficult for any cryptocurrency investor to exactly know how much they're worth at any given time.
However, Zillan is currently less interested in Bitcoin and is turning his attention more towards its competitor, Ethereum. According to the investor, he cashed in his Bitcoin last year shortly before Bitcoin's skyrocketing trajectory in order to invest more in Ethereum.
Ethereum has also enjoyed a very good year in terms of growth, and Zillan is convinced that Ethereum will become the star of the cryptocurrency industry. Zillan invested in the cryptocurrency when it was still trading at a mere $6.
The investor expressed his hope to one day become a cryptocurrency multi-millionaire and believes that Ethereum will be the way to get him there. The investor stated that it's very possible that the cryptocurrency could reach Bitcoin's staggering prices before long.
Zillan concluded the interview by imparting some advice to potential investors. According to Zillan, investors should start investing slowly, and gradually invest more as they become more confident. In addition, Zillan advised potential investors to invest in cryptocurrencies other than Bitcoin and to not be tempted to dump their holdings in the event of market volatility.
Zillan plans to start studying dentistry at a university next year, while still building his crypto empire.