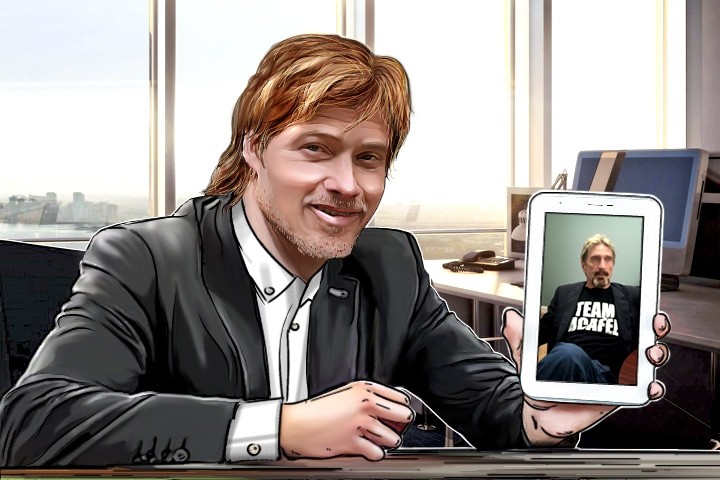 John McAfee explains more about his ICO Investing, why Pornhub is great place to investigate new viruses, and how to stay safe online.
In an exclusive interview with Cryptocoin News John McAfee explained more about the risks you might be taking by browsing using Android based smart phones. McAfee first started out as a developer for NASA in the late 60s before working in a variety of innovative and cutting edge companies through the next three decades. The legendary anti virus developer who built the McAfee antivirus software which he ultimately sold to Intel is now an active advocate for internet security and white hat hacking. More recently in 2016 he became involved in the emerging cryptocurrency space. This year he has also become an investor, advisor and mentor to range of new blockchain based companies, who are looking to launch ICOs (initial coin offerings) including Hacken and BitIndia and others.
In our conversation (see link below to watch the whole interview) John explained that he is looking to invest in those companies which are working to solve problems close to his own heart. McAfee has said on previous occasions that he is probably the person who receives the most hacking attempts as other, up and coming hackers attempt to showcase their talents. He is particularly concerned about a number of vulnerabilities in the operating systems of many flavours of Android on a variety of smart phones. He claimed that apart from the Samsung S7 all other types of phones have serious defects that make users a risk when visiting risky websites and even accessing wifi hotspots. McAfee explained that blockchain based solutions now offer solutions to existing problems that can make a real difference to the quality of people's lives, and their online security. See more in the article here.
Check out my interview with the awesome John McAfee @officialmcafee and Dmitiy Budorin co-founder of @Hacken_io https://t.co/dQtd6JLcS4 see 17.40 for why he is a regular visit to @Pornhub IT security tips & more info on their ICO @Irish_TechNews @SimonCocking #HackenBlackFriday pic.twitter.com/OhIPg1MlHj

— Simon Cocking (@SimonCocking) November 22, 2017