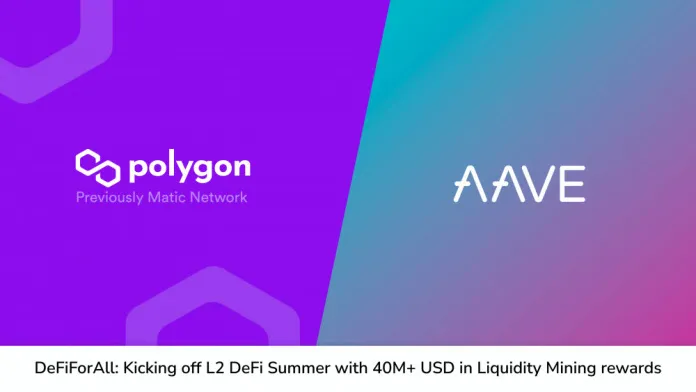 Polygon (MATIC) has launched a massive liquidity mining program in cooperation with Aave (LEND) and QuickSwap, which gave a boost to Polygon's TVL.
TVL metrics are lame, but reaching half a billy in L2 in 24 hours with more users than L1 is freaking aavesome pic.twitter.com/PUM2VtF3Rz

— stani.eth (👻,🍑,🦎.🦎) (@StaniKulechov) April 15, 2021
Aave Builds on Polygon for Improved Scalability
In late March 2021, Aave has announced a cooperation with Polygon. The DeFi lending protocol estimates that smart contract interactions can be achieved for less than 0.01 US cents under optimal conditions.
In order to further boost the adoption of their layer 2 scaling solution for Ethereum, Polygon has now allocated 1% of the total MATIC supply (~40 million USD) for incentivizing Aave users to move liquidity to the second layer. Additionally, 5 million USD are coming from QuickSwap to incentivize moving Aave deposits to Polygon.
The announcement has sent Polygon's Total Value Locked soaring. At the time of writing, DeFiPulse reports a TVL of 428.5 million USD, which marks an increase of 83.7% over the last day.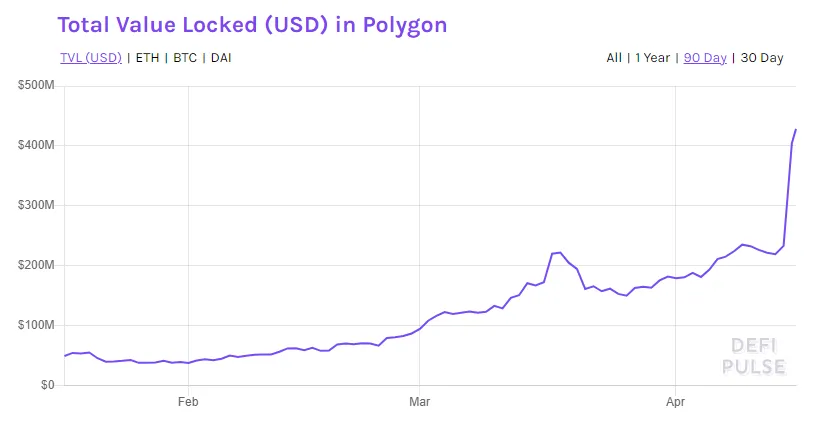 Aave and Polygon are Working on Fiat Onramps
A factor that could help accelerate the adoption of Ethereum's various scalability solutions is the ability to purchase crypto assets on the second layer directly for fiat currency. With the Ramp.Network, the Polygon-based DEX ComethSwap has created a fiat onramp that accepts credit card payments to deliver tokens to any non-custodial wallet such as MetaMask. Thanks to ComethSwap, the tokens can be exchanged freely at low transaction costs.
This is HUGEE for mass adoption! https://t.co/D7sFxHDzO8

— Polygon | $MATIC 💜 (@0xPolygon) April 15, 2021
Due to a partnership with Transak, Aave also has access to a fiat onramp, from which users can buy LEND and Aave deposits against fiat currency.