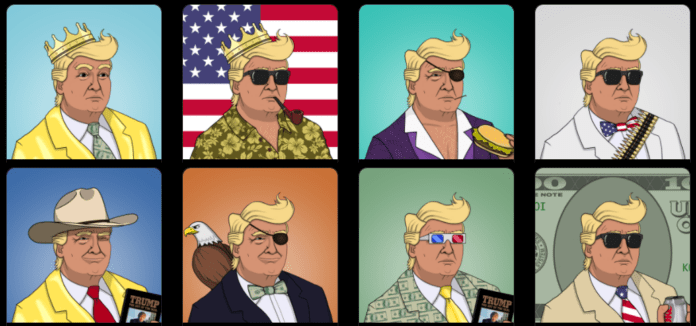 Microblogging network Parler has opened the NFT marketplace DeepRedSky with a collection of 250 pieces in the likeness of Donald Trump.
Parler wants marketplace for partisan and non-partisan NFTs
Parler pitches itself as a free-speech social network. The microblogging service gained significant traction among Republican voters in 2021, after the tweeting 45th President of the United States found his new home on the platform, following his permanent suspension on Twitter. 
In a press release, Parler announced the launch of an NFT platform dubbed DeepRedSky. They hope that aligning with the crypto community will enable the network to host a broader range of political opinions. Parler CTO Sam Lipoff added:
I would say to be quite honest, the Parler site today is very heavily political. And you know, if that's the way it is, that's fine. But I think, beginning in the next few months, you'll see a variety of NFTs that we would call both partisan and non-partisan, and we hope that diversifies the audience a little bit.
CryptoTRUMP Club NFTs on sale for 2,750 USD per piece
DeepRedSky has released the first 250 pieces of the CryptoTRUMP Club featuring the former US president. The NFTs, which the Solana-based marketplace categorizes as "extremely rare", are on sale for a price of 2,750 USD, but only garnering little interest.
So far, only three NFTs have sold. The 250 "extremely rare" NFTs are part of a collection of 10,000 pieces in total, which will be dropped on a later date.