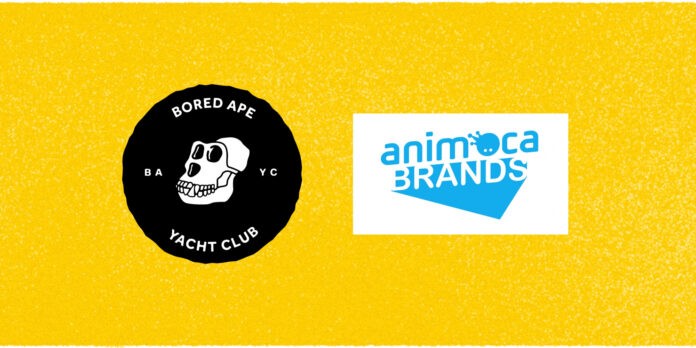 Bored Ape Yacht Club, the profile picture NFT collection that is anything but boring, has secured another interesting partnership. This time, it is with Animoca Brands, also the team behind The Sandbox. The digital entertainment leader is joining forces with BAYC to build a play-to-earn platform slated for release in the second quarter of 2022. 
"NFTs have emerged as a store of culture. There are very few icons that are able to represent the surging world of NFTs as powerfully as Bored Ape Yacht Club, which is why we, as a group and in aggregate, hold a significant number of them. We are incredibly excited and proud to collaborate on a game for this cultural milestone," says Yat Siu, co-founder and executive chairman of Animoca Brands.
Very stoked to share that we've been working with the gigabrains over at @animocabrands on a p2e game. Can't wait to show more. ☠️🦍⛵️https://t.co/yNtmFCkzqV

— Bored Ape Yacht Club (@BoredApeYC) December 13, 2021
What does this partnership mean for BAYC 
Animoca Brands is a pioneering company in blockchain-based gamification. The BAYC integration can be interpreted as a step towards its mission to contribute to the growth of the open metaverse through strategic initiatives. 
Animoca is best known for its subsidiary project, The Sandbox, one of the most-anticipated metaverse gaming platforms. Animoca has a growing portfolio of more than 100 investments in NFT and decentralized projects that are building the open metaverse, including Axie Infinity, OpenSea, and Dapper Labs.
The upcoming game is expected to add more utility and value to BAYC cards as commented by a Yuga Labs spokesperson: "We're excited to work with Animoca Brands to grow the BAYC universe and expand the utility and benefits offered to all Bored Ape NFT holders". Yuga Labs is the creators of Bored Ape Yacht Club.
Apes that are redefining NFTs
If CryptoPunks showed the world how sensational NFTs can be, Bored Apes have taken it a notch up. With some staggering sales and top-tier partnerships, BAYC is onto turning heads to the NFT industry. Earlier this month, Adidas Originals revealed that it was taking the leap to the metaverse with BAYC. 
And last month, Grammy-winning producer and songwriter Timbaland unveiled his latest venture, Ape-In Productions (AIP), that will launch and promote Bored Apes as successful music artists in the metaverse. BAYC has also teamed up with Rolling Stone and Arizona Iced Tea, to name a few, as part of expanding its roots to the mainstream. 
BAYC, currently valued at $1.96B, is one of the largest NFT collections in the market.