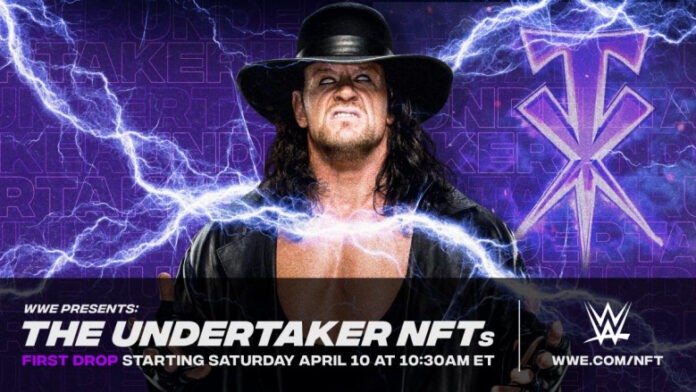 The Wrestling promotion WWE has launched digital memorabilia featuring the most iconic moments from The Undertaker's impressive 30-year career.
.@WWE's first-ever non-fungible-tokens (NFTs) showcasing iconic moments from The @undertaker's legendary WWE career, along with never-before-sold memorabilia and experiences, arrive just in time for the #WrestleMania! pic.twitter.com/Eq3oFINmB1

— WWE (@WWE) April 9, 2021
WWE Enters the NFT Market
Mark Calaway, better known under his ring name The Undertaker, is one of the most iconic professional wrestlers of all time. As such, he holds the record for the longest active career within the world's largest wrestling promotion. During his 30-year career, he performed in 27 matches at the WWE's annual flagship event WrestleMania, out of which he won 25.
After The Undertaker had officially retired in June 2020, the WWE has now auctioned a series of NFTs featuring the Wrestling legend, fitting to the occasion of WrestleMania 37, which was held on the past weekend in Tampa, Florida.
From Wrestling to MMA
The Russian Mixed Martial Arts (MMA) fighter and promoter Khabib Nurmagomedov retired his active career in October 2020 after 29 undefeated wins in the UFC. Now he will drop a series of NFT cards in three tiers that will grant their holders access to private giveaways by Nurmagomedov.
Special Announcement🥊. I am proudly presenting my own NFT collection of unique digital cards.
👉Checkout https://t.co/Mt21DEYj99 for more info! pic.twitter.com/WUZ3FrBjnS

— khabib nurmagomedov (@TeamKhabib) March 30, 2021
So far, 290 gold cards can be pre-ordered for a price of $2,900 and 29 platinum cards are on sale for a price of $29,000. A unique diamond card will be auctioned starting on April 12th, 18:00 UTC for a starting price of $290,000. Next to the giveaway access, the buyer of the card will also get the opportunity for a meet-and-greet with Khabib Nurmagomedov.
mbsjq goes Over The Moon
The UK-based digital artist Jonathan 'mbsjq' Quintin has already worked together with several world-class brands, including Adobe, Aon/Manchester United, Bosch, Google, Intel, Mitsubishi Motors, NBC Sports Network, Tommy Hilfiger/Rafa Nadal, Uber, and Rockstar Energy Drink.
💜👸🏼Over The Moon l April 14 🌈🚀@mbsjq x @niftygateway #astroandtheuniverse #mbsjq pic.twitter.com/ogZAatBe40

— mbsjq (@mbsjq) April 10, 2021
On April 14th, 23:00 UTC, mbsjq will release his new collection of NFTs dubbed Over the Moon via Nifty Gateway. The artist's bio on Foundation states:
mbsjq's genesis series Astro & The Universe gives you a glimpse of a brave astronauts' journey to a psychedelic space-world. Filled with colorful surprises and innovative design, fasten your seatbelt as you embark on a journey through mbsjq's universe.
Lilly Palmer's Techno NFTs
The German Techno artist Lilly Palmer will drop NFTs in three tiers on April 15th, 18:00 UTC, each containing an unreleased Techno track. She will issue 200 Get To Know Me tokens containing also a digital autograph.
Huge step for the electronic music world 🔊🎶 First ever NFT release with techno queen @lillypalmerdj! 🔥
Auction starts on April 15.

Powered by @hyperymusic and @opensea 🌊#hyperymusic #NFT #audioNFT #music #blockchain #opensea #NFTdrop #musicnews #musicbusiness #dj #djworld pic.twitter.com/YgHsF9NkUt

— HYPERY (@hyperymusic) April 7, 2021
Additionally, there will be 10 Golden Adventure tokens, which contain a backstage ticket and the opportunity for a meet-and-greet, as well as 10 Platinum Aether tokens, that involve a special animated artwork designed by Palmer. Holders of the Platinum Aether tokens will also be able to redeem a physical acetate dubplate disc signed by Lilly Palmer.