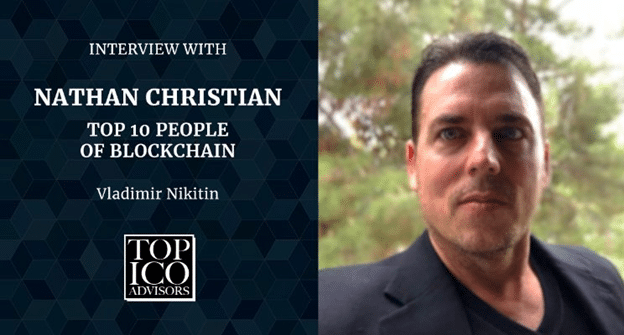 By Vladimir Nikitin (TOP ICO Advisor from the company Top ICO Advisors).
Today's interview is with Nathan Christian, rated in the top 10 People of Blockchain and who has worked on over 35 start-ups among his other accomplishments.
Why did you decide to continue build your career by getting involved in various ICOs as an advisor?
For me, personally, I saw the opportunity to use the knowledge and experience I had gained in other business ventures to help various ICO's achieve their goals and ambitions. It's very fulfilling in that way.
Which aspects of your background made you confident of success in this arena?
Well, I am a technical expert in blockchain-based accounting and financial applications. I have over 35 start-ups in my portfolio so I have plenty of experience to help in that regard. A number of these projects have gone on to achieve massive success such as TraDove that has over $47 million dollars raised so far in its ICO. I also have an MBA from the Ohio State University.
What makes investing in ICOs such an attractive business today?
What makes investing in ICOs attractive today is that it allows for investors to truly feel a part of the project. Outside of country restrictions, there are usually little to no barriers for investors to join in. It doesn't matter if they have a lot of money to invest or just a little. People want that connection to the products or platforms they believe in and ICOs certainly provide that.
When you start a new ICO project what is your responsibility?
It largely depends on the scope of the project. Some projects need more work than others so it really is a case-by-case basis.
Do you have a team and how do you delegate responsibilities?
I have a team available depending on the scope of the project. Some projects do not need additional team members, other projects do require them. Once that determination is made, I can then delegate responsibilities as needed.
What main risks do you see for implementing an ICO project?
That's a very broad question but some of the more common risks that exist for ICOs are lack of funding and non-completion of the product or platform. In addition, a lot of competition is coming into the mix each and every day for ICOs. Some projects will be successful, others will not.
What part of your services as an advisor is the most important for running a successful ICO?
Honest communication. I think sometimes advisors can be guilty of telling an ICO project what they want to hear in terms of their project. I will always give an honest assessment of the various aspects of the project in order to help it be the best it can be.
What criteria do you use to find promising ICOs to collaborate with?
Well, there's certainly a list of factors to consider when looking at an ICO. I like to look at the project itself and see what it's trying to accomplish. I also look at the background of the board team to see what areas they could need assistance in. In addition, I look at the token metrics that are in place as well as other areas of the ICO to see what needs to be worked on.
If you had to choose, which is more important: focusing on the quality of the product or the efficiency of the marketing campaign?
If I had to choose, the quality of the product is always more important but I cannot discount the importance of having a strong marketing campaign. But if there is no product to market, it's pointless.
What are the most critical mistakes you should avoid not to bury your ICO project?
I'd say one of the more critical yet often overlooked factors is transparency. I can't even begin to tell you the amount of ICOs that I've seen that became doomed because they weren't transparent enough. Some of these projects had terrific teams and ideas but operated like a closed business. That simply does not work in this space.
2017 became year of thousands of ICOs; what is your forecast for this business for the next two years?
In two years, we may start to see the number of ICOs start to dwindle. The market may become too saturated and I think that will discourage a lot of new ICOs from coming into the mix. You also have to think that in two years, a lot of the ICOs of today will be pretty well established, making it very hard for new competitors to try and come into the mix.
Thanks for taking the time to talk with us Nathan. We wish you the best in your future endeavors.
You can connect with Nathan on his different social media here:
Help us spread the word and join us on our other social media channels: