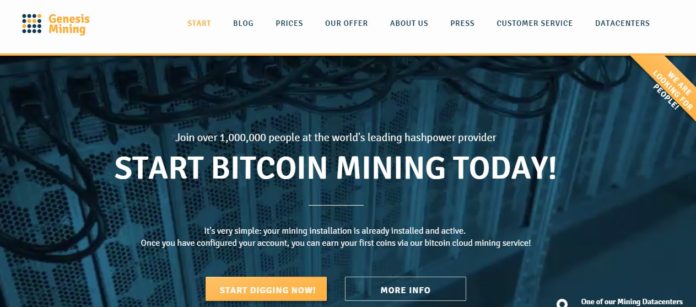 Cloud mining company Genesis Mining Ltd. is effectively listed on the Toronto Stock Exchange (TSX), after having reached agreement acquire to a major portion of Canadian tech firm HIVE Blockchain Technologies Ltd. (Hive).
In a press release on October 10, Hive announced a firm investment deal worth CAD 7 million from Genesis Mining, through the purchase of 4,666,667 Hive shares at CAD 1.50 each. The acquisition, which began earlier in the year, is expected to be completed today through a non-brokered private placement.
The deal will see both firms share exclusive arrangement on blockchain mining cashflows and rights. Hive CEO and President Harry Pokrandt remarked on the potential development made possible by the financial investment from Genesis as it would bring on board the significant hashpower already at its disposal.
Harry Pokrandt, President, CEO and a Director at HIVE said: "Genesis shares our vision to rapidly develop HIVE into a major player in the cryptocurrency mining space, leveraging traditional capital markets.We strongly believe in the success of HIVE and think there is a lot of growth potential from where we are now," commented Marco Streng, Co-Founder of Genesis Group.
Genesis Group Co-Founder Marco Streng added: "We strongly believe in the success of HIVE and think there is a lot of growth potential from where we are now.
Genesis customers (who number more than 1 million according to the company) will be watching developments with interest, particularly following cashflow problems faced by some customers as recently as July and August this year, prompting aggrieved users to take to the bitcointalk forum, threatening legal action.
Genesis Mining came to prominence as one of the earliest firms to introduce the concept of cloud mining, in which cryptocurrency is mined using a remote data center with shared processing power. It offered customers "mining" contracts that allowed them to purchase hashpower to mine cryptocurrency, leaving hardware management entirely to the company.
However, cloud mining has been grappling with a poor reputation among the crypto community. With volatile returns based on Bitcoin difficulty and market value, customers face potentially long periods of months before being able to recoup initial investments, often having their contracts terminate before they recover initial capital.