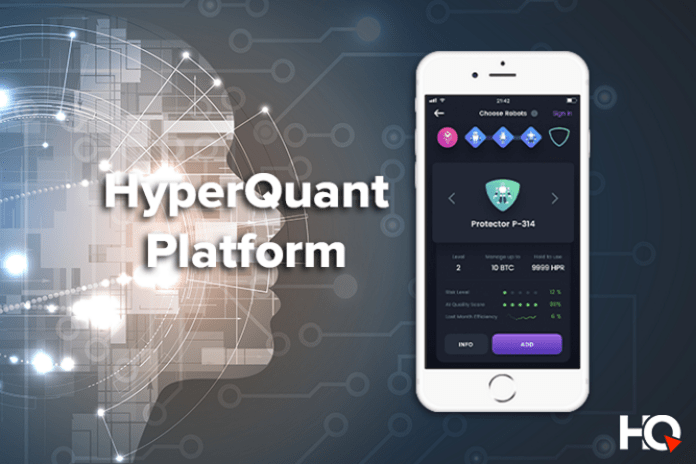 HyperQuant is a professional platform for automated crypto trading, asset management and dApps creation based on cutting-edge AI, risk management, blockchain technologies and fast order delivery protocol. It is made by professional quant traders who know the capital management industry inside out.
Quant traders operate based on Quantitative Analysis which involves the development and implementation of complex mathematical models to make decisions about risk management, investments and pricing, and ultimately trading.
All market participants on the HyperQuant platform – from minor crypto investors to professional capital managers, VCs and hedge-funds – will have access to a broad variety of intelligent solutions covering all aspects of crypto investment and crypto trading processes.
The founding team is made up of quant traders, IT professionals, and market analysts.
According to CEO and co-founder Pavel Pavchenko, creating the HyperQuant platform was a direct result of the team's combined experience. Pavchenko himself has more than 14 years' experience as a successful trader. He has worked in investment companies as an independent quantitative trader, managed a large hedge fund and even took part in the creation of Russia's second largest stock exchange.
"It made complete sense to apply the logic of quantitative trading to the cryptocurrency world. Our team has deep experience as quant traders and analysts and can bring their talents to the table. Using the HyperQuant platform we are introducing 360-degree benefits to algorithmic crypto-assets, combining the best knowledge from the convention market with cutting-edge modern technology which includes neural algorithms, big data and, of course, blockchain.
"It is a 360-degree solution."
There are three target markets for this platform:
crypto investors
developers and quant traders and organizations
big miners and institutional investors
The benefits for crypto investors include top-performing crypto trading bots based on complex mathematical algorithms and models. To make it easy to operate, the platform will include mobile and web apps to manage investor bots and crypto assets.
In addition, a personal AI-based financial advisor will recommend how to configure bots and rebalance the crypto portfolios. Safety is also built in with an automated risk-management system and an easy-to-use visual bot constructor with built-in popular trading indicators making it ideal for investors to start making their own bots.
For developers and quant traders, HyperQuant can offer a professional quantitative framework that has many features including automating back-testing on historical market data, containing hundreds of trading indicators and ready-to-use algorithms. It also has tools to optimize trading strategies after they are launched and includes an open-source unified API protocol for all crypto exchanges.
People in this target sector will no longer need to adopt trading software for each exchange separately, as they can aggregate real-time market data from all major crypto exchanges and can enjoy recurring rewards from investing depending on the use of the trading bots.
For the institutional players, HyperQuant provides professional hedge-fund software for asset management that was developed and optimized for the crypto-industry. It provides access to liquidity of the biggest crypto exchanges through an electronic communication network.
There are inbuilt effective algorithms and software for market-making and a mechanism for the effective execution of big purchase/sale market orders on several exchanges simultaneously through a HyperQuant smart order router. It is possible to use all the platform features to build robo-advising dApps and trading software. In addition, it provides cryptocurrency price-hedging software and strategies for institutional investors and big miners.
"What sets HyperQuant apart from other offerings is that, unlike many enthusiasts, we are professional quant traders ourselves and know the capital management industry inside-out," says Pavchenko.
"Speed and transaction costs matter a lot. We build direct connections with crypto exchanges, negotiate trading fee discounts and server collocation to achieve minimum possible order execution time and cost," he says.
HyperQuant offers total transparency and compliance.
"With the new crypto-related rules coming every week, our lawyers monitor them on a daily basis and aim to make all the platform features available with all regulations. The limit of investors and capital for each trading bot is set automatically by the platform. It prevents the diminishment of trading strategies performance," he says.
Currently HyperQuant is undergoing a private token sale, the funds from which will be used to further develop the platform and provide liquidity for exchanges and ICO provision (ie market-making). The company will announce the official start date of its ICO soon.
To find out more, please visit:
Site: https://hyperquant.net
Team: https://hyperquant.net/en/team/
Whitepaper: https://hyperquant.net/en/wp/
Medium: https://medium.com/hyperquant
FB: https://www.facebook.com/hyperquant.net/
YouTube: https://www.youtube.com/channel/UCOgRfmQR-GKJlbnF1tRQPgw
Twitter: https://twitter.com/HyperQuant_net
BitcoinTalk: https://bitcointalk.org/index.php?topic=2104362.0
Telegram: https://t.me/hyperquant