Key highlights:
The BNB Chain has surpassed Ethereum and other blockchain networks in the number of daily active users, with the number of active addresses on Bscscan surpassing 1.9 million in March.
The upcoming Planck hard fork, scheduled for April 12, aims to improve the security and efficiency of the cross-chain bridge and enhance interoperability between blockchains.
Additionally, BNB Chain has launched the zkBNB NFT marketplace, aiming to bridge the gap between Web2 scale and Web3 monetization.
The BNB Chain, Binance's blockchain network, is seeing phenomenal adoption and growth, outshining other popular blockchains, including Ethereum and Polygon. With more than 1 million daily active users, it's proving that it can stand tall in a highly competitive space.
Data from Coin98 reveals that the BNB Chain has taken the lead in the number of daily active users, leaving other major blockchain networks behind. This impressive growth is witnessed as the number of active addresses on Bscscan continues to rise, surpassing the 1.9 million mark in March.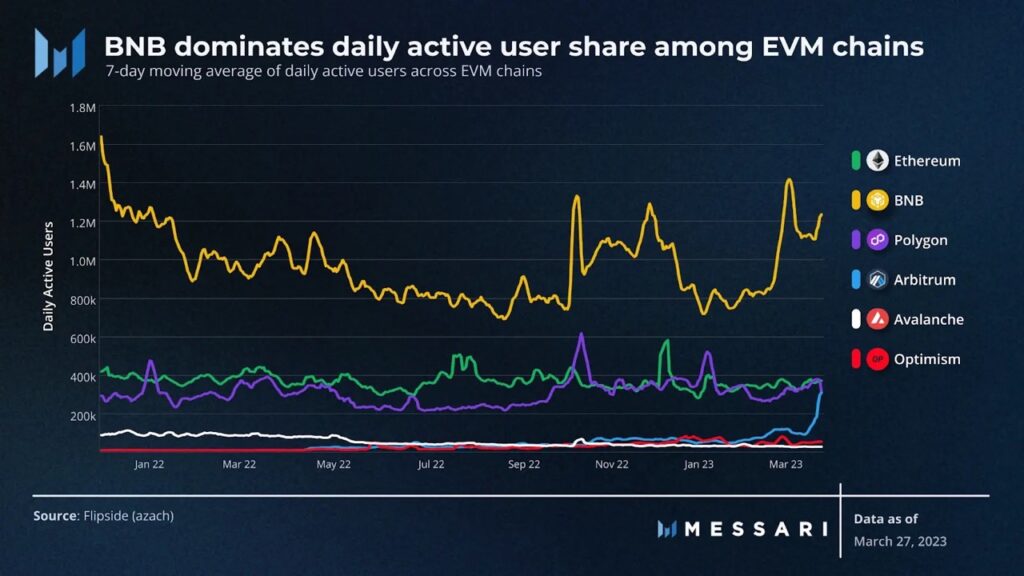 Unique Addresses Soar
According to Messari, the Binance BNB Chain has accumulated 274 million unique users, which is significantly higher than Ethereum's 226 million.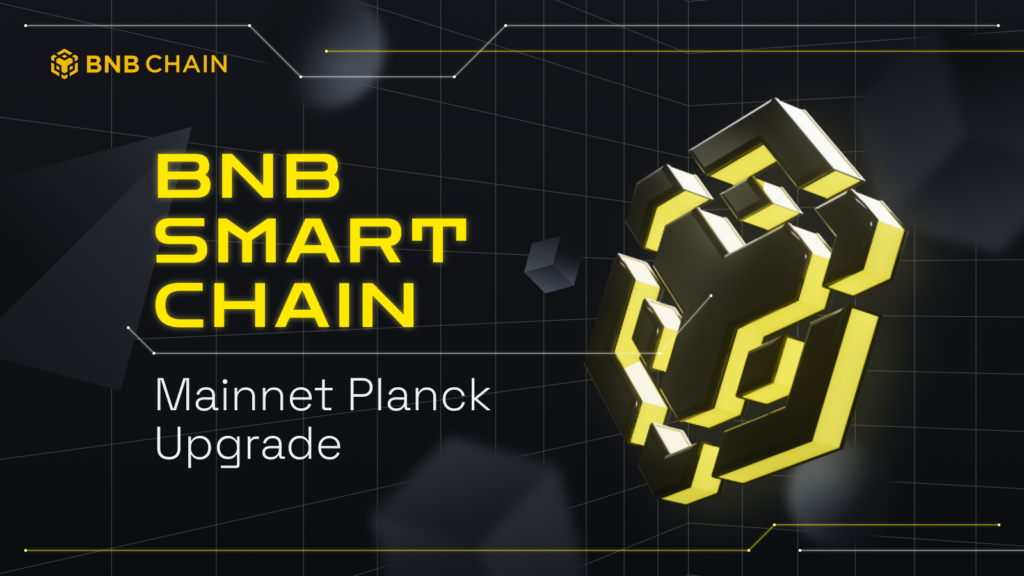 BNB Chain Hard Fork
The BNB chain has had a tumultuous start to 2023 with over 30 hacks in just 3 months. However, a hard fork named "Planck" scheduled for April 12 brings a beacon of hope. The core developers team has designed an ingenious hard fork upgrade named "Planck" to strengthen security and improve efficiency. The upgrade will strengthen the security of the cross-chain bridge and enable new safety measures like pausing cross-chain channels or large transfers.
This upgrade will focus on enhancing the cross-chain bridge, the conduit enabling seamless asset transfers between Beacon Chain and Smart Chain. The cross-chain bridge is the pulsing heart of the BNB Chain, and "Planck" will remedy vulnerabilities to safeguard this vital organ.
Beyond fortifying security, Planck will streamline interoperability between blockchains and simplify dApp development. Lower fees and quicker transactions will provide a sublime user experience, attracting new users and boosting dApp revenue.
To ensure a smooth transition, validators, and node operators must upgrade the software before April 12. By enhancing performance, security, and efficiency, Planck will transform BNB Chain into a robust, reliable ecosystem for diverse dApps and use cases.
Shockingly, 73% of rug pulls in Q1 2023 were on the BNB chain as per reports. The incentives of quick money attract miscreants galore.
While the path ahead seems perilous, the scheduled hard fork brings a chance for redemption. The enhancements are a step towards a safer, attack-proof BNB chain that regains the trust and faith of its disillusioned believers. Security and stability seem to be the only way out of the present quagmire. The hard fork may well prove to be the lifeline the BNB chain so desperately needs.
A Revolutionary Marketplace Empowering True Ownership
BNB Chain has launched zkBNB, an NFT marketplace built on their Layer 2 scaling solution, aiming to bridge the gap between Web2 scale and Web3 monetization. With over a million gamers, NFTs are a popular use case, and zkBNB's 5,000 TPS and low fees provide an ideal experience.
By building on Ethereum's zkEVM, zkBNB allows Ethereum developers to port dApps easily, garnering interest from 10+ projects. Similarly, zkBNB's EVM compatibility allows BNB Chain's robust developer ecosystem to explore new scalability solutions.
Player-Centric Games Emerging
The goal is to merge Web2's scale with Web3's incentive alignment to give the next billion gamers true ownership. zkBNB is a step towards this vision.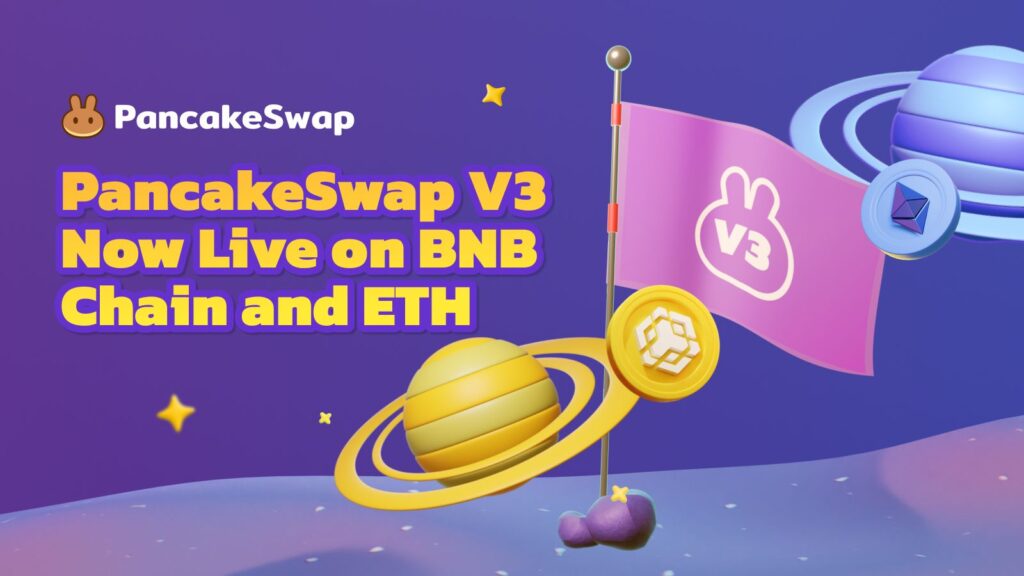 PancakeSwap V3
PancakeSwap V3 has just launched on BNB Chain and Ethereum and it's looking tastier than ever.
Flipping the Script on Uniswap V3
PancakeSwap, the top in the BNB Chain's DEX space, has again forked Uniswap's code. It happened just two days after Uniswap V3's Business Source License expired. PancakeSwap's head chef, Mochi, is stoked about offering users a more efficient and capital-friendly trading experience.
Concentrated Liquidity
V3's concentrated liquidity allows Liquidity Providers (LPs) to deploy their capital within custom price ranges, leading to higher fees and better capital efficiency. And with a revamped fee structure. PancakeSwap V3 now offers fee tiers ranging from 0.01% to 1%, a considerable improvement over V2's flat 0.25% fee.
A portion of the trading fees will make its way to PancakeSwap's treasury, while another slice will be used to burn CAKE tokens. By doing so, PancakeSwap intends to cook up some extra value for its community.
A Position Manager tool will streamline liquidity deposits and enable automated strategies, while a VIP trading rewards program will offer exclusive perks to loyal users.
The BNB Chain's success illustrates how innovative thinking and a focus on user experience can lead to impressive growth in the world of blockchain. While the price of BNB may not yet reflect its potential, the network's ability to attract millions of active users is a testament to Binance's resilience and determination.